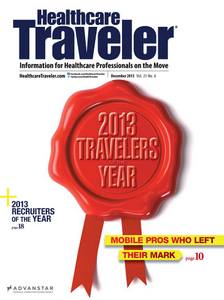 Healthcare Traveler magazine announced the winners for 2013 Travelers and Recruiter of the Year in its December issue.
From a process that started with their recruiters nominating them, the magazine's staff chose 48 travel nurses and other traveling healthcare staffers to honor as standouts in the field.
One of the winners, Patricia Pitts, RN, who specialty is Labor & Delivery has been traveling for 22 years! Her recruiter, Stephanie Pucillo, with CRU48 nominated her.
To see a full listings of winning travelers for 2013, click here.
Following the same nomination process, but with travelers nominating recruiters, Healthcare Traveler awarded 51 Recruiters of the Year. The publication notes that trust is a valuable part of a traveler-recruiter relationship.
To see the full listings of winning recruiters for 2013, click here.
Congratulations to all of the 2013 Travelers and Recruiters of the Year!