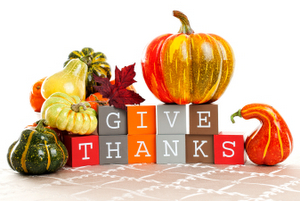 If you are working over Thanksgiving this year, being thankful for your job as a travel nurse may not be right at the tip of your tongue. But it's an attitude of gratitude that will carry you through and will also rub off positivity on your patients and everyone else you meet. It may sound a little PollyAnna-ish, but you know it's true. So let's look over a few reasons that should make travel nurses give thanks over this Holiday weekend.
Travel nursing allows you to make a major positive impact.
This impact stretches from the patient in 1143 to his or her family, the hospital, and ultimately the overall healthcare system. You should be thankful that you work in a profession that really allows you to roll your scrub sleeves up and make a difference in people's lives. As a dedicated nurse you know that even in a tragic situation your bedside manner and support can offer comfort that makes a lasting impact on a patient and often an entire family. As a travel nurse, you go where you are most needed, thus helping the entire healthcare system work more smoothly.
Working as a travel nurse lets you spend Thanksgiving in a potentially exotic locale.
Maybe you're in Hawaii! Or maybe it's more like Fargo this year. Wherever you are this year, be sure to give thanks for the amazing opportunity you have to take the chance to see the world. You get to spend the holiday in a new city every year if you want. Make sure to be thankful for all the amazing sights, sounds, local cultures, and more that you have seen and that you have to look forward to seeing through your career as a travel nurse.
And it's a pretty good living at that!
In these uncertain economic times, it's pretty great that you are able to do what you love and make a really great wage doing it. Not everybody can say they have such flexible, interesting, and lucrative work as travel nurses do.
You've got your health.
You may spend a lot of time in the hospital, but at least it's not for the reasons your patients are there. You are close enough to know how truly devastating a major health issue can be for a patient and their family. It's good to take a moment to step back and thank your lucky stars that you are not on the receiving end of the patient care. Being thankful for something we can so easily take for granted — such as good health — is what gratitude is all about.
Of course there are so many more than three reason that travel nurses give thanks for what they do. What are you thankful for this holiday season? Share your gratitude in the comments.