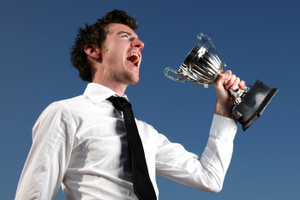 Healthcare Traveler magazine is once again hosting its annual Recruiter of the Year contest. Recruiter of the Year 2013 nominations are now open now and will continue through October 7, 2013.
Every travel nurse knows that having an amazing recruiter is a major part of having a successful career in the travel nurse industry. A good recruiter goes out of their way to make sure that their nurses' needs are met ahead of and throughout all of a nurse's assignments. A good recruiter is reputable and honest in all of their dealings with their nurses. A good recruiter always gets back to you right away.
At Travel Nursing Central we are always saying that the best advice we can give a travel nurse is to find a recruiter that they trust and who is a good fit for them. It's best to find a recruiter that's almost like a friend — someone who will take the time to get to know you and as a result has a better understanding of what you need out of jobs and locations. Once you have a trusted recruiter, the jobs tend to fall into place much more easily.
For someone so important to you professionally, it's nice to recognize them for all that they do! Here are the full official rules for Recruiter of the Year nominations:
To qualify, nominees must currently be employed in a professional placement capacity at a travel staffing agency or travel division.
Voting travelers must have worked with the nominated recruiter during 2013. Mobile professionals' employment history will be verified.
Recruiters need not be licensed healthcare providers.
Only one nomination per traveler will be accepted.
Incomplete submissions will not be considered.
Entries received after October 7, 2013, may not be counted.
If you have a great recruiter, visit the nomination form here. It only takes a couple moments to nominate your recruiter.