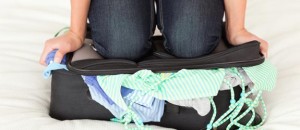 When you start a new position in a new city, you are bound to run into a few wrinkles on your first day- so you should do what you can to at least avoid the ones in your scrubs!
Everyone knows that feeling of unpacking and suddenly having everything you own look like a crumpled piece of paper. It's even worse when it's work clothes and you have to go to work the next day, so here are a few tips to avoid the wrinkles when you're packing (and to get them out if you're already unpacking a crinkly mess!)
The first tip goes all the way back to the day you decide which scrubs to buy. When purchasing, lean toward scrubs with poly/cotton or poly/rayon blends and avoid the items that advertise 100% cotton. The pure cotton tops and pants are more likely to mold to whatever you shape you cram them into and thus come out needing lot of attention from an iron. The polyester helps keep the fabric a little more flexible and a lot more suitcase-friendly.
If you decide to wash your scrubs before putting everything in your suitcase, take them out of the dryer a few minutes before they are totally dry and finish the process on a hanger. By letting your scrubs air-dry for the last few minutes, you can prevent 90% of the wrinkles that happen in the dryer. Also remember to hang your scrub pants upside-down. The weight of the elastic waist or drawstring will help just a little more in pulling out any creases that may have already formed.
When you finally do put your scrubs into your bag, make sure to avoid folding them and, instead, roll them like a sleeping bag. Folding your scrubs will leave harsh crease lines
If you do find that you have wrinkles when you've finally reached your new home, you can always try the tried-and-true option of hanging your scrubs in the bathroom while taking a shower. The dampness won't have any negative effects on your uniform and will definitely help smooth things over on your first day!that will stay in for days after you unpack. Rolling, on the other hand, only curves the fabric and reduces the number and intensity of wrinkles. But remember, roll like a sleeping bag- smoothly and in one direction- not like how you ball up a pair of dirty jeans to toss in the laundry. That technique would have a very different result on the other end of your travels….
By Scrubadoo's Eva Dixon