Travel Nursing Agency Ranking Results
Each ranking is averaged and updated on a continual basis. The highest score for an agency is 100.

Go back to travel nursing agency rankings.

Click here to view a list of over 300 agencies and their contact information.

Travel Nursing Company Review of: Medical Staffing Network

Score
(all time)
Score
(within 1 year)
1. Knowledgeable
2.7
2. Friendly
3.1
3. Efficient
2.5
4. Honest
2.3
5. Pay rate
2.4
6. Paycheck accuracy
2.6
7. Housing
2.7
8. Benefits
2.4
9. Supportive
2.5
10. Assignment selection available
3
11. Individualized
2.4
12. Insurance plan
2.3
13. Reliable
2.4
14. Accessible
2.4
15. Reputable
2.4
16. Accommodating
2.4
17. Professional
2.7
18. Paycheck arrival time
3.1
19. Chances you will recommend this agency
2.1
20. Chances you will work with them again
2.4
Total Score (number or rankings)
50.8(51)
(0)
Whitney was very unhelpful in all aspects as well as others in this company. Myself and two other RNs were placed in a very unsafe labor and delivery. I ended up wanting out after day one. I was told that the professional way to leave a contract was to give two weeks. Us being placed in this unsafe of an environment was completely overlooked. I called every single day after my shift of something else that occurred during this two week notice to report yet another unsafe happening. All that was said to me was- "the hospital is working on it" "just hang in there". They were so worried about us finishing our contract and keeping the hospital happy our concerns were completely overlooked and unwanted. NEVER again!! Do not sign with this company- your license is not worth it! 12/06/2017
They wait to the last minute to tell you what you need to do for requirements holding you up from starting your position making you look unprofessional. they are hard to get in contact with 07/10/2017
Terrible experience 10/19/2016
Well I just got crapped on BIG TIME by CrossCountry and Medical Staffing Network. Came from the west coast of Florida to Cedar Sinai in LA for a 13 week contract. I had worked off and on with Medical Staffing since 2002 but not since they were bought out by CrossCountry. WHAT A JOKE!!!! Contract was cancelled while I was still in orientation on the floor due to the staff RN I was covering for coming back from maternity leave per the unit manager who let it slip out while he was talking about possibly changing me to night shift. But that was not the reason given that the contract was cancelled. Was told I failed a PAPER..yes a PAPER..not COMPUTER..ECCO Critical Care Exam I was given two weeks after being there. This was NOT an ICU Unit. This was a plain TELEMETRY Unit. CrossCountry denied knowing about any test I was supposed to take AFTER I started on the unit. Their way of making it MY FAULT the contract was cancelled. CrossCountry said POSSIBLY there were two other positions that were 5 DAYS A WEEK-not the 3 twelve hour shifts and these were in clinics. That was over a week ago and the recruiter and the CrossCountry Liaison keep saying they will get back to me about those positions. AND even though contract plainly states I am to be paid, they are not paying me either..In LA with double rent and no job. ALSO, during orientation found out that travelers from other companies were making 800. to 1000. more per week than CrossCountry (includes me and a L&D RN also with CrossCountry). CrossCountry is the main contractor for Cedars. Heading back to Florida and NEVER EVER working for Medical Staffing Network or CrossCountry again!!! They are CROOKS in every sense of the word!!!!! Spoke with an attorney in Florida who does Class Action Lawsuits and he stated very possible this could be a class action lawsuit. So all you nurses who have been screwed by these two companies keep checking and if this is the grounds for Class Action Lawsuit I will post. Medical Staffing had to settle a Class Action Lawsuit about a year ago ...look it up..I, myself, received a small check from it. So very possible this could happen again. These two companies SUCK!!!!! 01/07/2016
Shavon Alexander is one of the worst nursing recruiters I have ever dealt with. She lies about EVERYTHING from sign-on bonus to pay to completion bonus. When I contacted corporate due to a contract they were not honoring (after I was sent the contract by shavon) corporate was just as horrible to deal with. I attempted to contact the RVP Anita vitallo and was basically told the contract means nothing. Work at this new rate or don't. The rudeness of this company, not honoring the contracts, and overall they are extremely unethical. Please DO NOT use this company, there are other agencies..nightingale, ATC, progressive, all of these agencies have been honest and honorable. No scams, no lies, and were not deceitful. I wanted to try MSN and wow,! What a rude awakening. 09/29/2015
One assignment with this company was enough. I had to call to get 1st paycheck after setting up direct deposit. It was sent on card, which went to my home residence. Card was never received. Pay & housing horrible. Recruiter unsupportive. Assignment was very unsafe practice. Treated badly by facility. Only few travel nurses made it to the end of contract. Oh and insurance coverage for 1st day what a laugh. I had to call a month later after going to ED for dehydration. 08/28/2015
since the merger with cross country this company has gone down the drain. they cannot access cross country assignments, there is tremendous confusion, inefficiency, recruiters have no clue what is going on. dishonest. here is the kicker. my last assignment was canceled because the recruiter failed to check the cross country email which had my medical certification for me to begin work. instead she accused the doctors office of not supplying the form. well they did, but recruiter insisted they had not, so she failed to get the info the hospital on time and they canceled my contract. i traveled from the east coast to the west coast for the assignment. i didn't even get an apology from the company, i lost a considerable sum of money and they did nothing to assist me. will never use them again nor recommend them. 08/12/2015
Last contract, were not honest about requirements. Needed information inaccessible by MSN staff because Cross Country had information (this happened to 2 friends of mine also). Company is not the same since it merged with Cross Country. Recruiter is wonderful but it seems that Cross Country has began to give this Agency a bad name. Keep changing the contract - even when you extend at the same hospital and unit, they change the wording of the contract. Going to use another agency for my next assignment. 06/12/2015
I have NEVER had any issues with this ompany. VERY nice people to deal with and good contracts. 03/26/2015
are willing to pay more in housing which lowers your base hourly rate, but averages okay unless you work over 36 hours. 12/23/2014
An unprofessional group that shows little evidence of team work and advocacy for the nurse client.. A comedy of errors were left for the nurse to fix. Seemed like I had homework nightly. The day before starting an assignment no one realized I had no badge so I was inconvenienced by having to drive to another city with an office where I could get an ID badge. After noon on Fridays no one was reachable by phone or email until Monday morning.my 13-week assignment was completed without a resolution to my health insurance. I was a healthcare worker without insurance. A very disappointing introduction to travel nursing. 09/21/2014
Never paid me. Lies... Says it all about this agency. Don't travel from afar or you will not be able to get back home. 09/17/2014
Drove 2000 miles for my assignment with a contract in hand. Upon arrival my housing was unavailable and the hospital stated they had informed this agency that orientation was changed to two weeks beyond the original date. I had to find a place to stay and I worked with another company agency until the start date, When the two weeks lapsed and the start date began the hospital informed me I was assigned to another area to work not my specialty. This agency supported the hospital on a permanent change of contract where I was assigned to work which was surgery to med/surgery due to the hospital having a severe shortage in that area. My recruiter and this company did not support me nor several nurses who were in orientation on this breach of contract. If there was score of disgusting lower than one I would rate that. NEVER TRAVEL WITH THIS COMPANY. 09/02/2014
Absolute nightmare, housing was totally f'ed up, no one is there when you need them 08/14/2014
I agreed to a travel assignment with this company @ an HCA facility in the Midwest. I was assigned to a Cardiac step-down unit that was consisted of 1st day post-op CABG's, Triple A's, and CEA's. When I asked the recruiter what the staffing ration was, she said "It is a little high right now at approximately 6:1, but they are working on that to get it lower." I said that is an incredibly high number for that type of unit, but agreed to work it anyway thinking I could keep my head above water- and that was likely the worst-case scenario. When I arrived to the hospital, I had a day of orientation on their computer documentation, but half the day was basically administration welcoming new hires (and travelers) and going on and on with high praises of their facility. When I actually needed some orientation to the unit, I was assigned to a day staff nurse at the end of her day, that was frantically trying to tie things up and get ready for report. I was running behind her, as she was wheeling her computer-on-wheels [C.O.W.] down the hall, yelling out to me, "That's the door code to that medroom, that's the door code to the other medroom, you push this buttom to get the dumbwaiter up from pharmacy, etc." Unit orientation was a whole 45 minutes of this. I was working 7p-7A and when I went to the report room, the Charge nurse handed me a pile of 13 Kardex and MAR's, and I asked her if she wanted me to hand them out. She said, "No, those are your patients." I was stunned- I told her I was told by the recruiter that the ratio was 6:1 at worst, she said, "The unit is full, everybody has the same amount- that's your assignment." Needless to say, it was a nightmare beyond belief. A 12 hour shift every night ended up being 14-15 hours. It never improved, it only got worse. Prior to taking the assignment, my recruiter was available 24/7. Afterward- it would have been easier to find Hoffa- no return calls, did not answer, was always unavailable, on and on. When I finally did reach her and said how bad the situation was, I was only offered, "If you quit the assignment, an amount greater than $1,000 will be directly withdrawn from your checking account and will be unlikely you will be offered any other travel assignment." Additionally I was never reimbursed for the travel/time for pre-employment drug testing and lab draw as promised. I don't know how to avoid ever getting into a situation like this again except to avoid accepting "blind" assignments, without knowing about the facility first-hand, and at all costs, run from this agency unless you want to face potential criminal negligence charges for being put into an impossible, and extremely dangerous situation like I was. 08/07/2014
This company is stealing money from our nurses. They are worse then any other company. They charge the hospitals 94.00/hr and pay us around 21.00 if they can get away with it. Watch your hours they will try and leave some off on every check. The playboy owner is a disgrace to humanity, and I am not exaggerating at all. They are at the point now where a lot of agencies will refuse to work with them but they have many california hospitals backed into a corner and are monopolizing them. The small agencies and us nurses don't stand a chance against the big conglomerate. Beware. 03/09/2014
Worked for them as a per diem nurse for almost two years now. They have been wonderful to work with and have been very supportive when life events have taken place. I have referred 4 others to work for them. 03/19/2010
comment6, 01/05/2009
Bad assignment, bad apt was along way from hosp and next to garbage dump. recruiter was no help. 07/15/2008
My first contract assignment with them was 6 weeks. I've extended with them twice now,, not because of the agency, but the facility and staff is great. I was mislead about the medical insurance. It was supposed to be at no cost to me, then found out that I would have to pay $50 every month for the first 3 months. The online insurance benefits were not "up to date" according to my recruiter. Also, when I extended, I was supposed to get a pay increase. I am still fighting to get the back pay that was promised to me. My recruiter insisted it was paid to me, when it hasn't been. Now I'm told it will be in my account within the next 2 days,,,, we'll see if it is!!! 07/16/2007
If a problem should arise between you and the hospital, such as unsafe work environments, don't expect this company to come to your rescue. You are to stay on an assignment at all costs. At your expense of course. They are only about how much money you can make for them. If you like being treated like a number this is the job for you. 06/14/2007
I have not had any bad experiences with this company, I am on my second assignment with intelistaf and plan to extend the current one. I have read some bad reviews about Intelistaf on other web sites but most seemed to be dated after they had bought Starmed out, another travel agency that I had previously travelled with as well. I can't really speak about their housing due to my taking the travel allowance wich has been adequate, so I rated them average on that. I have had two late pay ckecks do to key stroke mistake on there part and a faxing issue on mine. They were quick to fix the problem and had wired the money to my account with in 24 hours. My main complaint is their health insurance. In my opinion it is expensive (for family coverage, wife and three kids) for what you get. The deductables and co-pays are higher than what I have had as full time staff else where plus there are 90 day waiting periods for dental and vision. They have a plan where you can upgrade the plan to what I have had in the past with lower deductables but the cost for family coverage is approx. 1000 dollars monthly. Other than that I have had no real problems with them. My recruiter seems very competent and does what she says she will. I agree with what I have read other travelers write about traveling and travel companies. It often depends on the recruiter. If they sound like a used car salesman and they are trying to sell you something then think twice, just remember to be flexable. 05/14/2007
I have the best recruiter, the best back up staff, the best of everything with this agency 05/14/2007
Paycheck never right, lack of information regarding health insurance practices. 04/25/2007
-remember to ask for travel reimbursement in contract - continuing education reimbursment in contract -make copies of all paperwork because they often loss it - watch out for insurance benefits (dental and vision not covered until after 90 days 04/06/2007
I have only been with the company for 1 assignment (switched after 2+ years with previous company). No complaints. 03/30/2007
Great company to work with and offers many different locations as well as per diem work too! 02/18/2007
Remember, your assignment & experience are only as good as your contract--be absolutely certain that you have it in writing or it was never agreed upon. Your recruiter makes a big difference as well--my first recruiter was awesome, the following 4, well, not so good. I had a total of 5 different recruiters during my stint of 1 1/2 years, without changing regions or locations. Also, I found out that everyone else at my facility was making more money for the same position through different agencies--that really hurt. So, shop around! 02/16/2007
excellent!! my recruiter is erin in clearwater fl she is superb!!! my checks are always on time weekly excellent!!!! 02/12/2007
Always a run around and answers of "I don't know, but I'll find out." I found my first contract for them, and left them when I went to another state because they would not pursue registration in that area. 09/03/2006
Recruiter I had was VERY pushy. It made the experience uncomfortable and I'm glad they no longer have my phone number.
i worked for intelistaf for 2 years and i stayed with them that long out of convienence. i had one really great recruiter but then he/she left and it was all downhill from there. it all depends on the recruiter you get. payroll here is horrible and you always have to watch your checks for mistakes. the housing is always nice though. pay rates are comparable to other agencies.
Placed in Horrible Hospital In Riverside California, Feared for My License on daily basis, Contacted Recruiter told about Multiple issues on Patient Safety, Misconduct, Surgeon Unsafe to Patient, Unsafe Conditions for Nurses, TRUE NIGHTMARE. No HELP FROM COMPANY!!!!, Broke Contract to Keep sanity and License, Had traveled with Starmed for 5 yrs never once had a problem, but when the brass tacks came down to it.... I had only my own legs to stand on, their only concern was money, not me, my professional integrity or even Patient Safety.... Would Run like a scalded dog if they were the last company on earth.... What happend to them, they were so great to travel with, reliable and the top of the line... now its just who has a pulse and a license, skill doesnt seem to be a factor anymore.
I had 4 recruiters during my first 4 months. There were several contract date errors. They gave me money instead of taking money out for my rental car one week. Of course they discovered their error and took the money back. They don't provide corporate housing so I had to buy a lot of things when I got here. The salaries are lower than I think they should be. My base salary is less than my last full time position.
I have been with Intelistaf for 2 years. I have had a few payroll mistakes but 98% of the time my paycheck has been accurate. My housing has always been nice except for my current assignment. And I called to tell them and they are moving me out into a nicer place. They have offered to pay for all my reconnection fees and even my pet deposit. I have never had to pay a deposit on an apartment. The only thing I would say needs improvement is there job selection and pay rates.
Overall a good company but I think they are getting too big for personalized service
I enjoyed my time with Star Med. My recruiter, Leslie Holmes was out of this world great! The housing was the best Ive seen, and they even had a candle lit dinner on the table when I arrived. (That was the best!) I switched companies because they could not get me exactly where I wanted to go. I would definitely go bak, if they had an assignment where I wanted to travel.
Great experience. Lots of options and a good recruiter
This agency claimed to have a clinical residency program in the ICU at a Texas hospital. When it became evident that the hospital did not have any intention of providing a clinical residency, the agency told me the hospital cancelled my contract because (I threw some charts). The agency then proceeded to hold my last paycheck of approx. $1600. I filed a wage claim with the Texas Labor Commission in Austin, Texas and have subsequently won the claim for wages withheld. I have not received the back wages yet.
Theres not enough words in the world to describe what they did to me on a contract.
The Merge has taken some of the "personal" feel from this agency.
so much depends on the recruiter you get. The first face you see makes the deepest impression.
Pay was very rarely accurate, and payroll on 5 occasions (during 13 weeks) made me responsible for contacting the staffing office to get my time sheets refaxed (which on 2 occasions payroll admitted to losing- no other travelers here were having an issue with their time sheets being faxed in on time).

Housing in San Jose, CA was unsafe and dirty-literally drug deals going on outside our apt. along with the fact that the furniture co. "lost" our order, and InteliStaf left us without furniture for a week. Told this was the best housing in the area we could get despite the fact that over 20 other travelers (with other companies at the same hospital) were living closer to the hospital in nicer accommodations with better pay rates.

It would take up to a week for my recruiter to return my phone calls, and often they were forwarded to someone else to deal with.
I stayed with this company because I like a particular assignment and have been at it off and on for about 2 years. I tried to go with another agency to this assignment and found out that the company has a non compete clause with the hospital and wo not allow them to use me through any other company for over a year.

This company has just taken over StarMed whom I have worked for and basically rated them regarding StarMed instead of Intelistaf because I have only worked this one time for them. The contract Intelistaf wanted me to sign was horrible and so I refused to sign it. The Vice president called me and told me to mark out the things I did not like and submit it that way. So I did. I have not had to use their housing but they do not pay utilities and charge $300 deposit for housing deposit. There are a lot of other things that were rotten about the contract as well.
Even though this agency does seem to have limited listings and their pay rates are generally less then others I have a really good recruiter. She calls me throughout my assignments. Housing has always been really nice. Any problems I have had have been solved very quickly.
Return to top of page
---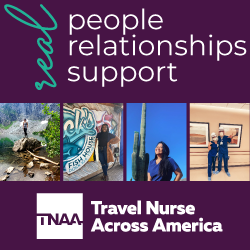 Click here for advertising info