Travel Nursing Agency Ranking Results
Each ranking is averaged and updated on a continual basis. The highest score for an agency is 100.

Go back to travel nursing agency rankings.

Click here to view a list of over 300 agencies and their contact information.

Travel Nursing Company Review of: Sunbelt Staffing

Score
(all time)
Score
(within 1 year)
1. Knowledgeable
3.2
2. Friendly
3.8
3. Efficient
3.3
4. Honest
3.2
5. Pay rate
2.9
6. Paycheck accuracy
3.7
7. Housing
2.9
8. Benefits
3
9. Supportive
3.2
10. Assignment selection available
2.7
11. Individualized
3.3
12. Insurance plan
2.9
13. Reliable
3.2
14. Accessible
3.5
15. Reputable
3.3
16. Accommodating
3.3
17. Professional
3.5
18. Paycheck arrival time
3.8
19. Chances you will recommend this agency
3.4
20. Chances you will work with them again
3.3
Total Score (number or rankings)
65.4(26)
(0)
Inconsistent with returning emails. Did not pay mileage reimbursement. Unable to reach recruiter for weeks at a time. 09/11/2018
Stay away from Sunbelt!!! They posts tons of jobs that do not even exists to get travelers to call and get set up with them! This is a very dirty business practice. I confronted the radiology recruiter about it and he would not admit or deny anything. He was talking around the issue. He did eventually admit that he will use the word "near" in all his job location postings and that means he allegedly has a job within a 200 miles radius of that city! He is literally posting dozens of fake jobs in a 200 mile radius for every one real job they supposedly have. I have not taken an assignment with them after learning this so the pay/benefits/insurance ratings I give can be ignored. But I want the travel world to be aware how Sunbelt is trying to scam us. 09/06/2018
It took my recruiter three weeks to tell me the pay rate. She wanted a verbal agreement before telling me what the pay rate was.After she told me I understood why she wanted the verbal agreement. I used to work for this hospital before becoming a traveler. I was a brand new nurse then.She quoted me less than what I made there as a new nurse.This quote was everything included. I would have to provide my own housing and etc. She wasted my time! 04/23/2018
CAUTION FELLOW TRAVELERS ! VERY LOW PAY AND PUSHY RECRUITER "Ron". You WILL regret it if you sign on and "travel" with this agency I can assure you ! 11/26/2017
I love it 10/18/2017
I chose Sunbelt for my first travel job as a CST. Hoyt is a great recruiter and my experience has been mostly great. There were some delays during credentialing, but not the fault of Sunbelt. Would recommend. 03/16/2016
This is my second time working with carol Sitzman at Sunbelt 11/13/2015
While every travel company has its hang-ups, remember it is the recruiter that makes the difference. Many times I was misled but my recruiter was new. In the end, all turned out pretty well and I would recommend using this company. 09/25/2015
Samantha Bevis was my recruiter and excels in all she does to make you feel 100% satisfied. Sunbelt has been the best company I have worked for so far!!!! Please give this company a call you will not regret it. I am taking a short break and will continue to travel with this company now that I've had such a wonderful experience. Do not travel with AMN they are all about lies... This is a fair warning to all new or seasoned travelers out there. 09/22/2015
Great agency and my recruiter (Hoyt Carrier) was awesome. From the moment I first called I had an interview with 24 hours. Hoyt always returned phone calls and emails almost immediately. Agency was very willing to work with me when I had an issue regarding the hospital (not the agency) trying to short me on my time card. Actually added the money I was owed to my traveling reimbursement. Hoyt made sure he kept in touch every few days, adding how the job was going, if I had any problems. I'm definitely going to work with them alot more in the future. 09/22/2015
My recruiter at Sunbelt is a great advocate for me and we work well together. The company offers straight forward contracts. I feel like they are a part of my team and they make my travel experiences easy and lucrative. 08/10/2015
My recruiter is the best he made himself available to me all the time. I had only one bad situation with housing and within one hr at night i had great housing. I never worried about things because i know he will take care of it all. Sometimes I cant get the location I want but he cannot make the position be available. I have been on assignment and nurses from other agencies were complaining about their recruiters. They had very little contact and knew nothing about them. Mine called me every few days making sure I was happy if I didnt check in. Sunbelt has been wonderful to me 07/15/2014
Recrutor in home health. Very rude to me. Yelling, never once tried to find out what the problem was. Treminated very vag in resoning, recrutor nevr listen to my side the story she just said its its obvious, I dont have what it takes to be nurse. I am 500 miles from home home care company mad at me. ??? My recruitor started yelling at me on phone. I dont need everyone down my throat. What was I fired for??? I thought the recrutor was suppose to help me no yell at me 04/17/2014
Great co 03/30/2014
This company sent me to a position I was not qualified for. Recruiter told me several times it was a perfect fit and I would do great. Hospital needed someone with acuity skills that risked my license. Recruiter offered no help in housing, and now she refuses to return any calls. They are deceitful and only want to make money from the RN who has to actually do the work and earn the money. Do not risk your license and integrity with Sunbelt Staffing. I left an excellent company to work for them because of a location. They are very unprofessional, they want to put you in a job just so you make money for them and when you find out it is not according to your skills, they could care less and leave you hanging. Nursing is an excellent profession- don't risk your career on Sunbelt Staffing. They are fake when it comes to caring about the nurse. 09/17/2013
Recruiter "forgot" to submit my paperwork for medical insurance and now I have none. If I submit it now it will be backdated to start date so I will be pa ying for a service that I have not been able to use. By the time I get the packet my ass ignment will be over. Also, the hospital uses a vendor for pay. I have to submit stubs to them and my agency. My agency played stupid about this and I did not get paid for three weeks into my contract. I am less than thrilled with them. 04/21/2013
Also helps that my recruiter has been Recruiter of the Year!!! 05/23/2011
DAESH ONOTOLE V PRAVITELI VSELENNOI! 11/11/2008
I went to this company because a previous friend had recommended Justin Carlson as a recruiter. Over all things went pretty smoothly. They didn't have the exact assignment that I wanted, but the hospital was well know for being traveler friendly. He told me one pay rate and then once I asked for more information changed the rate. To me it seemed like bait and switch. Other than that the company was nice. I didn't really have any problems so other than the initial communication I really didn't hear from him. It was hard to reach him at times, often we played phone tag. He was quick to call back, but usually had to leave a message. They do not pay for furnature or utilities like many other companies. We opted to find our own housing. Paycheck we on time and correct. I would recommend this company to a friend. It seems like they had their act together despite the bait and switch and the fact that they are slightly hard to get a hold of. 06/12/2008
most of the recruiters are not nurses so they have no idea what you really do, ask questions about the assignment and do your research on the hospital. they send you to alot of grundgy hospitals especially hca facilities.the pay is ok. they do not provide bedding,utensils or utilities at housing. 04/24/2008
This is the first time traveling for me and they made the experience very easy and enjoyable. 04/14/2008
06/20/2007
Housing department is very bad. No corporate housing. I think they're great if you don't want compny housing.
i have worked for this company for 2 years.i have been the better paid traveler out of the bunch wherever i have gone!very happy with recieving vacation time and short term and long term disability.
Recruiter WORKED to get the assignment I wanted. Could not have wished for anythin better.
Choices of geographic locations/hospitals is limited
Amazed at how organized and smooth the whole process went.
Return to top of page
---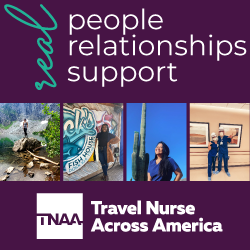 Click here for advertising info