Travel Nursing Agency Ranking Results
Each ranking is averaged and updated on a continual basis. The highest score for an agency is 100.

Go back to travel nursing agency rankings.

Click here to view a list of over 300 agencies and their contact information.

Travel Nursing Company Review of: RNNetwork

Score
(all time)
Score
(within 1 year)
1. Knowledgeable
3.5
2. Friendly
3.7
3. Efficient
3.3
4. Honest
3.1
5. Pay rate
2.9
6. Paycheck accuracy
3.8
7. Housing
3.4
8. Benefits
3.6
9. Supportive
3.4
10. Assignment selection available
3.4
11. Individualized
3.2
12. Insurance plan
3.6
13. Reliable
3.2
14. Accessible
3.4
15. Reputable
3.3
16. Accommodating
3.2
17. Professional
3.5
18. Paycheck arrival time
4.2
19. Chances you will recommend this agency
3.2
20. Chances you will work with them again
3.2
Total Score (number or rankings)
68.1(77)
(0)
My recruiter, Michelle has been pretty good. My disappointment in traveling/agencies/recruiters in general is the amount of information I find about a job. I want to know the important things such as what computer charting system am I signing up for...before I have to apply and go through an interview process. Why is that information so hard to find. It is my biggest frustration. And when I find an agency that will disclose that information, and give me top pay, and not try to persuade me that any position is good, regardless of me voicing that it is not what I am looking for...that will be the agency I stick with long term 07/31/2021
One of the best I've worked for. I appreciate that they will not put you in a bad situation. If there are nurse complaints about a hospital they will quit staffing them. GOOD bonuses every 3 contracts 03/05/2021
Awful low paying horrible benefits 02/18/2020
RNNetwork was the first agency I worked with as a travel nurse. The credentialing department is awful, be prepared to send in your documents MULTIPLE times. I am currently working at a hospital with 90% travelers and am receiving the lowest pay compared to the rest of the travelers. As my assignment is coming to an end, my recruiter Christina submitted me to other hospitals without telling me and to places I am not even interested. I feel that RNNetwork takes advantage of new travelers and submit you to hospitals where they get incentive. Be careful! 12/09/2019
Lowballed me with my rate. Making a lot less than nurses with less experience in nonspeciality areas 10/22/2019
I preferred my previous recruiter with this agency. My current recruiter is not as efficient or knowledgeable. Assignment selection can be somewhat limited in certain markets. 08/20/2019
Love my recruiter! Credential department is nightmare. Have to send things several times to different people. A little slow with finding new assignments but otherwise good. 06/02/2019
Great agency never had any problems in the 4 years I worked with them. 01/03/2019
My recruiter and the housing department are wonderful. BUT credentialing will make you lose your mind. When I leave this company it will be because of them. 10/11/2018
Long term fine 05/03/2018
I worked for RN Network for 15 months. They were great. I loved Alyssa Castor. She called me and treated me like a friend. I will go back to RN Network when I'm ready to travel again. 01/23/2018
Paperwork was a nightmare. Always having to resend information to different people at the agency. Pay was always timely. 01/01/2018
My recruiter Jasmine Diamond has been so great. She calls to check in with me just to see how things are going and if I have any concerns with my current assignment and stays on top of things so I can plan ahead for my next adventure well in advance. I have never had any issues with my paycheck being wrong or late like some horror stories I've heard about other companies. I feel very good about recommending my company to friends and coworkers because they are reliable and the pay is decent. The wages may not be top of the line in comparison to some, but I'd personally rather have reliability. A slightly smaller paycheck is a sacrifice I'm willing to make for the peace of mind knowing my company has my back and treats me like a human being. 11/24/2017
Sr Recruiter submitted me to an assignment without my knowledge, did not know pay package nothing and Manager called for interview was totally taken aback. Rec'd another Sr Recruiter tried working with her for over acyr. Never returned calls or emails and when she did was 5-7 days later. Felt she was betrayed cuz worked with other agencies, would try to negotiate a contract and stated was never happy with pay mainly the last one was on OT nd even got the manager who also stated the time et. HALF DEAL. Went with another agency who was willing to negotiate and did OT weekly. Recruiter finally stated was not happy that I was given to her and it was her friend who I got in trouble for submitting me. REALLY where is professionlism, integrity. Always made me feel I was in the wrong and here she had this chip on for over a yr. TWO SR RECRUITER'S acted this way! It's really sad because still feel RN NETWORK is a good company but do wish management would listen to the travelers. 09/14/2017
There are some great things about this company-lots of contracts to pick from, great insurance, average pay packages. However (and I only worked with one recruiter so I may be biased), they have some honesty and integrity issues that I couldn't support. 05/23/2017
Alessandra Williams was amazing and I miss her! I just wished that she worked for a better paying company:( I traveled with her for 7 contracts. She called every Friday to check in. "Hi day Friday!" She was easy to reach, worked hard to find contracts and was just a TOP NOTCH recruiter. Unfortunately RNNetwork would offer me several several hundred dollars less than other agencies. Makes a nurse not feel very important. So sad. Miss my recruiter. 05/05/2017
Awesome insurance! Best recruiter- Jennifer Walter! 04/22/2017
Loved working with my recruiter Gina! She did an awesome job! 04/11/2017
I've had a decent experience with RNNetwork. I was very impressed with their response to a safety issue I had with my hospital, and they promptly followed up with me and involved a manager right away to help resolve the issue. I felt very supported. That being said...there were a few issues/frustrations as well, and not the fault of my recruiter. The credentialing dept. is not good. Like others have said here, there is a lot of going back and forth and submitting things Multiple times to them. There seems to be "too many cooks" in the kitchen and their processes are not streamlined or efficient. I had to submit an I9 at Least 5 different times because clear instructions on how They specifically want the form filled out were never provided. Insisting on "wet" ink signatures is ridiculous in 2017, especially when said form is being Emailed back anyway. Payroll is inefficient, and has very specific and silly rules about time sheets, even for facilities that send the time info to them. My recruiters are fine though. 02/16/2017
This was my second travel job as a nurse. Different agency the first time. My recruiter was responsive and friendly. Credentialing dept left something to be desired as I had ti submit things over and over or keep emailing or calling about the same things. Seems they often could not get their act together regarding this issue. Pay seems low. When I got to my assignment there were lots of travelers there from another agency makin three times as much as me! When I mentioned it to my recruiter he stated something about exclusivity EMR contract. Whatever. I don't know if I believed him but I was stuck. I commuted an hour and a half so took the housing stipend. Benefits were ok except the low pay. 01/20/2017
I have worked with them on a few contracts and the only time I had a problem was with Rachel. She promised the world and did not deliver. Became nasty when confronted. I switched recruiters and have been very happy with Alaina. Make sure you get a good recruiter...it makes a world of difference. Never had a paycheck issue! Location was just exactly what I wanted! Pay is great! I would recommend! 08/01/2016
Joe was an awesome recruiter. I was often happier with him than the company. Had a little issue with a pay-check and although I don't think that the company ever understood what I was talking about, joe made it right. Had several travel opportunities available. Not real sure that the pay was the highest, but overall the company was solid 07/08/2016
I did an interview at a hospital that RN Network submitted me to and was told by the manager I should get the offer soon. Called my recruiter and informed them. After six days of waiting for an offer decided to go with any company, different job, as soon as I did this RN Network called and said oh we just got an offer, which I then declined. They waited forever to inform the hospital that I declined the position. 07/05/2016
I've done several assignments with RN Network. The only issue I had was with my recruiter, Michelle. She submitted me all around the country, when I wanted a specific area. I would get interview calls and had no idea why. She always told me she hadn't submitted me to these places. I started asking the managers that called what company submitted me and it was always RN Network. Also she was very pushy if I didn't want to take a particular job. She would insist it was what I wanted. I started communicating with her mostly in emails only and was really able to see the extent she was willing to lie. If I was to go back with this company it definitely would not be with her. 06/13/2016
Credentialing department is a joke!! Jennifer R. constantly calls and emails you to tell you things aren't done without checking her fax or email for documents that you have already submitted. They don't seem to communicate with other departments either. They call you to discuss matters that you have already discussed with the recruiter or recruiter assistant. But once your credentialing is done, smooth sailing after that. Happy travels!! 03/14/2016
I do believe I have the best recruiter at RN Network, James (Jimmy) Lauriello. After reading reviews on RN Network I was nervous to go with them, but Jimmy was the first recruiter (and I was talking to 5 recruiters/companies) to get me where I wanted to be, shift and money. I would go with RN Network again in an instant. My paychecks were exactly as promised. Received all my reimbursements. 03/09/2016
Reviews of this agency showed them to be on the average. My experience though was very below average. Communication is a problem, too many people involved, and all are not on the same page. My recruiter Rachel was arrogant and when things get heated she will not stand up for the RN; it is all about her because she is "the 03/01/2016
My recruiter Erika is amazing. Always available, always friendly and courteous. This is my first time traveling and they have been more than helpful and the experience is more than I had hoped for. 02/21/2016
Everyone was pleasant and professional via phone. Very low pay rate and no increase for working extra shifts, but penalized when hours short 30 minutes during orientation. Returned from travel assignment in the hole. Couldn't afford to renew contract. Found own housing and benefits. 07/24/2015
Pretty decent. Not good about finding you your next assignment in a timely manner. Never had a pay check issue. Pay and travel allowance needs to be better. 06/20/2015
Courtney is my recruiter, and she gets things done ASAP. When I look for a new assignment, she's got it within minutes whereas other recruiters I've attempted to work with take days to get back to me. Paychecks are ALWAYS on time and they email me if I forget to send in my timecard. I found my own housing. Pay seems comparable if not a little higher than others I've compared with. I don't have a huge personal connection with my recruiter, but have no reason to complain as of now... and she gets s**t done, which I like! 06/08/2015
I didn't have a chance to work with them because I would not take assignment outside of the area that I wanted. I told them specifically what area I wanted to work in for the next 13 weeks and nothing in northern California. The representive from that company agreed to this plan. However, she line up three or four hospitals in northern California, I had to let them know that I was not interested in that area. Michele was very abrasive. She blacklist me on other hospitals. All she was interested was in her needs and profit for her and the company. I would not recommend her or that company. Thank God I did not work for her and her company. Beware of this company. one last thing she did not want to talk to my husband that usually handles the arrangements. 03/25/2015
I was placed in a rat infested, insect infested duplex,mold mildew,bad odor,furniture old ,rust and filth everywhere. No other place to move to, except hotel room, unacceptable as i travel with pets,was then told it s my responsibilty because of my pets. I was to recieve a completion bonus after 4 weeks 6 weeks 8 weeks it never came I was told "they submitted a bill for payout, and that it was the hospital" I called the hospital they said they never recieved a billing. I had to call cooperate complience. RNNetworkrefused to file another claim I then had to call the controller at RNN network turns out RNNetwork was submitting claims all wrong. Thry have poor if no follow up not supportive of nurse when i did move out of the dump I was sick, litteraly and needed an extension it was a Saturday it took thrm 4 hours to call me back NEVER use this company 03/03/2015
Recruiter was ok, Lots of different departments to deal with, housing department was awesome, did not get reimbursed for expenses until 4 different requests made. 12/16/2014
Have had an excellent experience with this company and recruiter. At the time I took my first assignment I was just under two years of experience in my travel field but my recruiter kept at it and gave my name to a few places and followed up with the submissions. Accurate pay and paycheck is always deposited by 0300 Friday morning. Had a small issue with credentialing office but it was corrected by my recruiter immediately. This company has to e above and beyond for my whole family as I have my wife, 3 kids, 2 dogs, and 4 cats along for the journey. Excellent first experience with this company and will continue to use them. 11/19/2014
Good company, recruiters can be very pushy. Good pay packages IF you know the business. 11/06/2014
Donna Hollingshead with RNNetwork has been there for me not only as a traveler, but as a mother, a wife and a dedicated family woman. She understands and does as much as she can to help accommodate what I do and do not like, as well as speaking with me when/if I need help in any possible situation. asking for specific locations; or specific miles or hours away from my home, she more than worked with me to get what I wanted or as close as she could. While waiting for one assignment to start over 2 months out, she was on the lookout to help me out with a short term position as well, it has worked perfectly because of her expertise. 10/21/2014
My recruiter submitted me to MULTIPLE facilities WITHOUT my approval. I received calls from these facilities for interviews and I had to tell them it was a mistake. When I mentiond that I was unhappy with her actions she told me I should be happy that the facilities called me back. VERY UNPROFESSIONAL. 07/30/2014
Was placed in a smelly extended stay, forced to work as a nurses aid, had to train myself on the computer, and when I deemed the assignment not safe they didn't really take anything I mentioned into consideration. Low and behold I decided to cancel the contract and found out soon after my license was reported to the Board. They have an Educator that told me should would of worked as a nurses aid if a hospital told her too even though it is again the Nurses Practice Act in the state I was working. She also didn't know the laws of the state I was in. The particular hospital was known for reporting Travelers to the board. this agency is definitely about the client and not the nurse. 06/07/2014
I love my recruiter, she is amazing! Some of the other ancillary departments have had a few hurdles, but, my recruiter is always right on top of anything I need. I definitely recommend. 05/16/2014
My recruiter is wonderful. The pay is not the best because I took their housing. It is better to get your own housing. If you're not comfortable getting your own housing for the first assignment (which is understandable depending on your situation) then go with their housing. You get more back if you don't take their housing. Also, depending on where you want to go they may or may not have a lot of assignments available. 05/15/2014
This company is great, anything you could want, within reason of course, they will do their best to get you. 03/31/2014
I've only worked one contract with RNNetwork and my recruiter Alaina is wonderful. She was very honest with me and professional but also very friendly. I didn't feel like I was talking to a salesperson. She found a contract for me exactly where I wanted to go and they pay was a little better than what was for that state. She also worked with my pay and increased reimbursement without me even having to ask. The company did have a few people to work with which is expected because one recruiter cannot do all but it wasn't bad. My recruiter also follows up without being pushy and keeps me in the know with important things. Only down fall with the company is that the pay stated to me stays the same which is a little sketchy do to the fact that I know some states pay much different than others. 03/24/2014
they would be a great company if the base pay was better. i get quoted 17-22/hr every assignment i inquire about 11/26/2013
After being with a couple horrible companies, RNNetwork was amazing. My recruiter Samantha has been wonderful and understanding. My pay checks are always in my account first thing Friday morning every week. If I get voicemail, my call is returned within an hour ALWAYS. I know I can text with any problems or questions I may have. I get a call every week to check up on me, which is wonderful. Pay is not the highest out there, but the stipends and quality of the company makes up for that. 08/04/2013
from day one, I felt important. my recruiter went above and beyond to help me get settled and enjoy my job. biggest mistake I ever made was leaving this company. when I requested to move to another place, it was done within 3 days....no questions asked. pay was good. 06/27/2013
Promised you anything (insurance, per diem, etc.) then once you start it never happens regardless of how many times you call or email (you are just ignored). 06/06/2013
Very demeaning, threatening, when contract start had to be postponed, will turn you into your state boards for failing their drug test but pasing another in the same day. Bogus testing lab. Will NEVER go back to them for any work, nor will I send any referrals that way, not even for my dog to hydrate their lawn 01/19/2013
RNNetwork consistently provides excellent travel opportunities and is always accessible to the nurse I feel they alwys have my back 10/11/2012
After traveling with another agency, I switched to RN Network and have been with them for several years. I have recommended RN Network to many friends and colleagues and will continue to travel exclusively with them. 10/11/2012
They really care about me as an indiviudal. I had a problem on one assignemnt with a hospital floating me everywhere other than ICU and my recruiter fought for me and got them to keep me where we agreed on. 10/11/2012
. 08/24/2012
27 YRS RN TRAVELER FOR 7 YRS, THIS COMPANY JUST DOES NOT FOLLOW THROUGH, HAVE BROUGHT PROBLEMS TO ALL DEPT AND UNLESS YOU RE CONTACT THEM THEY DO NOT GET THE PROBLEM TAKEN CARE OF WITH THE FIRST CALL AS THEY PROMISE.PAY ROLE IS HORRIBLE HAVE HAD TO CALL WITH EACH PAY CHECK 03/21/2009
Brian was a terrific recruiter, responsive to my needs at all times. Somewhat limited in assignment availability and not the highest rate out there but always treated as a professional and valued as a person. Accomodations were fantastic! Always paid on time and the correct amount. Never felt like I was just a number and Brian called every week just to check in and see if I had any issues. Thanks Brian! I would work for RNNetwork again. 07/22/2008
make sure everything is in writing. It is like pulling teeth to get anything in the contract. They say "well we just can't do that" "our hands are tied." They act so helpless when you try and get what you are promised. several pay checks were incorrect (paid less hours than I worked) but fixed within a week. Also had to refax time sheet many different times because they didn't receive it. promised several things I never got. benifits are better than I have had in the past. 401k matching from day one. I will work one more contract with them for the 401k adn insurance benifits and then I will go to a company that wont aggravate me so much when I want what was promised. Heard they have a lot of options in Florida but they have less options in other parts of the country. 12/31/2007
Recruiter Brian Mouradian was great, honest and was there when ever I needed him. He went the extra mile for me. Paycheck was always on time. 12/23/2007
worked 2 contracts with them multiple pay check errors hard to get recruiter to call back after on assingment seemed like i was on my own after signing contract 12/03/2007
The absolute worst company out there. BEWARE! 06/27/2007
Worst company that I have ever worked for. Beware!!! 05/21/2007
The recruiter lied to me several times and was not a bit remorseful when I found out. I complained, got a new recruiter and the old one was promoted... obviously higher ups didn't seem to be bothered by her antics 05/20/2007
First time with this co had a few issues, so went with another. Found out this one was good up to some of the others! Insurance much better, pay fair, assignments available and my recruiter the second time is on top of everything! 03/30/2007
Been with company for 2 assignments - no complains. Recruiter stays on top of things. Paycheck biweekly on time/accurate. Offers 401k match up to 5% - love that benefit. Pay average. Benefits average. It's a very reputable and big company based in Florida. Will go with them again on next assignment to Florida. 12/31/2006
This is the first company that I worked a travel contract for and it will be the last time I work for them. My recruiter sold me low on the pay, I was not fully aware what the going rate was in the area that I went to. When I got to the facility, I learned from other travelers how much they were making, I called my recruiter to talk to her about it. She acted liked she didn't understand why I was so upset about making $11 less an hour than my co-workers...yes, that is no typo...$11 less. I was new to nursing then and very new to traveling so was very green and she took advantage of it. I finished the contract because I liked the facility and new I wanted to return, but only with the other company that was paying $11 more. My recruiter that was dishonest also said she had never heard of the company that was paying so much more and tried to downplay their benefits, however, the beni's were just as good as RN Network's. My recruiter appeared totally clueless of the market at that hospital. Recruiter was unapologetic for her deceit, only for getting caught in the middle of it. 1 week after finshing the contract she actually called me to see if I wanted her to place me at another facility. I told her to get lost, there were more reputable companies out there and I eventually have found them. 11/08/2006
Promised salary was not what I got and had to fight to get what I was promised. They said that a TV would be in the apartment when I got ther but I had to fight to get it and 5 weeks later I got the TV.
Get in writing if hours are guarenteed.
I've been traveling with RN Network since Sept 04. My recruiter has gone to bat for me on more than one occasion. She is wonderful! Anytime I have an issue it is resolved right away. I would recommend (and do) to everyone interested in traveling.
Have traveled with RN Network just over 4 years and have never had a problem that was not settled almost immediately. My recruiter is always available by phone or e mail. Generally you speak with a real person on your first attempt, but the times I have had to leave a message, it was returned within an hour. Benefits are supurb, have always had safe, closeby housing that has been wonderful. I blew out my transmission on the way to this assignment. I was stuck in the middle of nowhere New Mexico. My company fronted my travel allowences and my housing allowance to me immediately so I could make it to my assignement on time. They have endeared me to them for life!
They just started with a non-compete clause in their contract. Not an issue with me, though. Accurate/on time paychecks. Recruiter is absolutely fanatastic! Quick response time.
My recruiter did not put my paperwork in for my health insurance and I was without insurance for 13 weeks and did not know it. They cannot get you where you want to go. They have way too many HCA facilities. double time for overtime is NOT on all assignments and when you do get it there is no overtime offered.
Large data base. Accurate and ontime paychecks. Good tax advantage program. Honest and reliable.
I take the housing subsidy. The amount I get is reasonable and was negot. I have not used the insurance. Their rates are reasonable-but 500/day hosp. deductible 1st 5 days. I have been lied to three times in 13 weeks. It is like pulling teeth to get your stuff put into contract. 36hrs/wk guarantee, holiday pay rates, and my recruiter lied and tried to sneak an exclusivity clause into my contract, although they supposidly offer "freedom of choice" to their travelers. Get it all in writing and READ your contracts!
Return to top of page
---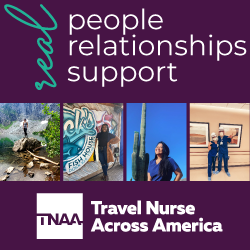 Click here for advertising info