Travel Nursing Hospital Ranking Results
Each ranking will be averaged and updated on a continual basis. The highest score for a hospital is 100.

Feel free to rank any hospital. You are not limited to the ones below.
Travel Nursing Hospital Review of: St. Mary's Hospital
Score
(all time)
Score
(within 1 year)
1. Friendliness and acceptance of travelers by staff
3.4
2. How open are they to allowing you to expand your skills while traveling?
2.8
3. Hospital Technology
2.6
4. Location (A nice area to live)
3.4
5. Cafeteria food
2.8
6. Parking
3.2
7. Physical layout of hospital effecient
2.4
8. Hospital appeal (looks)
2.6
9. Hospital orientation geared toward travelers?
2.8
10. Simplicity being initiated into the system (Do you have to do lots of unneccessary paperwork, drug testing, criminal background checks, etc. in addition to what the agency requires before you can start working?)
2.8
11. Reputation of the hospital
2.2
12. How nice are the doctors to staff
3
13. Friendliness of staffing office
3
14. Happy with the work scheduling procedure?
2.6
15. How efficient is their system so you can get your job done?
2
16. Adequacy of their nurse to patient ratio
1.8
17. How well staffed are they
1.8
18. How happy were you with your workload?
1.6
19. Staff morale (overall)
2
20. To what extent would you recommend this hospital to other travelers?
1.8
Total Score (number or rankings)
50.6(5)
(0)
I worked in the ICU department(s) in the hospital. Unsafe staffing. ICU ratio 1:3 sometimes 4. Travelers first to float (med surg and IMC floors). Med surg/IMC ratio up to 1:9. Max 2 CNAs for 29 patients on a floor. ICU CNA rarely there (often floated). No breaks - ever. No teamwork. Low morale of staff. Large (extremely large) percentage of new grads and travelers. Computer system archaic (meditech). Only contract I've ever left early as I felt my license and my patients lives were in danger. 09/03/2018
Housing was approximately n/a mile(s) from the hospital. The name of the housing complex was n/a. Housing was located in city of n/a. On a scale from 1 to 5, I would rate it a 3. House n/a. Stayed with family.
I worked in the L&D department(s) in the hospital. Very Unsafe! Does not follow AWOHNN standards. Very Sad Unit! 10/11/2016
Housing was approximately 3 mile(s) from the hospital. The name of the housing complex was Extended Stay. Housing was located in city of West Palm Beach. On a scale from 1 to 5, I would rate it a 3. Smells like cigarette smoke all the time. NON SMOKING HOTEL!!
I worked in the ICU department(s) in the hospital. I worked here in the spring of 2014. It was my first travel assignment outside of my home state. Everyone was great to work with and they did their best to make my schedule accommodating to me and their staff. I had to float to the PCU often, but other then that it was a great first time travel experience. 04/21/2016
Housing was approximately 3 mile(s) from the hospital. The name of the housing complex was Private housing. Housing was located in city of Grand Junction. On a scale from 1 to 5, I would rate it a 3. I found my own private housing in an apartment on top of an elderly couple's shop. The place was huge and furnished and affordable. They had a bad ant problem which was fixed within the first three weeks. The place was filthy when I arrived. The elderly couple came over frequently and since I am a private person I did not enjoy that. I left for a week to visit home and came back to my bedding and bathroom towels and supplies being removed from the apartment because they assumed I had left and didn't bother calling me before removing anything. Apparently the gal who rented it before me worked night shift and the elderly gentleman hadn't seen her out during the day so he let himself into her apartment while she was sleeping to check up on her. Elderly, slightly senile folks. Very friendly but I would not rent this place again.
I worked in the OR department(s) in the hospital. The laziest staff on the face of this world. St. Mary's staff are never in rooms. They will be PRN. That means they help turn over the rooms and sit in the break room. If the St. Mary's staff are in rooms they are simple rooms that start late and finish early. Casey Eales will have a hissy fit and refuse to go in a room. Blair Brink refuses to go in a room and demands to be in charge. Blair is clueless. The travelers take the majority of the call and work until 7 pm or later. If St. Mary's staff is in a room after 2pm, a traveler better relieve st. Mary staff, the traveler is reprimanded. Audra Gladstone, evening scrub tech can't scrub anything. If Audra is told to relieve someone, it will take her over an hour to get back to the room. Then she says to the tech scrubbed in, to finish the case. Audra opens the wrong instruments, supplies and tells the nurse to run for the the correct things. Randy Dewitt, house keeping and nursing assistant. Randy disappears when it comes to turning over rooms, argues about everything and sticks up his middle at all the staff when he is told to do his job. Randy has been at the hospital for 30 years. Management of the OR knows Randy what Randy does and doesn't do and does nothing Randy also takes off his shoes and scratches genitals in the break room during lunch and break. No one will address the problem because Randy is so difficult to deal with. St. Mary's is hell to work if you are a traveler. 05/07/2015
The name of the housing complex was none. On a scale from 1 to 5, I would rate it a 3. I found my own housing.
I worked in the Emergency department(s) in the hospital. The staff was always nice. I never heard anyone yell or cuss out a patient (rare for an ER). They saw minimal drunk/psych patients and those people were moved to another area as quickly as possible anyway so you didn't have to deal with them for long even if you had one. Unfortunately team work isn't that great because everyone is always in the weeds. Techs were the best I have worked with, they also utilize paramedics (who were ALL AMAZING-truly). The charge nurses (with only an exception or two) were the hardest working I have ever met. They also took a workload. Computer charting program was terrible (Cerner firstNet-the cheap version I'm sure). Staff all got along, there was minimal gossiping/back-stabbing. I always ate at the cafeteria, food was good. Both the director Bob and nurse manager Meghan (days NOT nights) were pleasant and easy to work with (shocking I know). However, I routinely got the hardest room assignments (it started day 1). The patients that come here are SICK like really really sick and there are not a lot of staff resources. You're left to your own devices. The worst part of this assignment was actually the docs. They were isolated from nursing staff and routinely dicks about everything (90% of them). The docs were also quick to second guess, and sell out the nursing staff. They also don't have protocols so everyone hangs out in the ED FOREVER, including in patients who we would hold for hours (INCLUDING ICU). I never got off on-time but always late and I only got lunch a handfull of times. I was able to always run down and grab food from the cafeteria though. If you like Arizona (which I do not), have solid skills, and are not allergic to hardwork, you can make BANK here. Nights- I observed them being routinely understaffed to the point of riduculousness, and that supervisor was NOT good. This hospital uses hallbeds to the tune of 18-20 when the other 49 beds or full or they are understaffed and can't open zones. They don't believe in people sitting in the waiting room which I think is absurd. Tucson is just a crappy town with little(or nothing to do). They are without a freeway system so to go anywhere took forever, housing was expensive $1250 for a furnished place not located in the ghettos (but they did have month to month and animals are welcome). This contract paid the most of any I have worked and OT/call-back shifts were a piece of cake. I liked my housing complex which had a couple furnished places, a gym, dog run and access to trails with a near-by mall and quite a few food choices. Downside was people routinely stole my stuff out of the dryer at onsite laundry facility. 01/29/2014
Housing was approximately 9 mile(s) from the hospital. The name of the housing complex was Rio Cancion. Housing was located in city of Tucson. On a scale from 1 to 5, I would rate it a 4. Housing and the front office (Jimmy is the one I delt with most often) were great. I would totally recommend this place. They had suna, steamroom, clubhouse, outdoor grills pool-side (3 different pools), jacuzzi, laundry facilities, dog run/dog park on-site.
Return to top of page
---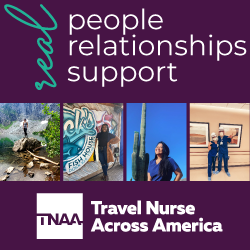 Click here for advertising info