Travel Nursing Agency Ranking Results
Each ranking is averaged and updated on a continual basis. The highest score for an agency is 100.

Go back to travel nursing agency rankings.

Click here to view a list of over 300 agencies and their contact information.

Travel Nursing Company Review of: Nurses Rx

Score
(all time)
Score
(within 1 year)
1. Knowledgeable
3
2. Friendly
3.5
3. Efficient
2.8
4. Honest
2.7
5. Pay rate
2.2
6. Paycheck accuracy
2.9
7. Housing
2.8
8. Benefits
2.5
9. Supportive
2.9
10. Assignment selection available
2.7
11. Individualized
2.8
12. Insurance plan
2.1
13. Reliable
2.8
14. Accessible
2.8
15. Reputable
2.8
16. Accommodating
2.9
17. Professional
3.1
18. Paycheck arrival time
3.3
19. Chances you will recommend this agency
2.5
20. Chances you will work with them again
2.6
Total Score (number or rankings)
55.7(28)
(0)
First time taking an assignment with Nurses Rx and I cannot day enough great things about them. My recruiter Cara Goodner is Amazing and so easily accessible any time that I need her. No complaints about this company. The pay was exactly what I was asking for and this facility is excellent. My first paycheck was a little wonky, but I called up my recruiter and it was addressed and fixed immediately by Jericha in Payroll. They are so friendly and easy to work with. I was put up in great housing right near the beach! Would definitely recommend both Cara and Nurses Rx for future assignments!! 06/29/2018
Rates are going down so we are trying to Not work with high paying companies 10/25/2017
Nurse recruiters make way more than nurses so it's all about them! Nurses rx won't have your back and will let the hospitals treat you like dog crap. They are con artists. They pretend to care than wham you're forgotten. They housed me in the ghetto and charged me extra for this because they couldn't find anything else, ha...right! Insurance is expensive and they pay very low!!! Never again! 07/01/2017
This company is very unprofessional, and not honest at all. Takes two days sometimes three to return your call, they mess up paychecks often too. 03/22/2017
These people were horrific, many times I went with out pay as they kept saying they found errors in my pay. They sent me to a Kaiser hospital that want antipartium nurse and I am mother baby, they threw a fit and asked me to leave. The nurse manager of the Los Angeles mother baby was near insane with anger, I just left, and tried to call my requirter Richard for THREE days, finally he called back angry at me apparently he got into trouble. Richard told me ," so you got me into trouble now i will do the same to you, as you will be a "do not hire" , he hung up on me leaving me stranded in LA. He was the one who sent me there knowing I did not have the skills to work at that level. STAY away from these people, and they have many companies under one heading American Mobile. 06/13/2016
Terrible and sent me to a hospital that wanted antipartum and I am postpartum. They accused me of breaking contract but i was not qualified for that postition and nurse manager sent me home. I tried to call recruiter and no answer for 3 days and then screamed at me when he finally called back. Horrid people and he made me a do not call for Kaiser as retrobution. They also took money from my pay for random reasons no clear explations. 02/15/2016
PAYCHECK WAS WRONG SEVERAL TIMES. COMPANY OFFERED BONUS FOR WORKING SO MANY HOURS IN A MONTH OVER REQUIRED AMOUNT EVEN THOUGH I WORKED OVER THESE HOURS BONUS WAS NEVER RIGHT AND WAS TOLD DIFFERENT STORIES BY DIFFERENT PEOPLE AND NEITHER STORY WAS WHAT WAS STATED ON THEIR WEBSITE. PAY WAS NOT WHAT WAS ORIGINALLY AGREED UPON. COMPANY OFFERS DIFFERENT OFFERS TO DIFFERENT EMPLOYEES FOR THE SAME JOB AND A LOT OF TIME THE PERSON WITH THE MOST NURSING EXPERIENCE IS GETTING PAID LESS THAN OTHERS JUST BECAUSE THERE RECRUITER WAS NOT FORTHCOMING. 07/15/2015
I love working for this company. I would definitely recommend it to others. The pay isn't that good but the housing is impeccable which makes up for the pay. I have an excellent recruiter Tawana Perry! 10/21/2014
This is my first travel assignment. My recruiter. Katie Pirillo, is about as awesome as they get! Worked with me to get a metro card added in my contract after it was signed and constantly checks in/updates me on new opportunities. The company, however, is a ripoff. I get payed less than any other travel nurse and waaay lower than the staff nurses I work with, and honestly if I didn't live with my family, there is no way I would be able to survive on the pay, even with the housing stipend. It doesn't help that the hospital floor I work at and the manager are unprofessional and have even refused to pay me for hours I was obligated to stay over. Though the agency has tried to resolve the issue, I was not able to get a hold of the manager of the floor I floated to and gave up. My fault for not. Overall, great rapport from the employees at nursesrx, but do your research when it comes to salary in the area you want to work because the company will take advantage. 09/22/2014
AMN bought out NursesRX and fired the staff. NursesbRX is really just a couple of desks in the AMN office. All benefits are though AMN. Traveled to San Diego and when assignment ended they had no jobs for me and then the recruiter called 3 months later and yelled at me for not calling her to remind her I was looking for a job! Stay away! 08/09/2014
Everything was difficult from the beginning. I had to work with so many different reps that no one knew what was going on. My start date almost got pushed back 3 days prior to starting because they hadn't realized I had taken their exams. They tried to make me pay for housing and parking when other travelers were housed at the same apartments but were getting everything paid for. My insurance didn't kick in until a month and a half into my 3 month contract and I had the great luck of being horribly sick during that time and having to pay hundreds out of my pocket for doc visits and meds. And to top it off, I was making $200-300 less a WEEK than another traveler at the same facility. It is now almost 2 months after the end of my assignment and they are now trying to make me pay an extra cleaning fee for the apartment I lived in because it smelled like smoke, even though I have never smoked a day in my life. They are also screwing over my friend with the referral bonus stating that I never completed my contract. Never use Nurses RX or AMN. I have heard so many horror stories and I should have listened. Don't let my mistake be yours. 05/30/2014
low rates, only concerned with their own benefits. Recruiters are hard to reach. Do not work with them 03/26/2014
Bad Housing, Lowest rates. Liars, Misleading. No respect for nurses. Only concerned with their profit. Substandard in every aspect. Do not work for them or their umbrella companies. 06/22/2013
Kept submitting me whout telling me. I was very specific about my housing needs and my insurance needs. Failed on all aspects. Lowest pay I have ever gotten. The company seems to only care about the shareholders and NOT the nurse. Very disorganized. Do not work for a publicly traded company. They are too big and the nurses are just a number. 06/19/2013
Overall I haven't had any problems during an actual assignment with this company. My recruiter is great! The only issue I've had is being submitted for an assignment without giving the ok. Pay is low compared to some of the other companies but I am always able to reach my recruiter & the stipends are usually flexible so you can often make up the hourly difference there. 05/15/2013
My recruiter, Richard Mui is amazing!! I have never had a problem getting a weekend off written into the contract and he always works to get me any possible bonuses and the best housing. I am now on my fifth assignment with them and extremely pleased. I am starting to notice that the options are a little limited so I may have to go with a new company for my next assignment but if they can find me the job I want, I will definitely travel with them again 01/25/2013
Do you know what the total pay out is that Kaiser pays to AMN to have a traveler in the Los Angeles area,for Certified Surgical Techs. 01/19/2013
I started traveling with this company for a year now and I am very satisfied. my recruiter Michelle Goldenitz is wonderful. I have chosen the places that I wanted to be and the pay I would like to have with no disappointments. I would definitely recommend this company. The only drawback would be the insurance-it is horrible. 06/19/2012
Make sure that what the recruiter tells you is in the contract. 07/15/2011
Exorbinant pet fee ($900!), did not hear from recruiter once assignment was accepted and emails/phone calls went unanswered. Housing was 40" from assignment. Pay is awful. 11/16/2010
Have never had any problems with payroll, each check has been on time and accurate. My recruiter is usually avaialable, otherwise she calls back rather quickly. The travel reimbursement could be a little higher, does not pay for gas to next assignment, really bad if you travel a great distance. I like this company, getting ready to do a 3rd assignment with them. 04/07/2008
does not have not tax advantage off the top of salary. does not give a travel bonus if you renew at a current assignment. seems to be limited in choices. 02/28/2008
I have enjoyed working with this agency. 01/31/2007
Had a couple slight inaccurate paycheck differences, not sure if that was due to the hospital or the agency. Recruiter can be difficult to get ahold of d/t time differences and all. Very friendly. Waiting period for health insurance to start was long and excessive, insurance plan was good once activated though. 12/26/2006
It all depends on your recruiter and you. You may want specific things and they may or may not be available for you.I had just a few things to be taken care off when I got to my assignment but did not take that much time from me.
Housing waits until the last minute to give new address (little time to mail belongings, set up utilities). Theyve also started charging rent. Seems they are affiliated with any number of companies, and no one seems to know whos doing what or how.
Return to top of page
---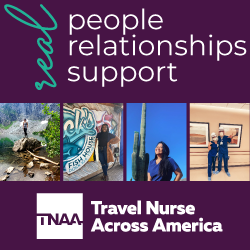 Click here for advertising info