Travel Nursing Agency Ranking Results
Each ranking is averaged and updated on a continual basis. The highest score for an agency is 100.

Go back to travel nursing agency rankings.

Click here to view a list of over 300 agencies and their contact information.

Travel Nursing Company Review of: Medstaff

Score
(all time)
Score
(within 1 year)
1. Knowledgeable
2.9
2. Friendly
3.1
3. Efficient
2.9
4. Honest
2.6
5. Pay rate
2.7
6. Paycheck accuracy
3
7. Housing
3.2
8. Benefits
2.9
9. Supportive
2.8
10. Assignment selection available
3.2
11. Individualized
3
12. Insurance plan
2.9
13. Reliable
2.7
14. Accessible
2.9
15. Reputable
2.6
16. Accommodating
2.8
17. Professional
3
18. Paycheck arrival time
3.1
19. Chances you will recommend this agency
2.6
20. Chances you will work with them again
2.6
Total Score (number or rankings)
57.5(24)
(0)
I love my agency! 12/23/2018
Payroll and contract never matched. Felt sorry for my recruiter, she honestly tried. Payroll didn't care. The assignment was horrible and unsafe. 04/03/2017
I felt my recruiter was a bit pushy at times. Encouraged to take assignments to places I had no desire to go. I never accepted an assignment I did not want. I didn't care for the supervisor of clinical managers. Her mood changed like the direction of the wind. Not very consistent. 10/06/2016
Filthy, dirty, minimal to no funds, If you can find someone to cover you for lunch, jum on it! 10/14/2015
Lots of assignments, good insurance for $8 a week, good housing, 401k with match after a year, and good housing. They are honest and flexible, no surprises. The recruiters make or break a working relationship and I have worked with two over the years and they have both been excellent. 05/17/2014
The recruiters that I have worked with are the best. They always have plenty of jobs available. The housing is sometimes great and sometimes okay but overall good. The pay is probably not the highest but the benefits are among the best. I have worked with several others and by far I am most satisfied with Medstaff. 05/17/2014
I'm going to mention I'm writing this review in 2014 since there is no way to know when the other reviews were written, unless I missed something. Anyway, I've worked with Medstaff off and on for 10 years. I've never had any issues with pay or housing. Housing has always been great. Pay is on time. I travel as a pair in the same specialty and they have the most jobs for us. I've had the same recruiter for 10 years. No complaints. 03/11/2014
Owned by Cross Country.....therefore the same as cross country 01/09/2013
I did not like this company. Do not work for. 08/12/2012
RUN!! This agency is one of the most irreptable out there. I took an assignment in San Fran with a recruiter who had told me verbally that I would receive incidentals in addition to my hourly rate of a whopping $21 an hour to work in San Francisco. After I spent three days driving from the east coast, $20 a day to park, two weeks in orientation (a day of which was a self-defense course to protect me from the patients since their number one patient diagnosis was schizophrenia)...this was not a psych hospital....I received my first paycheck which was less than I made as a nursing assistant. I called to find out where the extra $300 a week was for my incidentals which would have made it "do-able" since San Fran is so expensive. I was told she had no idea what I was talking about. I refreshed her memory on the verbal contract that contained that info and she suddenly had amnesia. Get EVERYTHING in writing folks so you can protect yourself against these unscrupulous companies since there seem to be a number of them out there in this industry. 06/23/2012
rob brown was my recruiter he was great hospital i was at (boca raton in florida) was HORRIBLE!!!!!!!!! he called me often to check to see how everything was going and if he could call the hosp account manager to try to get things fixed. 07/06/2010
worked there from 2003 until 2005. Had an awesome recruiter for 1.5 years then she moved up the food chain and I had 4 different recruiters in a half a year which disheartened me, I quit traveling foe awhile then went back 16 months later and tried them again but things did not change for me. Some of my friends still work there and have not had any problems except small amount of assignments available 01/25/2010
Always get everything in writing. If they promise you something, get it in writing, otherwise, they will try to take it out of your salary it they can't live up to it without paying extra CHECK YOUR HOUSING. They will give substandard housing which is way cheaper than the budget in order to save money, yet you will never see a dime of it. 08/04/2008
Suck 05/28/2007
With them for the first 2+ years as a traveler. Very supportive recruiter, a bit disorganized at times, but as accomodating as possible and ultimately got any issues resolved. Only 1 pay issue in the 2+ years, which was taken care of quickly.Always a nice apartment. Excellent with "checking in". Recruiter seemed to lose interest as time passed-not with me, but with the job. Actually left because of lack of available assignments in the area in which I was interested (although they have a lot of hospital contracts, in general.) 03/30/2007
paycheck inaccurate frequently. recruiter reminded me of a used car salesman supposedly the recruiter handled all levels of info, but never seemed to have an answer, or what REALLY irritated me, never was his or company's fault! 03/30/2007
Paycheck was always wrong. I had to go in personally to get my money. 08/08/2006
My recruiter is Katie (Quinn) Hesnan. She has been fantastic with every assignment and extremely accessible. The yearly bonuses are great, I've had not had problems with housing and plenty of assignment selection. I will continue to travel with Medstaff, I have been very pleased.
Would never work with this company again. Was lied to continuously by recruiter. Was not allowed to speak with others in company to resolve problem, told that they do not speak with travelers. Was lowest paid of all companies at facility
They seem to spend a lot of energy telling me how few jobs there are(in an effort to keep me where I am, I think) and telling me how little the hospitals are willing to pay me(as if I do not know who pays me). But if you stick to your guns it usually works out. I also think success with this company varies from recruiter to recruiter.
The WORST company I have worked for. Took 1 month to get first paycheck. Charged for things they did not disclose up front. Dishonest. Poor about getting back to me with answers to questions. Nickle and dimed me to death. Lost monty with this company!
Had a great recruiter, her name is Katie Quinn, private housing, furnished, and the assignment was really good. My first travel assignment and had no problems.
Return to top of page
---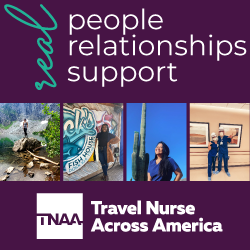 Click here for advertising info