Travel Nursing Agency Ranking Results
Each ranking is averaged and updated on a continual basis. The highest score for an agency is 100.

Go back to travel nursing agency rankings.

Click here to view a list of over 300 agencies and their contact information.

Travel Nursing Company Review of: HRN

Score
(all time)
Score
(within 1 year)
1. Knowledgeable
4
2. Friendly
4.3
3. Efficient
4.1
4. Honest
4
5. Pay rate
3.8
6. Paycheck accuracy
4.4
7. Housing
4.2
8. Benefits
4
9. Supportive
4.3
10. Assignment selection available
3.3
11. Individualized
4
12. Insurance plan
3.7
13. Reliable
4.1
14. Accessible
4.4
15. Reputable
4.4
16. Accommodating
4.3
17. Professional
4.6
18. Paycheck arrival time
4.7
19. Chances you will recommend this agency
4.4
20. Chances you will work with them again
4.3
Total Score (number or rankings)
83.3(17)
(0)
I was a first time traveler and chose Host Healthcare because of the amazing recruiters.- I feel they are a friend having your back in any situation. 05/08/2019
My recruiter was excellent in communicating with me during this assignment, she was also resourseful and available every step of the way. 11/10/2015
Dianne in Seattle is the best. 05/22/2015
after interviewing with the client and was accepted I was told that they didn't want me because of my back issues yet I worked a 13 week contract just prior to this one with the same back issues. They discriminate against nurses who have health problems. 09/09/2014
Loved HRN services. However, they recently merged with Accountable Healthcare and the you know what hit the fan. My new recruiter is an air head. New pay scale is significantly lower. Housing stipend about half what it used to be. Expensive benefits Switching companies. 06/16/2014
They have just been taken over by Accountable Health Care. Small changes as nickels and dimes are being reduced. I have worked with the Las Vegas office and mostly Seattle. I never had any problems with the LV office, but some had issues with the contract amount being lower than what was told verbally. Seattle office is pretty great. Diane is a better recruiter than Angelina. Pay is good, but you really make your money on the stipend which doubles your base pay (tax free). They usually put me in better housing than I would choose for myself. What makes them different is a $2500/3000/3500 stipend which effects your base rate depending on which you choose. They can supply housing, where they set it up, rent the furniture, cover the deposits, like most agencies. But then then they give you any of the stipend that is left over. It is not an either/or situation. Or you could take the whole stipend and find your own housing. They don't seem to have as many contracts as they would have you believe though. 04/01/2014
Agent and Management are very unprofessional, tell you they will call you back and do not, constantly blow off nurses and treat them like they are doing them a favor by answering there phone call, most unprofessional company I have ever worked for, San Jose branch is absolutely terrible as well as the Washington branch, don't waste your time with these crooks, not worth the headache. They will lie to you just to get you off the phone. 01/18/2014
Have worked for HRN's Seattle office for 2.5 years. I am always the best paid traveler wherever I go. Housing stipends up to $3500 (with a lower hourly rate so more money is tax-free). My recruiter Dianne is incredibly attentive, always works with me to get what I want. Insurance is free for me, $200 per month for my husband. Lots of assignments in WA and CA, limited elsewhere. Agency takes care of yearly exams, drug tests, PPDs etc, but does not reimburse for liceses, certifications etc. Would never work for any other agency. 09/27/2013
Many of the recruiters and managers are former nurse travellers themselves. I have always been impressed with the ability to have a resolve for any problems or concerns with in a week of reporting to the agency. 02/06/2008
Been working with HRN for a few years, always on-time with paychecks. Great recruiters and friendly staff. Very knowledgeable. 08/06/2007
Very satisfied with company overall. Recruiter makes a difference. Got a gift basket each time I move to a new apartment for past 2 assignments with them. Paycheck weekly on time. LOVE IT!! Benefits average. Pay average. Mostly covers Northwestern parts. If you plan to go to Washington, Oregon, California areas they are your best bet. 12/31/2006
Anytime I worked overtime my paycheck was messed up. And sometimes it took weeks of calling the guy in payroll to get it straightened out. He would say he understood the mistake and still not pay me. 11/05/2006
With 7 yrs of traveling, and approximately 28 assignments, HRN has demonstrated excellent customer service and should be recognized for their excellence, as a genuine and caring emissary for the travel industry...not only for travel healthcare professionals, but for ensuring quality and striving to find the best nurses to represent them well with caring for the facility and patients, too! Many of HRNs managerial staff have worked as travel nurses themselves, and know first hand what expectations a facility and traveler both have...and that is definitely as asset to their continued success.
problems always quickly addressed. changed insurance carriers to United Healthcare had Blue Cross. Local office to handle local problems.
Return to top of page
---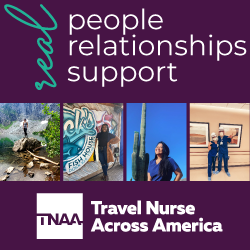 Click here for advertising info