Travel Nursing Agency Ranking Results
Each ranking is averaged and updated on a continual basis. The highest score for an agency is 100.

Go back to travel nursing agency rankings.

Click here to view a list of over 300 agencies and their contact information.

Travel Nursing Company Review of: Health Specialists

Score
(all time)
Score
(within 1 year)
1. Knowledgeable
4.6
2. Friendly
4.8
3. Efficient
4.8
4. Honest
4.8
5. Pay rate
4.8
6. Paycheck accuracy
4.8
7. Housing
4.5
8. Benefits
4
9. Supportive
4.9
10. Assignment selection available
4.1
11. Individualized
4.8
12. Insurance plan
3.8
13. Reliable
4.7
14. Accessible
4.8
15. Reputable
4.8
16. Accommodating
4.9
17. Professional
4.9
18. Paycheck arrival time
4.9
19. Chances you will recommend this agency
4.8
20. Chances you will work with them again
4.9
Total Score (number or rankings)
93.4(16)
(0)
Health specialists is wonderful all of the staff especially Claudia are amazing at getting back so quickly! My paycheck are always right and in my account theusdays! I have been with a ton of companies and health specialists are so easy to work with and won't bother you unecessarily 06/20/2016
Suzanne is a great recruiter. She is friendly, personable, pleasant, and very knowledgeable about available jobs open to the nurses. 03/07/2015
This is the only agency I have used in the last year and have been very happy with the support they provide. 02/07/2015
My recruiter Suzanne was very helpful in guiding me through the process of being submitted for my first travel assignment and setting up the phone interview. Before I knew it I had an assignment right where I wanted to be. She suggested that I put my requested time off for the Thanksgiving holiday into my contract and that worked out great. Health Specialists is a small agency and I am very pleased with the personalized attention I receive from this agency. I get calls from Suzanne who checks to make sure things are going well. 01/25/2015
This company and the whole staff are fabulous to work for. They are reliable and staunch advocates for what you need. I have recommended them to many of my friends. 11/27/2013
Very good agency and have done very good for me. 11/12/2013
The staff at Health Specialists are always willing to help any needs that may arise. 11/12/2013
I am a very "experienced" traveler, having worked at 80 hospitals over 20+ years. My recruiter, Claudia C. is, perhaps, the best I've ever worked with, and that is saying a lot because I was, once, a VP of Operations for a small travel company. Health Specialists delivers some of the best "care" to a traveler of any agency that I've ever worked with. I had ONE issue with payroll, it was fixed within 4 hours. Paydays are weekly and the money is always in my account on Thursday a.m. I have my own insurance, through the VA, but I am guessing that their plan is good, it's just not something that I've ever needed. Claudia C. is hyper-efficient. I submitted on Monday, interviewed on Tuesday, got the offer on Wednesday a.m. and two hours later was off to a place for a physical, T-Dap, drug screen and TB test. All within 15 minutes of my place in Portland. Pay rates are "off the hook", and I just took another gig for pay that is the best ever - it even beats out my strike pay rates. I've worked with 20-25 agencies over the last 21 years, bit ones, small ones, some in between. If you are an "old hand" or a "newbie" to the travel game, well, I recommend that you sign up with at least 5 agencies, but make this one your first choice - and request to work with Claudia C. I've never had it so easy. If only the surgeons I work for/"with" (LOL - right) were so pleasant! 08/20/2013
My wife and I have worked with Health Specialists for almost ten years now. Besides our time living in Hawaii, they have been our only agency. We are completely satisfied with their professionalism, courtesy, and timeliness. Everyone likes to be paid correctly and on time, right? We are unable to comment on their insurance, since we pay for our own. Top notch group...put them at the top of your list! 03/07/2013
Health Specialists were wonderful to work with! They arranged for an excellent wage at a very respected and well organized facility. Doug Guy was awesome in that he worked tirelessly to help me to arrange my schedule, find a place to live and even arranged advances to help get situated! I would honestly recommend Health Specialists to anyone and challenge other registered nurses to try travel nursing, you are already a competent nurse, talk a walk outside your comfort zone! I did and I loved it! Sincerely, Lee Ann 11/12/2012
My absolute Favorite Company!! Only wish they had more assignments, but I think they are working on that. I have done 4 assignments with them thru the years, and each one has been stress free!! 12/02/2008
Best agency I ever worked with, bar none. If they had an assignment in an area I wanted to work, I'd be with them in two seconds!
Great folks, I enjoyed working with them!
very helpful. I got a rental car allowance of $100/week. They return calls right away. Pay rates are great!
Return to top of page
---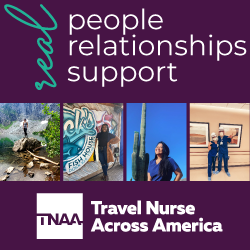 Click here for advertising info