Travel Nursing Hospital Ranking Results
Each ranking will be averaged and updated on a continual basis. The highest score for a hospital is 100.

Feel free to rank any hospital. You are not limited to the ones below.
Travel Nursing Hospital Review of: Rogue Valley Med Center
Score
(all time)
Score
(within 1 year)
1. Friendliness and acceptance of travelers by staff
4
2. How open are they to allowing you to expand your skills while traveling?
3.3
3. Hospital Technology
4
4. Location (A nice area to live)
4.7
5. Cafeteria food
3.3
6. Parking
4
7. Physical layout of hospital effecient
4
8. Hospital appeal (looks)
4
9. Hospital orientation geared toward travelers?
4
10. Simplicity being initiated into the system (Do you have to do lots of unneccessary paperwork, drug testing, criminal background checks, etc. in addition to what the agency requires before you can start working?)
4.7
11. Reputation of the hospital
4.3
12. How nice are the doctors to staff
4.3
13. Friendliness of staffing office
4.3
14. Happy with the work scheduling procedure?
4.3
15. How efficient is their system so you can get your job done?
4.7
16. Adequacy of their nurse to patient ratio
4.7
17. How well staffed are they
4
18. How happy were you with your workload?
4.7
19. Staff morale (overall)
4
20. To what extent would you recommend this hospital to other travelers?
4.7
Total Score (number or rankings)
84(3)
(0)
I worked in the ICU/CVICU/Stepdown department(s) in the hospital. I was assigned to ICU, but spent most of my time on CCU and IMC, which was good, because I didn't care for ICU. Most were nice, but we never got to know each other. CCU is great and they do a suspiciously large number of hearts. Hospital, people and the town is great. I didn't care for this assignment and I don't know why? I'm used to being next to a big city and this was the big city for the area. Great hiking and activities. Housing is a little hard to come by. This is prime pot farm area, which drives up the housing market. They are on EPIC and basically does things the same as everybody else. Asante is a good company. They are losing a lot of nurses, as they get a few years of experience and branch out to other opportunities. IMC is a freak show! Everybody withdrawing and climbing out of bed! Stressful, but one night on IMC and you will be bonded to staff for life. The chaos can be fun. ICU is nice, but you will have to initially stand your ground against territorial, bitchy super nurses. They are much, much more rule based, in my experienced. Give it a shot! Medford is more conservative, business friendly and Ashland is more of a hippie commune town. All are nice though. 10/21/2017
Housing was approximately 10 mile(s) from the hospital. The name of the housing complex was Medford Plaza. Housing was located in city of Medford. On a scale from 1 to 5, I would rate it a 4. It has an old crowd, but the people are very nice.
I worked in the 3W Oncology department(s) in the hospital. Great area if you loving hiking, biking, fishing!! An hour in any direction will get you to beautiful outdoor activities. Medford itself has no nightlife, restaurants, or bar scene. Down the road (20 mins) to Ashland is a little better. Jacksonville is another cute quaint tow nearby. 3W unit was busy, but manageable. Pros: on night shift I started with 4 and admitted to only 5 most nights, never 6 patients. They have a phleb team, a transport team, and a unit sec to answer call lights. Cons: GET READY TO FLOAT AT 2300! I don't know what the staffing office is thinking. They float me away from my unit at 1845 (start of shift) and then float AGAIN at 2300, either back to my home unit or to another. This was frustrating to have to chart on 8-10 patients in one night. They float travelers first, perm staff never float if traveler is present. 11/08/2016
Housing was approximately 8 mile(s) from the hospital. The name of the housing complex was Stayed in my RV. Housing was located in city of Medford . On a scale from 1 to 5, I would rate it a 5. Stayed in my RV on someone's private farm. It was awesome
I worked in the ER department(s) in the hospital. Great staff, great location, great assignment. 11/08/2010
Housing was approximately 4 mile(s) from the hospital. The name of the housing complex was Acme Suites. Housing was located in city of Medford. On a scale from 1 to 5, I would rate it a 4. Fully furnished, everything provided, but no outdoor space.
Return to top of page
---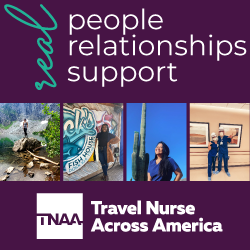 Click here for advertising info