Travel Nursing Agency Ranking Results
Each ranking is averaged and updated on a continual basis. The highest score for an agency is 100.

Go back to travel nursing agency rankings.

Click here to view a list of over 300 agencies and their contact information.

Travel Nursing Company Review of: Fastaff

Score
(all time)
Score
(within 1 year)
1. Knowledgeable
3
3.0
2. Friendly
3
1.0
3. Efficient
2.6
1.0
4. Honest
2.6
1.0
5. Pay rate
3.8
3.0
6. Paycheck accuracy
3.1
3.0
7. Housing
2.9
3.0
8. Benefits
2.8
1.0
9. Supportive
2.5
1.0
10. Assignment selection available
2.7
2.0
11. Individualized
2.5
1.0
12. Insurance plan
2.5
1.0
13. Reliable
2.5
1.0
14. Accessible
2.6
1.0
15. Reputable
2.6
1.0
16. Accommodating
2.6
1.0
17. Professional
2.7
2.0
18. Paycheck arrival time
3.6
4.0
19. Chances you will recommend this agency
2.7
1.0
20. Chances you will work with them again
2.7
1.0
Total Score (number or rankings)
56(79)
33.0(1)
My recruiter, Jenny Bradey was the worst part of the company. More like a salesperson than a travel recruiter. Once she got you where she wanted you, she was MIA, couldn't not get ahold of her for anything. Until of course she wanted something from me and then I would get incessant calls from her. But when I tried to discuss how unsafe my assignment was, she wouldn't respond or took days. Also, she never put my pay through when I was out with covid during the pandemic.. and had the nerve to tell me it was "rare for a nurse to have to be out with covid" while working an ER assignment in NYC! The company itself seems pretty organized but are not supportive of staff or accommodating at all. All you are a number and money in their pocket to these people. If you are looking for a quick, high paying assignent and want to work your ass off without needing any support, they are fine but other than that I would avoid them. 02/02/2023
Fastaff will not back their nurses if there's a safety issue while on assignment, Fastsff recruiters lack customer service. They fail to return phone calls, emails, and texts. Multiple problems with payroll. Timesheet sent to recruiter. Recruiter sends texts weekly timesheet not received. Their credential specialists are incompetent and inefficient. Multiple issues on every new assignment onboarding. Fastaff thinks travelers are their project. 02/25/2021
Today is my last day of assignment, my recruiter "disappeared " for the last week ( 3rd time in 13 weeks ), I still don't know if my assignment was extended or not. I waited on the phone more than 40 min , when I asked for the supervisor - the line just closed... This company is a shame, should not be on the market. 07/08/2020
Strung me along for a rapid response, contract telling me to be ready to leave the next day. I was ready, but didn't hear from my recruiter and had to repeatedly call her just to be put in a holding pattern. The next day, she said I would definitely be going. Once again, no contact; I had to call repeatedly for any info. This continued for a week before she then tried to bait and switch me into a different contract. 05/25/2020
Worst agency I've worked with. Payroll is absolutely terrible, unhelpful, and difficult to get a hold of. If they mess up your paycheck, they will blame you and not fix. Recruiter responds to questions, but not especially helpful. It seems like the people who work there are not happy to be there and don't really care about retaining nurses. 11/14/2019
Payroll is definitely a problem and when something is their mistake you will be the one to suffer! They do not put the nurses first. I traveled with them a few years ago and did not have the problems I do this time. When I was left to hang without my paycheck, I decided I wouldn't use them again. 06/15/2019
I have too many issues with correct paychecks. They conveniently forgot to pay me for housing stipend. Recruiter very passive aggressive. I am unable to have a conversation with recruiter. She's unavailable! 05/19/2019
Cancelled early for clinical issue but Fastaff did not ask for any detail just gave me less than one day to move out of housing. Clinical issue turned out to be nothing, I had documented my action on the problem. No apology from Fastaff. They DO NOT have their nurses back at all. 06/30/2018
great place to work 06/15/2018
I love that Fastaff pays a high rate (what Nurses are worth). Fastaff pays for your housing or gives you a tax free stipend of 576/week No M/I. I op for their housing in an Extended stay. I have worked with Fastaff for 17 years and they are always transparent. They are not for everyone as they do not hold the Nurses hand. Nurses need to understand that these are Crisis jobs but you are rarely canceled for low census. I love this company. I only work for them or a couple of local companies because they pay the best and treat me like a Professional. 12/19/2017
Rachel is the best recruiter I have in my Rolodex. She is always available and never has let me down. She is honest with me and has always checked up on me. Even when I took a bad assignment in DC she called to check up on me and stood by me every step. She might not know about nursing stuff but I give her things to relate to so she can understand. The clinical Liason Christina I am not Gaga over but she was reasonable. I've never got shorted on my check and just did strike Onboarding and nursing with them and will do it again. I highly recommend Rachel Pevler if you don't like your recruiter. Even when I have had to got to other agencies she never got mad or thought I was stabbing her in the back like some of my others. Hey it's all about a paycheck and getting those bills paid right? 09/11/2017
Housing was horrible. They have a set rate of $567 per week; no meals and incidentals. If housing isn't within their budget, then you will have to pay out of pocked the rest of the rate. This company doesn't take into consideration for the summer season, so your choice is limited. Housing wanted to either place me in extended stay 15 miles away on toll road or at a highway motel next to rest area 7 miles a way. no reimbursement for tolls either. Recruiter didn't want to be my representative and wanted me to talk to all departments, he just sat back and stated I don't want to be your middle person; isn't that what you there for, to help your travelers. Whatever you do don't let your recruiter tell you to take the housing stipend at the beginning and tell you that if you need help with housing they will help you. Stick to your standards and say what you want. They will tell you that the hospital is setting the budget and they have not way to change this. This is not true! They will tell you to pay the difference between what they will pay and the cost of the hotel (i.e. $29-$72 per day difference). 05/11/2017
Faststaff is the best travel agency company around 02/22/2017
Don't EVER EVER work for this company or let the recruiter Amy W send you anywhere. I trusted her and before I went on assignment I told her I needed a block schedule. She wanted me to talk to manager and did not want to submit me with this or put in contract. I did speak with hospital before I accepted position they approved but when I got there they wouldn't do it and she did NOT put in my contract. Then made me go to Walgreens for a shot the hospital needed and said they would reimburse and won't. I spoke with 4 supervisors about my schedule and what I was promised. I spoke with my recruiter and she told me to suck it up. I would have never taken the assignment and told her that on the front end. I have all these emails and texts where I spoke with her and hospital and their lies. So I left and came home as they didn't keep their end of the deal and she wouldn't help me. They are now wanting me to pay a penalty and going to withhold my paycheck bc k broke contract when the hospital broke it first not me and she didn't have my back Kim recruiters should. In fact she lied to her boss and I sent emails showing she was lying covering her butt because she didn't do her job. Awful and horrible I shouldn't have trusted them and now scared to trust any company 02/10/2017
I did an emergency rapid response with Fastaff - they called me on a Friday and I was licensed and in orientation in Philly by Monday! Was super impressed at how they helped me get it all together so quickly. My recruiter Alicia Trujillo was great - she's someone I feel is really trustworthy and you can talk to her a real human and not just an agency robot. The high hourly rates are of course their selling point, so with the 48 hr guarantee I brought home some good money, but I do feel their stipends are lower than most agencies. If you're someone that doesn't like the haggling that can sometimes come with contract negotiations this might be a good fit for you - they're like the Carmax of travel agencies. I had a really positive experience and would definitely travel with them again 12/06/2016
The agents are very detached. Once you are placed, you are on your own. You must work 4-12 hour shifts. If you work less than 48 hours, for any reason, you will be charged housing. I found this agency very unorganized without much understanding of nurses or nursing. 10/20/2016
I love my recruiter Amy White, I'm on my 4th contract with Fastaff. They've been fair and honest. No complaints. 10/14/2016
Uused to be the best travel company in America they are one of the worst travel companies and United States they blame their nurses but is mostly management fault they have lost so many nurses because nobody wants to work for this company anymore this company has failed since its previous owner Dan Mordecai died now the company is a total wreck and not beholden to its nurses so sad if you're smart do not work for this company do your research find a better company does a lot more better ones out there 09/22/2016
Great Company, HR, Recruiter and housing rep 06/10/2016
I have worked for them for a year. Best pay for the area I wanted. No blended confusing rates. I waived the housing and took the stipend. Pay checks on time. Bonus paid at end of each assignment that was not part of contract was a nice surprise. They don't have a lot of jobs available nationwide, only hit and miss in most areas. 05/18/2016
Unbelievable This company stole my wadges i worked 12 hour night shift for the week submitted my signed(by nurse supervisor) time sheet waited no pay submitted again and again 6 times e- mailed/phoned recruiter/payroll/they refused to answer any of my requests as to why i was not getting payed Finally left them a voice mail/e mail that if i was not getting payed i would not be going to work Called the hospital and explained the situation. Truly incredible in this day and age a company will screw you on your work My advice RUN from this criminal company.I am now trying to see if the labor board can help me get my salary(PS the work in the hospital was reg run of the mill no issues there) 03/30/2016
My recruiter Lizzy is wonderful. She worked very hard to get me the assignment I wanted with a pay rate higher than I anticipated. My paychecks are on time and right on. When I asked about housing I was given a few options. Fastaff really is the company to work for if your looking for excellent pay. They don't hold your hand or try to give you verbal strokes or make promises they can't back up- they get you work and give you a good pay rate pay you accurately. I love it that I don't have to worry about getting my hours or getting paid for what I work. I would rather work for a straight up agency that pays me what they promise than a company that promises things they can't or don't deliver. To work with this company- you need to understand the meaning of "crisis calls" this means your going to work hard for your money. You should know this upfront before taking an assignment with fastaff. If you are a strong confident independent nurse who needs a good paying assignment they are the company for you. 01/14/2016
Dishonest liars who do not care anything about their nurses. If you want to stay in a nasty hotel your whole assignment, be treated like a child and have your money stolen from you this is your agency. Wouldn't work for them again if they were the last agency on earth. And try to get them to return a phone call or answer the phone! 11/11/2015
Pretty good agency. Only issue I had with them was for my first assignment. Housing wasn't confirmed until the night before I was flying out and then I wasn't supposed to check in until the day after i flew in which wasnt right, when i spoke with a rep she argues with me saying they only covered up to 2 days before the start date for check in, I submitted proof that my assignment/contract had me started tuesday instead of wednesday. Long story short she was wrong, I was right, so I had to be put in another hotel ( didnt have a kitchen for a little over a week) it was closer to the hospital but i had to pay for food everyday b/c i didnt have a kitchen. They made up for it, gave me a one bedroom once i transferred into my extended stay instead of the studio which was perfect b/c i was traveling with my husband and daughter. After that they have been great. No issues with my paycheck. My reruiter communicates immediately with me 11/03/2015
They may be one of the highest paid. But, I do not feel like they try to help and try to take as much money as they can from travelers. Out of all the companies I've worked with its my least favorite. I guess a lot could have to do with the recruiter. 08/28/2015
my first travel assignment, and it took 3 weeks for my paycheck to be deposited in my account. Recruiter was dishonest, and would not take accountability for issue that went wrong. The housing and pay was great, but I was not pleased with the recruiter at all and the refused to assign me a new one. 08/25/2015
While Fastaff has high pay the offset is less than desirable housing in dangerous neighborhoods. Overall Fastaff is a culture of rudeness from A to Z. The recruiters are dismissive and never available by phone. The compliance people often overlook test and dont mind sending you to testing sites over and over again. Housing states that if you dont like their housing "you can find your own". While their pay is good, the people are just not nice and the rudeness is so xomon that one would think that it oa part of Fastaffs organizational culture. 08/23/2015
I just finished my first assignment with Fastaff. Mt recruiter, Clay, was great; the facility I was assigned to treated me like family. I had no problems with payroll and I even got a bonus they didn't tell me about at the end. I had a great experience with this company. I'm now looking for my next assignment. They pay better than the blended rate scams the other companies use. The only reason I leave my family at home is for money. They get me the hours and big checks. I'd recommend them to anyone. I can't comment on the housing as I arranged my own but the stipend was good on this assignment. Stipend offers have not been as high on others I have inquired about; so we'll see if that was just to get me hooked in to Fastaff. 08/06/2015
Paycheck on time but 8 out of 10 paid incorrectly. Hospital pays them contract requirements but loophole allows them not to pay traveler. I hear they used to be a reputable company...shame their not anymore. Great news...many travel companies...keeping a SMILE till I find the one I'm proud to work for. 08/06/2015
This company will not support you first as a nurse or there employee. They only care about them having a good profit. I complained about an assignment spoke to the recruiter about it.. We were ignored by the higher ups. There answer was if you leave you will be terminated ! Yeah that's right so I left . They are horrible only about making money. I would never work for this company or recommend it to anyone. Totally unprofessional with there nurses. 06/05/2015
Worst company ever. Associated with US nursing--class action lawsuit against them in progress. Beware--pay looks great but in actuality--not worth the stressful situations they put the nurses through. 06/05/2015
Dishonest--mis-representational and always had an poor excuse for their own messes. 06/03/2015
different stipend reimbursement for different people. Staff doesn't return phone calls. Accommodations inappropriate 05/23/2015
deplorable housing, "On-call Staff NOT available after hours or weekends for emergencies (Never called back- was on my own) 05/06/2015
Payroll dept completely inaccessible and doesn't pay accurately. Nasty, unprofessional recruiters. Staff onsite at strikes are rude and unprofessional. Housing stinks. Google Fastaff and class action and you'll find out what these jokers are made of. There's a reason they have to pay over market; be kind to yourself and don't find out personally why. They have no regard for their nurses and their safety. 02/01/2015
Worked several strikes. Payroll screwed up every paycheck and never responds to emails or phone calls. Staff talks to you like you're an ignorant child. Was literally told to shut up when I complained about incorrect hourly rate. Refused to pay us when we were held in auditorium waiting to be assigned but we weren't allowed to leave auditorium. Wait in lines for everything like you're on a crappy cruise ship. Recruiters are dismissive and rude as hell on the phone. Not worth the money. 01/09/2015
They do not have much work. Never return calls.Pay is great but if there is no work its useless.Titus Thomas recruiter does not communicate and is not informative about anything. Payroll is OK but will screw you for a 100$ or 100 cents 12/30/2014
Repeatedly incorrectly paid, housing was decent. Hard to get a return call from payroll or recruiter in reference to my pay. 12/07/2014
Worked for fastaff for a long time and then was told I was under review for wanting to work for them in DC then was told I was okay to work for them in San Francisco strike until I called too many times? for information 11/04/2014
Ronda Vernaza in the housing department at Fastaff is the meanest nastiest. Ronda told me I have no choice with the housing assignment. 13 weeks in a extended stay. What as nasty bitch 09/14/2014
Worked numerous assignments with Fastaff over several years. Find them to be amongst the best paying company. They quote true hourly rates, not the nonsense take home amount these newer companies want to quote. 07/07/2014
First travel assignments in 20 years. Pay is correct and on time. Housing is nice. No "issues". 07/01/2014
always wonderful as usual. the Hospital not so Great but thats why they needed travelers. fastaff went above and beyond for me. i will always be grateful. 04/25/2014
I definitely recommend this company when traveling to CA. Word of advice...please give yourself the peace of mind and ensure that you at least get the overtime after 8hrs and the double time after 12hrs (State Law with loopholes). In my experience, blended rates do not net as well as the higher base rates (even with up to 35% deducted from gross income!). For example, a typical blended rate would be about $20/hr(ST)= $30/hr(OT)=$40/hr(DT). Whereas a non-blended rate would be around $45(ST)=$62.50(OT)=$90/hr(DT). You can add up and multiply the "tax free meals and incidentals" allotment all day, and I assure you that if the base rate is similar to the example above, the bottom line net salary will not surpass the higher base rate salary in the aforementioned circumstance. Although not entirely conclusive, many hospitals will allow you to work up to 60+ hrs per week if they like you and you are efficient and you are willing to work like a lunatic for the short time you are there; even if you are contracted for, per say, 36hrs. After all, if the nurse manager can get approval from upper administration to hire travelers (instead of hiring local agency, increasing regular staff hours, and/or hiring new, fully qualified staff), that in itself proves that the hospital is in desperate need of staff for various reasons. The bottom line is: If you need to get ahead financially in a short amount of time, then this is the company for you! 03/13/2014
This company absolutely lies to you about everything the entire way through about everystep of the process. They are very sneaky and very good at acting like ur gonna make so much money and the facilities r so nice. Not true!!!! The facilities they place you in are the worst. Also don't believe anything about a bonus. They consider bonus supplemental pay so reguadless of your tax forms they tax 25% or more. So you only end up getting a quarter of the bonus ur supposed to. Don't believe anything they say. And they are not on your side......they will not stand up for there nurse or back you on anything. Don't travel with this company!!! 01/09/2014
They do not stand up for there nurses 01/04/2014
Did not tell me before I drove halfway cross country I needed a particular color scrubs (which i had back home and did not pack!) and they refused to pay for any scrubs. wanted to deduct from my next paycheck for new scrubs! ut uh no way! then they were extremely rude when I stood up for myself! (and acted like my fault) there are better companies out there! 11/13/2013
I was fired because a nurse said I did something when it was documented that I did it. Nice! He said she said gets you fired. Apparently, documenting does not save your bottom working for this agency. And they use scanning! 09/30/2013
"Let's be honest" No one company is perfect. I work as an Travel Nurse for over 20 years. "Fastaff" is one of the better companies. There are companies that do not pay bonuses as offered or pay well.Please make sure that your contract includes same strike pay with bonuses even when on "ESPECIALLY THE HOLIDAY SEASONS" " COULD BE SHORT CHANGED OUT OF $5000. My Recruiters names are M's Jennifer Swartz and Mr. Titus Thomas.Mr. Titus Thomas is an Senior Recruiter. Mr. Thomas is fair, reliable, honest,very patient especially when I had death in my family. The payroll department corrected my paycheck with no problem. Sometimes it is the hospital facility that makes it hard for them by not faxing in time sheets properly or late. This was my experience. "Fastaff" never paid me less than the other nurses from their company at the same facility. I've got paid "more" than the competition company nurses.My first housing was changed to my liking and closer to the facility. The hospital treated the nurses badly and the hospital system was always on strike.(staff and travelers alike.) NO BREAKS OR BREAK RELIEF FOR 12 HOUR SHIFTS AS MANDATED PER CALIFORNIA LAW!!! Nurses can research companies and negotiate contracts. Speak up! "Do you know your worth?" 08/29/2013
Great company. I've done 4 assignments with them. Accommodating and resolve most issues quickly. We even had a nurse advocate employed by Fastaff in NY @ Monte Fiore in the Bronx to help with issues 07/15/2013
I have worked numerous assignments with Fastaff. Never had any problems other than a housing issue, which was corrected. 02/04/2013
Screwed by them twice when they cancelled my contract early. Floated to areas where I was not trained. Talked to by overhead like I was two. 01/03/2013
watch for traffic around your assignment if its 9 to 5 in a large city forget it. if NY ur gonna ride a bus train cab and sometimes all three one after the other. all out of your pocket. 07/21/2012
tried to scam over on christmas bonus. we eventually just pissed each other off. 06/07/2012
Recruiter gave false information about the assignment. Difficult to get in contact with her, slow to return my messages. 08/21/2008
Could do much better in the housing dept, paychecks always on time and correct, would like to see more choices in assignment locations(other states). 06/14/2008
This company has gone from being one of the best in the business to the worst. They are owned by an investment firm that cares NOTHING about the nurses, just THEIR botttom line. They lie to the nurses about assignments and housing, then when the smoke is off the mirror, and the nurse realises that she's not getting what was promised, they say that "there is nothing that they can do about it." They don't try to accomodate the nurses' needs. They do have a nice 401-k plan and have in the past matched well, but I have heard (I won't work for them anymore) that even that has changed. As a whole, they have no scruples from the CEO, CNO on down. Only out for their own needs, leaving the nurses who bring in the money out in the cold. 04/09/2008
I am completing my first 8 week assignment. This is also my first travel assignment. My recruiter Teri B. has been great, she answers all my questions. I took my concerns based on the concerns of others voiced here and she was able to answer them all to my satisfaction. I am extending now for another 13 weeks, my pay has not changed. My direct deposit has been accurate. I strongly recommend this agency. You can use me as your referral Jauna M. St. Louis. 06/04/2007
Went with this agency because of the hourly pay and 60/hours. If I am leaving my family, I want max pay and hours, I don't go to sight see. Housing was OK, old, dirty. Met several nurses that weren't happy, I had a good assignment. I heard about canceled contracts last year, that was a worry as census dropped after holidays. We floated to other units ALOT. They tried to change "shuttle" bus availability mid contract, but enough of us howled, that wasn't done. Now they are offering a scant transportation assistance. Overall I had a good experience. 02/24/2007
Not impressed 10/12/2006
They didn't find them very supportive. 08/30/2006
Fastaff's contract, or "agreement letter", as they call it is a waste of paper. I drove 1600 miles to my last 8 week assignment only to be canceled in the middle of it because the patient census dropped. Several Fastaff RNs on my unit were switched to nights mid-contract, and others were also sent home early...one nurse after working only one week. Their hours are not guaranteed by any means.
They have really good pay. However, you must be willing to work a guaranteed 48hr work week.
very limited assignments in california.tried for 3months,and still can't get 7a-7p.(only positions avail.are in areas no one else wants- like downtown L.A)recruiter was good, just didn't have much to offer. very disappointed in assign.selections.
worked in CT, it was nice
not orginized well, housing pretty good, return calls promply, Benies are great, best 401 out there. Good health care. Can keep you working
No Scrupples from the president down to their van drivers.
Jump through the hoops then find out the job you were interested in dose not exist. their sister company U S Nursing supplies Strike breakers, they are only interested in a body to fill a position not the qualifications of their Nurses. Most nurses ok but a few losers that they wont send home making it a dangerous place for patients as well as good nurses.
It all depends on your recruiter and I have an excellent one.
History of not paying bonuses or other wages owed. Bad place to work for if you consider yourself a good nurse or are not concerned with working for a company that only is concerned with their profits.
Bait and Switch,Smoke and mirrors.
Return to top of page
---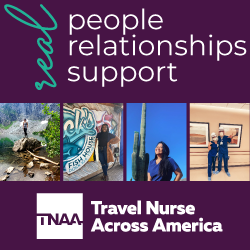 Click here for advertising info