Travel Nursing Agency Ranking Results
Each ranking is averaged and updated on a continual basis. The highest score for an agency is 100.

Go back to travel nursing agency rankings.

Click here to view a list of over 300 agencies and their contact information.

Travel Nursing Company Review of: Core Medical Group

Score
(all time)
Score
(within 1 year)
1. Knowledgeable
4.1
5.0
2. Friendly
4.3
5.0
3. Efficient
4
5.0
4. Honest
4.1
5.0
5. Pay rate
4
5.0
6. Paycheck accuracy
4.3
5.0
7. Housing
3.7
5.0
8. Benefits
4
5.0
9. Supportive
4.1
5.0
10. Assignment selection available
4
5.0
11. Individualized
4
5.0
12. Insurance plan
4
5.0
13. Reliable
4
5.0
14. Accessible
4.1
5.0
15. Reputable
4.1
5.0
16. Accommodating
4
5.0
17. Professional
4.2
5.0
18. Paycheck arrival time
4.5
5.0
19. Chances you will recommend this agency
4.1
5.0
20. Chances you will work with them again
4
5.0
Total Score (number or rankings)
81.6(74)
100.0(1)
Core medical is the best travel agency. 01/21/2023
Great experience. Great people 11/05/2022
CoreMedical doesn't supply housing but will assist with housing a supplement on your first assignment, if it is a hardship to pay the first months rent up front. I have nothing but compliments for my recruiter, Josh Maite. He's there to answer every question I have. If he doesn't know the answer he finds it quickly. He checks on me frequently to make sure that all is going well for me. I have never felt more cared for or about since beginning my career as a nurse 34 years ago. I recommend CoreMedical to anyone seeking a travel assignment. 10/31/2022
This is my first year as a travel nurse and I'm working on my 3rd assignment with Core medical group. I have a great recruiter who has been knowledgeable, accessible and friendly throughout. They have a great staff in payroll that have answered all the questions I have had especially in the beginning. They pay promptly every week with no issues ever. I have and will continue to recommend them to anyone who is interested in traveling. 09/10/2022
An awesome experience 05/14/2022
Working with core medical and staff is great! Such great response with answers to my questions. LEAH is such a great recruiter. 03/27/2022
CMG is a great company. Fair, honest and Ryan H is always on time finding my next assignment prior to completing my current assignment . He keeps me working as much as I want ( that's full time) with negotiating my needed days off . He responds quickly and efficiently. 03/25/2022
Core Medical Group has been a great company to work for my recruiter Kayla Lovering is the best. 03/12/2022
I have been working with Core Medical for a year now. 4th contract. Great agency to work for. Lots of great traveling assignments. My recruiter Tristan is great and very supportive. 02/20/2022
Core medical group.com is honestly the most efficient , professional, travel agency out there. Spencer Jackson has been my number one recruiter now for 6 years, always there when you need them. I see travelers with other agencies and the problems they face….. all I can say is choose Coremedicalgroup, and you will not experience that headache. 02/05/2022
My contact Danielle is always working hard to make sure I have what I need. Core Medical is a first rate company! - Derek in Colorado 01/08/2022
I have enjoyed working with Coe Medical they have gone above and. Eyond my expectations 12/16/2021
Would recommend my recruiter Derrick Rao because of his professionalism and experience. 12/11/2021
My recruiter Rachel Halloran has been so supportive and helpful. I'm happy to be working with her. Very respectful and responsive to any issues and needs 12/03/2021
My recruiter, Ryan Harrington, always pushes thru to get me what I want/need. The only thing I would change about CoreMedical is for them to offer PTO. The resort trip incentive is a sweet deal but honestly, I'd rather have PTO. I think I could make more money working for other agencies, but in two years time, they have never been late or janky with my pay. That's valuable! 11/21/2021
My recruiter, Erin Ford, is very helpful and always available when I need her. She is quick to respond and get me answers. 11/14/2021
Kara is a great recruiter and advocate! 09/25/2021
My advisor is very helpful and pleasant. The company is great to work for. There's someone available if you need help. 09/13/2021
I really enjoy working with this company.. They are a straight shooter shooter. They look for what you want. They don't hide things in the contract they're very up front and honest very friendly people to work with. If you have a question they get back withey get back with you quickly. If you can't get in touch with them and you leave a message they get back with you within the hour. Excellent company to work for I will continue to work for them. 09/04/2021
My recruiter, Nicole, is the best. She is prompt at granting my request. She advocates for us. We love her. 08/21/2021
Core Medical is my always go to agency. Kayla my recruiter is awesome. Everyone at Core Medical are very knowledgeable and experienced in their jobs which makes it so easy . 07/17/2021
Location I asked for and a contract created just for me with what I asked for. Fair pay (better than expected), and great housing stipend. Cost for medical benefits is ridiculous, but that seems to be the norm everywhere. Attentive staff that never fails to contact me when I'm late with timecard or have credentials that are nearing expiration. Overall, completely satisfied. 07/10/2021
My recruiter could not have been better! She would check in with me weekly, if not more, especially at the beginning of my assignment to make sure I was doing well or had any questions. Sorry to disappoint, I have no bad things to say!! 07/03/2021
Very good company to work for. They're always there if I need a question answered etc. I can always find cases available. 06/22/2021
CoreMedical and my recruiter, Ruan Harrington, always do a great job finding me a good assignment, communicating with me. There has never been an issue with my pay at all. I do think they pay a bit less than other travel agencies but I have lots of confidence in them and they have always supported me. I do hospice nursing and they have the most positions available for hospice. 04/24/2021
This is the second time working as travel nurse. I specialize in hospice care. I had my choice of assignment in a location I liked. I had a recruiter that worked with every step of the way. The assignment was extended which was convenient. I was very happy and can't wait to start my next assignment. 02/27/2021
Erin Ford is the best recruiter ever! 01/30/2021
. 01/04/2021
Wonderful agency! The only recommendation I have for the agency is to provide housing for the travelers. I used Furnished Finder and was able to secure housing at a reasonable cost. In some of the assignment areas, it was limited or nonexistent to use that site. 01/02/2021
It took me over a year to jump ship to travel nursing and I wish I had gone sooner. I'm making substantially more money, payroll is so kind and helpful, my contact is a sweetheart and I am so pleased with my work life! 11/02/2020
Very professional, supportive, knowledgeable . Number one! 10/03/2020
Couldn't ask for a better company to work for over the past 9 yrs. I've seen this company's growth first hand and to see the same passion and commitment now as I did when I chose them 9 yrs ago as my travel company has been unbelievable!!! From my recruiter to credentialing to HR and all those behind the scenes I can without a doubt say that Core Medical Group is committed to their employees!!!!! 08/29/2020
.. 07/25/2020
the company overall has been good. I like my recruiter, he is the second one I have had in 2 years. I do feel the pay and support could be improved. Contract availability has been low during Covid-19 but I travel in hospice. 07/11/2020
During these trying times in our country it is nice to know that I can continue to do what I love as a career and passion because of companies like Core Medical Group. Holly Nasser and all of the team members I have had the pleasure of working with always go above and beyond. They help me so I can help my patients which is the ultimate goal! 07/09/2020
My recruiter was Derek and he is amazing. Very supportive, never pushy, kept in great contact with me and always checking in to see how my assignment was. Pay was good, and paychecks on time and very accurate. 01/05/2019
I worked with Core for my first assignment, then switched to work at a specific facility. I came back to Core after 2 assignments because I missed the personalized professional interaction. My recruiter Rob is attentive, professional, and never pushed his own sales agenda on my when choosing assignments. I qualified for ther Club CoreMed all-expenses-paid vacation this year and had a blast. All of the travelers there kept commenting on how much they loved the agency. As long as they continue to delvier excellent service, I will stick with Core. 06/15/2018
MY RECRUITER IS BILL, HE IS VERY GENUINE AND FRIENDLY. EXTREMITY PROFESSIONAL AND VERY MOTIVATED TO GET ME THE ASSIGNMENT AND MONEY I AM LOOKING FOR.I HIGHLY RECOMMEND HIM AS A RECRUITER.YOU WILL NOT BE DISAPPOINTED! 01/11/2018
NA 12/01/2017
Previous assignment completed without a hitch in a very busy ER. Traveled across country for 2nd assignment with numerous issues including not receiving orientation before being expected to be totally self sufficient. Core Medical unsupportive. Recruiter homophobic and racist and I am a heterosexual Caucasian. Recruiter and company took it upon themselves to contact landlord and hospital on things that I never agreed to or stated I wanted or would do. Dishonest in conversations. Unfulfilled promises by recruiter. Don't count on Katelyn to assist with housing, if you go with CMG find your own as I did with my 1st assignment. She will place you in unsafe housing and if you don't accept housing on arrival, Core will take the money from your check ( didn't sign contract or accept keys). 09/19/2017
Housing assistance is a joke. Recruiter does not even remember my name or prior conversations, always have to repeat previous conversations, sometimes have to in same conversation. Not an active or interested listener.. like where licensed even. Scripted conversations. When in a tight spot with housing was promised compensation, but later was told that was not what was offered. Watch for vague commitments on recruiter's part which are very misleading. Pay has been correct and on time. Will not have assignments where you want to go but will have assignments offered that are not very good. Basically on your own, so if you work for company be aware and prepared to handle everything yourself. All they really do is send profile, provide contract and thus far pay accurately 08/29/2017
You know as nurses we all have felt that we have been under paid for years. Everything that a hospital or governmental agency implements nursing is responsible for or at fault. So you decide to travel. Travel agencies are a dime a dozen who knows what agency to go with. So I pick Core medical. This is my first job, they haven't paid expenses that they were supposed to repay, they won't pay on time the information they need for me to get paid changes weekly. I have talked with the hospital they say that they have never had so much trouble from an agency. The travel nurses I work with say that they don't have any problems getting paid. So don't chosen Core medical. 04/03/2017
I had a pretty great recruiter who was always available and more like a friend. But the company is too scattered with departments and too many people who don't communicate with each other enough. That's the only reason I wouldn't choose to work with them again. Paycheck was correct and on time 95% of the time 03/22/2016
I am travel RN and will now be starting my 3rd assignment with Core Medical. I have had a good experience so far. My recruiter is Ryan and he is very supportive and easy to get in touch with, he gave me his cell number. If I ever have a question or an issue I always feel comfortable asking him and he always does his best to make sure my problems are solved. The only issue I have had with this company is their "housing assistance program". I took the housing stipend but was still promised help in looking for apartments. Long story short they were no help at all. I would suggest that if you are planning on traveling with this company to look for your own housing or use Airbnb.com. Benefits are great, have no complaints there. I wish this company had extra shift bonus incentives like some other companies I have heard of. Excited to someday take advantage of their Club Core Med trip the Caribbean. 12/29/2015
when I got my paycheck found they kept $1000.00 for misc. reimbursement with notifying me. was shocked to see my paycheck was 1000.00 short. Got hung up on by Manager said the conversation was over and slam the phone went down. My recruiter stated was told by her boss to have payroll take the 1000.00 out of my check. Very unprofessional people. RUN and run fast. Lie about many things, too many to mention. 09/26/2015
I have done 3 assignments with Core Medical and I love them. Derek is my recruiter. I worked with another company before trying Core and I just felt like a number and not a person. I feel like Derek treats me like a person and always does his best to get me the contract I want and the pay I deserve. I had an issue with housing once and they resolved it right away. All in all a good experience with Core Medical. 09/15/2015
Tried two recruiters and they both sounded like used car salesmen. They quoted lower pay rates and then became angry when I knew other companies were paying significantly more and those other companies pay rates were in line with each other. First hourly pay rate offered was $12.00/hour!!!?? Come on....what would my tax man say to that? Is this a reputable company? One recruiter hung up on me. I was professional and Core Medical was the worst!! I think Core Medical may be taking advantage of travel nurses. They also might need an internal review for tax purposes. 07/29/2015
This company has hidden sneaky agenda. They dont tell you they are charging you weekly for insurance which adds up to 200 per month. They send you to sleezy bug infested motel which YOU pay for. This is not honest. My recruiter was good but quit before I was finished. This seems to be their MO. You know without good workers core medical group would not exist. This is disgusting and needs to be reported to AAG office in their city. 06/25/2015
I LOVE Core medical! I've been a travel RN for 8 years and have worked with Core for about 3 years now. Kara is awesome. I've made the Club CoreMed trip twice and just met Kara on this last trip! Free trip to the Caribbean every year? I'll take it! LOL. Overall I'm very satisfied with Core. They really take care of their travel nurses. 05/14/2015
I've actually had a great experience with Core Medical. Lori is my recruiter and I love her! She always has my back. I've worked with her for my last 4 assignments - she even got me to Hawaii! What a great assignment with so many adventures. Now I'm in Boston for the Spring. Can't wait to visit all the historical sites and watch the Marathon! 04/08/2015
I've actually had a great experience with Core Medical. Lori is my recruiter and I love her! She always has my back. I've worked with her for my last 4 assignments - she even got me to Hawaii! What a great assignment with so many adventures. Now I'm in Boston for the Spring. Can't wait to visit all the historical sites and watch the Marathon! 04/08/2015
I had an above average experience working with core medical group, pay is average, but generally fair without negotiation and I haven't had gotten low quotes like with other companies. They seem organized and take pride in what they do. I tried to take company provided housing through them, and that was a scary experience, first night they put me in a motel while my apartment was getting furnished, in a bad neighborhood, in a very dirty motel with leaky ceiling and holes in the linen, huge holes and rips! When my apt. was ready for move in I noticed the neighbrhood was below average, inside the apt. dead insects/ stains in the tiny bathroom/ ac not working.. so i left, later to find out this was a section 8 apt.. below average. Overall if I do ever work with them (which i never will), I will never take their housing, big negative. Also my recruiter was very upset at me for taking an assignment with a different company and took it very personally, put me down over text/phone calls and pretty much blocked me from the company for no good reason. Very unprofessional and surprising. 01/23/2015
pay for travel only 1 way Pay rate could be better. Same assignment with other companies are higher pay Didn't use the insurance or housing 01/14/2015
Thje living arrangements are not the greatest but usually can get a hold of recruiter. This is the first company I have used. Pay is ontime and correct. 07/24/2014
Very unprofessional recruiters. If you have a life/death emergency they don't care. If you have a problem they actually scream at you over the phone. They only care about their medical facility clients and treat the nurse as a commodity they would rather do without. 04/30/2014
I have had wonderful experience, been with them almost year and half now for four assignments with extension. This is my first and only travel company. Sure there are other good ones, but I have had no problems with the company or my recruiter. Always there to help me in any way with housing, my contract, time off for emergencies or between assignments. Insurance is ok just have to watch benefits close and read all information or can end up with medical expenses. Its not very expensive and worth having for emergencies if you are not covered already. I also have never has problems with my checks, always on time and as agreed. I have enjoyed my experience with Core Medical Group. 04/10/2014
I've been traveling with CoreMedical Group for 4 years now, and they've been fantastic! Everything from pay to benefits is excellent. My recruiter treats me like a family member and she is always looking out for my best interests. I can reach her by cell phone 24/7 if I ever have a question. I love that they now offer free CEUs to their traveling nurses and pet insurance! I travel with my dog and it has saved me money on my vet bills. Also, I have gone on the Club CoreMed trip every year to the Caribbean. It was so cool to meet my recruiter and the other CoreMedical staff. Last year we stayed in a 5-star resort that was fabulous!!Overall I think CoreMedical Group is great to work with and would highly recommend them to any traveling nurse! 02/11/2014
Took a job in Carlsbad, these people lied through their teeth to get me down there. And for what? Cost of living is high due to an oil boom, gave me dirt for pay and a cockroach infested hotel to stay in (stevens best western). Stay away from Carlsbad, and stay away from Core Medical. 11/23/2013
I have been with CoreMed for all but 3 months of my travel experience. Housing is o.k. but then, I always find my own and inform my housing coordinator and she takes care of everything else. Pay is decent. Always on time. My new recruiter is pretty good. Contacts me via email, phone, fb, to find out how I am and try to fill my needs. Former recruiter a little on the rough side. As a matter of fact, when I left before, was because of her. Overall... I stick with CoreMed. They never have let me down. I do recommend it. 11/10/2012
Core Medical Group does not provide housing. They will refer you to their contacts but you pay for it and it is generally cockroach infested and unsafe living facilities. And then they get upset with the traveler for moving to another location and inconveniencing the landlord. The recruiter is not knowledgeable. He said that to be a travel assignment it must be 35 miles away from you home and the correct answer is 50 miles away. He also thought Hilo Medical Center was located in Maui. They will tell you that you can not take a day off even when you are down with a life threatening case of pneumonia. They will make money off of you any way they can. They also say they will help in getting your license and will leave you waiting forever. 09/26/2012
Excellent Recruiter and support staff including payroll. Great communication and if a problem occurs they work together to resolve. I would recommend this company hands down! 09/26/2012
Not the best travel agency out there but not the worst. The only reason I traveled with them was I was going to a locale no other agency seemed to have the position available. The pay was mediocre, especially compared with what the staff nurses were making. My recruiter was never available when I attempted to reach her with concerns. The hospital itself was very advanced but the staff were not used to working with travelers so it was a bit difficult at times. The assignment was nothing like what was spoken of in the interview and the floating was extensive which made for a very difficult assignment. It would have been nice to have a recruiter who was available and that was not the case. 06/23/2012
worked two assignments with them and was unable to complete the first due to the computer system, they would not advocate for a decent teacher for it after I pleaded with them. Lost a lot of money on housing, travel, etc. They messed up my initial licensing week,and I had to return home (1000 miles) and was never reimbursed, slthough they promised to do that if I came back after license was issued correctly. Like a fool I tried them over a year later. I injured my back, and had the company CEO yell at me on the phone for 10 minutes about losing money for them, etc, until I hung up and got the heck out of Dodge. Would never consider these folks again. 06/03/2012
comment6, 01/04/2009
At the beginning I had a great recruiter but then he left & the new one is terrible..I can never get in touch with her...I am nearing the end of my contract & she still hasn't helped me find my next one...am definetly moving on to a different agency! 12/04/2008
My recruiter Has been awesome! She makes sure all my needs are met. I have spoken to a lot of recruiters and KT was the best at meeting my needs. She regularly calls or e-mails to check up and make sure things are going well. I am very picky person and highly recommend her. Tell her Linda Mc sent you, she will work very hard for you 06/23/2008
I worked at CoreMedical for a year as their "Marketing Representative". Not only was this the most unorganized and least professional group of adults that I have ever met but thay are also the greediest. They will do whatever it takes to keep whatever money they can for themselves and leave their nurses stranded. They're recruiters, completely unexperienced, no medical knowledge at all, they never pay on-time, their housing is deplorable and they say how wonderful they are because they take their nurses on a trip every year. That trip is for the recruiters, not the nurses and the CEO, with VP girlfriend in tow stay in Suites that cost $1500.00 a night and the nurses share rooms with no ac and no water. They tout this trip as Free, but they take the money right out from under you when you go to work for them. They say it's a vacation working for CoreMed, but just ask someone that has traveled with them...I am ashamed that I even worked there and promoted that comapany in any way..... 03/31/2008
CoreMedical Group is the top choice of professionals seeking health care jobs. For over 15 years they have been placing healthcare professionals in exciting and rewarding health care jobs and are also a leader in the travel nurse placement industry. Whether you are seeking a travel nurse or permanent nursing job, they've got hundreds of health care jobs to choose from! 03/28/2007
I have been with Core Medical Group for a long time. My recruiter returns my calls! she will call me and tell me about great locations, bonus jobs. I have worked with other companys BUT, they offer the best benefits. and I LOVE THE TRIP at the end of the year. I went last year and had a blast. Core Med employees are nuts! 03/28/2007
Absolutely impressed! Worked with other companies but have found Core Med to be top notch. Paycheck was on time, great benefits, housing was ok. Care package was there waiting on me, plus washer/dryer/ etc. Would recommend to others. I have a great recruiter who I have yet to have a problem reaching. 12/20/2006
worked with them on 2 assignments, first local so housing not an issue, the second housing was fair. although there was a housewarming package that had everyhting in the world you could need plus food to start out... pay is weekly and on time, insurance good. am disapointed in this housing, but there is not a ton of things that rent for 3 mos in the area. was very pleased with my recruiter until he up and quit. some problems with hospital.. fairly supportive. in general would recommend but might depend on who you get as a recruiter.
think I may have rated this backwards the first time. very good on everything a 4-5.
this is a good agency to work with. I have a good recruiter, aggressive at trying to find me what I want. always answeres emails and calls. although I took something with another agency this time, I would recomend them and work with them again anytime. I worked on a local assignment with them but pay checks were on time and the insurance is good. heard the housing is good. will chek it out next time for sure.
Had two friends who recommended them since they loved their recruiter and said they had great health insurance and no other problems. I am on my first assignment with them and agree. Ive worked with two other agencies, both did not offer private housing as a standard and Coremedical did. Also the health insurance benefits are definitely better - they have Anthem blue cross/blue shield which is a more widely known plan than some offered. Other health plans were not as good as far as available doctors in my areas and the price for co pays for visits and prescriptions, and this one also started my first day. Good personal service, someone is always there if I have a question and other people will answer your question if my recruiter is not available.
Return to top of page
---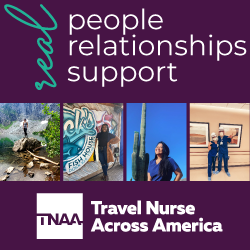 Click here for advertising info