Travel Nursing Agency Ranking Results
Each ranking is averaged and updated on a continual basis. The highest score for an agency is 100.

Go back to travel nursing agency rankings.

Click here to view a list of over 300 agencies and their contact information.

Travel Nursing Company Review of: Continental Nurses

Score
(all time)
Score
(within 1 year)
1. Knowledgeable
3
2. Friendly
3.5
3. Efficient
2.8
4. Honest
2.8
5. Pay rate
3.2
6. Paycheck accuracy
3
7. Housing
3.5
8. Benefits
3.8
9. Supportive
3
10. Assignment selection available
3
11. Individualized
3.2
12. Insurance plan
3.5
13. Reliable
2.8
14. Accessible
3.2
15. Reputable
3.2
16. Accommodating
2.8
17. Professional
3.2
18. Paycheck arrival time
3.5
19. Chances you will recommend this agency
3.2
20. Chances you will work with them again
3
Total Score (number or rankings)
63.2(4)
(0)
after I got the assignment there were concerns,I could not contact my recruiter, it was like she fell off the face of the earth, and when there was a dispute over a check I spoke with a man that just popped up out of nowhere. STAY AWAY FROM THIS COMPANY !!!! 10/29/2012
My only concerns has been that my agent has not contacted me to see how thngs are going and this is my first travel assignment and that my next assignment will not put me closer to home like I want. Otherwise I think they do a nice job are very friendly and pay is great. 07/21/2008
Great company, free medical, dental, and vision. 401K plan from immediate start date. I wanted a 6 week assignment and ........was able to get me one with free housing, paid rental car, airfare. She even sent me the reimbursement for my plane ticket before I arrived on my assignment. Definitely would work for this company again.
Return to top of page
---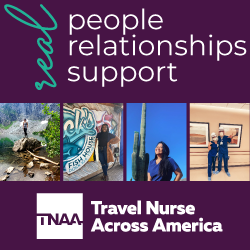 Click here for advertising info