Travel Nursing Hospital Ranking Results
Each ranking will be averaged and updated on a continual basis. The highest score for a hospital is 100.

Feel free to rank any hospital. You are not limited to the ones below.
Travel Nursing Hospital Review of: John Muir Medical Center Concord
Score
(all time)
Score
(within 1 year)
1. Friendliness and acceptance of travelers by staff
4.6
2. How open are they to allowing you to expand your skills while traveling?
2.7
3. Hospital Technology
3.7
4. Location (A nice area to live)
3.9
5. Cafeteria food
3
6. Parking
4.4
7. Physical layout of hospital effecient
3.3
8. Hospital appeal (looks)
4.1
9. Hospital orientation geared toward travelers?
3.1
10. Simplicity being initiated into the system (Do you have to do lots of unneccessary paperwork, drug testing, criminal background checks, etc. in addition to what the agency requires before you can start working?)
4.3
11. Reputation of the hospital
4.1
12. How nice are the doctors to staff
4.4
13. Friendliness of staffing office
4
14. Happy with the work scheduling procedure?
3.7
15. How efficient is their system so you can get your job done?
3.9
16. Adequacy of their nurse to patient ratio
4.6
17. How well staffed are they
4.3
18. How happy were you with your workload?
4.4
19. Staff morale (overall)
4.3
20. To what extent would you recommend this hospital to other travelers?
4
Total Score (number or rankings)
78.8(7)
(0)
I worked in the MS ICU department(s) in the hospital. Awesome hospital campus to work at!!!! The staff are majorly former travel nurses and that speaks volumes...travelers took assignments, fell in love and stayed. Even my travel buddy decided to hire on permanent after two 8 week assignment completions. The staff and management (permanent charge nurses are like supervisors) are traveler FRIENDLY, upper management doesn't micromanage or harass anyone. Even in floating to other units, the culture was the same. I'm definitely returning to this hospital and campus in the future. 03/24/2021
Housing was approximately 3 mile(s) from the hospital. The name of the housing complex was Furnished Finders. Housing was located in city of Pleasant Hill. On a scale from 1 to 5, I would rate it a 5. Great suburb, great neighborhood, great owner of my room rental. The owner is a little noisy and the room may be best for a day-shifter since she works from home but, the perks of a humongous room, large flat screen roku tv, private bathroom and own level of the townhome were well worth the noise.
I worked in the Cardiac Telemetry department(s) in the hospital. Good facility, the unit I worked on was good the nurses were very nice and charge nurses were helpful. they had both 8 and 12 hr shift which was a bit annoying because you'd see many nurses coming in and out and I had to float after 4hr or 8hrs a times. 01/15/2019
Housing was approximately 17 mile(s) from the hospital. The name of the housing complex was Gypsy from FB. Housing was located in city of Antioch. On a scale from 1 to 5, I would rate it a 2. I found this one bedroom on Facebook through the gypsy housing group. It was not the nest experience, there were children in the home so they were loud and I had to share the kitchen which was filthy more of the time and it was such a nice kitchen too
I worked in the B5 Step-Down Metabolic unit, st department(s) in the hospital. MOST RNs in this hospital work 8-hr shifts. So if you are a traveler working 12hr shifts this means: you will not get your patients back night to night, you will get floated DURING your shift to another unit to take a new set of patients, CNA turnover at 1500 and 2300 can be disrupting and very much affect the flow of patient care as well. John Muir Walnut creek is owned by the same people but is MUCH nicer. Concord doesn't have dedicated meal break nurses, you will never get breaked for your 15s, and does not have admission nurses. Very slow MD response time to Codes. I'm still recommending this hospital because of the good (safe) staffing ratios. ALSO, scheduling is done (on most units) by the charge nurses (NOT centralized staffing) so you are less likely to get screwed over on your schedule. 03/14/2018
Housing was approximately 32 mile(s) from the hospital. The name of the housing complex was found my own housing, RV Park in Rio Vista. Housing was located in city of Rio Vista. On a scale from 1 to 5, I would rate it a 5. note: it is difficult to find RV parks in the area.
I worked in the Cardiac Stepdown/PCU department(s) in the hospital. I LOVE this assignment. I have floated to multiple units and some floors are better than others, but there is a great morale about this hospital. Everyone is super friendly and very professional. This is one of the assignments I would definitely return to. Many travelers extend or stay (or return) here. Staff nurses treat travelers very fair and like one of their own! Definitely recommend. 03/13/2018
Housing was approximately 22 mile(s) from the hospital. The name of the housing complex was airbnb. Housing was located in city of emeryville. On a scale from 1 to 5, I would rate it a 4. Found own housing- definitely recommend coming on other side of the Bay if doing night shift! Traffic is BAD coming from SF during that time. Look up housing and traffic prior. Overall still a great place.
I worked in the CV PCU/float department(s) in the hospital. The staff and the facility were great. Only had one nurse that had a chip on her shoulder towards travel nurses. Otherwise staff were very welcoming and kind. My one and only complaint but it was a big enough problem to not want to extend longer. To start I am a night shifter, 12 hr nights. The float pool manager and scheduler works travelers every other night. The scheduling is so ridiculously choppy, I never felt like I got legit time off. As a night shifter you get off work at 730am on your "day off" you then proceed to sleep that whole day. When do I get to have legit time off, to get anything done, to get solid rest?? Until this assignment I hadn't had a cold for at least one year. During this assignment I had a cold 3 times. I was not getting rest, I could not get into a rhythm for sleeping. I sent emails to the manager requesting to have my nights a little more grouped together. Instead he would make my schedule a little worse. When you request certain days off, he will schedule you on those days for sure and he never responds to emails. Also for couples traveling here, expect to have opposite schedules, even if you have something stating in your contract to work the same days or nights. This is well known issue throughout the hospital, even the non float pool folks know about this manager, his horrible scheduling and rapport with float pool staff. If you come to this hospital try to avoid the float pool if possible. If the manager of the float pool is still Bernie and you don't mind working every other day/night, and don't mind getting all requests, questions or concerns ignored then this is the place for you. 03/28/2017
Housing was approximately 3 mile(s) from the hospital. The name of the housing complex was wood creek apartments. Housing was located in city of pleasant hill. On a scale from 1 to 5, I would rate it a 3. Location and apartment grounds are very nice. The apartment itself was a train wreck. Refrigerator didn't get cold enough food spoiled quickly, top burner in oven didn't work (food steamed instead of getting browned), and bathroom sink leaked. They painted shower and tub with water based paint instead of cleaning or getting it properly re-finished. So ugly dirty, disgusting tub chipped through paint after about two showers...Had ants upon move in and when it rained earthworms came in from under base board molding in the living room. Seriously, no joke...Filed complaints on all issues, the bathroom sink was finally fixed after 2.5 months all others remain unfixed.
I worked in the icu department(s) in the hospital. staffing office call to cancel maybe 1 hr prior to work, bad because traffic is busy. new hospital, beautiful building, lot of floors closed in new building, staff nurses not friendly to travelers/agency nurses. 12 hour shifts cali law breaks,but you are allow to take a lunch 30 min and a small break not your second break from desk....non union hospital 10/13/2013
The name of the housing complex was none. On a scale from 1 to 5, I would rate it a 1. n/a
I worked in the med/surg tele b5 department(s) in the hospital. Very traveler friendly. Felt like part of their family right from the get go. 07/21/2008
Housing was approximately 5 mile(s) from the hospital. The name of the housing complex was Archstone walnut creek station. Housing was located in city of Walnut Creek. On a scale from 1 to 5, I would rate it a 5. Very nice housing - 2 minute walk to the Bart station, 5 minutes from work if traffic was bad. Overall quiet for an apartment complex. workout room, pool,jacuzzi, next to walking trails. Clean, adequate parking.
Return to top of page
---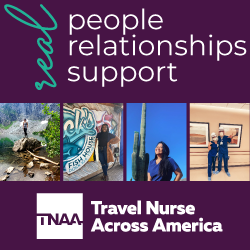 Click here for advertising info