Travel Nursing Agency Ranking Results
Each ranking is averaged and updated on a continual basis. The highest score for an agency is 100.

Go back to travel nursing agency rankings.

Click here to view a list of over 300 agencies and their contact information.

Travel Nursing Company Review of: Medical Solutions

Score
(all time)
Score
(within 1 year)
1. Knowledgeable
4.6
3.0
2. Friendly
4.7
2.7
3. Efficient
4.6
2.0
4. Honest
4.5
3.0
5. Pay rate
3.9
3.3
6. Paycheck accuracy
4.6
3.7
7. Housing
4.3
2.7
8. Benefits
4.3
4.0
9. Supportive
4.6
2.7
10. Assignment selection available
4.1
2.7
11. Individualized
4.5
3.7
12. Insurance plan
4.1
4.7
13. Reliable
4.6
3.7
14. Accessible
4.7
2.7
15. Reputable
4.6
3.3
16. Accommodating
4.6
3.3
17. Professional
4.7
3.0
18. Paycheck arrival time
4.8
4.7
19. Chances you will recommend this agency
4.6
2.7
20. Chances you will work with them again
4.6
2.3
Total Score (number or rankings)
90(462)
63.9(3)
too many problems to write out. 05/26/2023
I have been working to find my rate is somewhat lower from another agency 12/13/2022
Travelers are warm bodies, thrown into a nightmare. You can't end a contract. It is not safe, carepartners leave early or socialize and do not help the travel nurses even with critical patients. I managed to get out of their with my license. ITT, issues, poor charge nurse assistance, two days of orientation, any they expect you to figure it out. You don't get full pay for their days long modules. Staff immediately don't like travelers. DON'T GO THERE! YOUR badge doesn't work with their glucose machines and your care partners are missing or on break. Just don't go their no supplies, and no one to help. 11/03/2022
My recruiter is so efficient and efficient. Make sure I'm happy and contented in my assignment. Inform me ahead of time what to expect and and consider my family situation. 04/27/2021
Worked with MS for over a year, 2 contracts. EXCELLENT company for 1st time traveler. My pay rate and stipends were at least 10% less than other travelers. I went from my 1st contract to my second one right away. They almost always offer 36 hr guaranteed, but no penalties to companies that cancel on 1st day. Pay is on time, problems with proper deductions 401K, HSA, taxes. Biggest complaint is pay 06/26/2020
My contract stated $400 travel reimbursement paid $200 in beginning and $200 at end of contract. Because my contract was cancelled by the facility, they refuse to pay me the other half of the travel expenses. I no longer trust my recruiter since she did nothing to advocate for me and I would never recommend them again. I used to but not after this. It is shady business practice. 04/06/2020
Be careful when signing a contract. They base your stipends on the days in a month not on a calendar week. They will take money away from you on months that have 31 days. The contract states "estimated" stipend because they change it. I also submitted 40 hr for a pay week and they paid me 39.75. Watch your checks closely. Each time they do this, it adds up. 03/15/2020
worked for over a year spent 10 months in Maine on a contract and kept extending. finally returned home from there to TN. Oct start. on Nov 22 the facility called me off and from there it spiraled. my pay has not been right since. it is now late january and I am still not seeing accurate pay stubs. they just randomly take hours away and can give no explanation or accounting of where my hours went. I will obviously have to go to the state employment bureau to get this figured out. 01/17/2020
I could give my recruiter 5's in all categories. The company however is another story. So, I'm ranking the company and cannot answer all the questions as worded 11/12/2019
As a brand new travel nurse this company made it so easy. My recruiter is available 24/7! 03/26/2019
Kevin Parker is a one in a million recruiter and career consultant! He truly has his nurses' best interest in mind! He's always easy to get ahold of and his follow through is impeccable! He's a game changer for travelers! 5 stars for sure! 01/28/2019
I've had a great experience with Jon Laubert and Medical Solutions. I'm finishing up my second contract with them. Jon has been really helpful with explaining everything to me as a new traveler and is super patient with all of my questions. He's respectful of my schedule and sleeping hours as a night shifter in a different time zone. He really listens to what I want in an assignment. Benefits start day 1, reasonably priced. My first contract went super smoothly, no problems whatsoever. My second contract I had clinical issues working on the unit and with management. My recruiter listened to me, referred me to the clinical support team. Unfortunately there wasn't much that could be done, but my concerns were heard and if things needed to be escalated there was documentation of my dissatisfaction with the situation. 01/28/2019
Had an issue with the hospital DID NOT hAve your back had mark on record that I didn't complete contract. It was hospital that said they didn't need the traveler after first day sent travelers away. They lie in regards to a lot of things try to bully you for things that happen and side with the hospital run run run 01/24/2019
I have worked with Medical Solutions for 5 assignments now, my recruiter is great...no real issues 12/03/2018
My recruiter never remembered anything he said and would also say what I wanted to hear and then deny saying it later on. They never offered any housing. I was on my way from CO to WA when my contract was canceled on me last minute and they didn't offer any help with the expenses that were already paid for in order for me to get to WA and deposit I had on living so i had to settle for an assignment at an LTAC facility which was awful and didn't even pay what a new grad would get in the area. My recruiter was very rude and unprofessional whenever I would ask questions about my pay and also when I would try to clarify something that he told me which he would always seem to forget about. Not really sure how he still has a job as a recruiter because he is extremely rude and doesn't really seem to have a clue what nurses go through especially when working at an understaffed LTAC. 11/14/2018
My recruiter was great and worked hard to place me where I wanted. After 2 years of great reviews and extensions over several assignments, there was an issue with the hospital. The company was non-supportive, did not advocate for me even with small simple things, and was very poor at communicating with me during the process of resolving the issue. I later found that some things they told me were said or done were not true. I miss my recruiter but have no trust in the agency and would not work with them again. 08/29/2018
I loved this agency! I was able to sock a lot of money away and still bring home what I've made on previous assignments. Benefits are outstanding, my recruiter, Parker Godkin, was awesome to work with. Only downside is they didn't have a position where I wanted to go next so I jumped companies. I would definitely go back though!! 05/21/2018
I think travel nursing should be taylored to the needs of the travel nurse. Contracts should be iron clad, and facilities should pay the most that they can afford because we keep the ball rolling no matter what. 05/10/2018
This company has exclusive contracts with certain hospitals; it doesn't take a genius to see where their loyalties will lie. And believe me, it's not with the traveler. They kept my $750 competition bonus stating I didn't fulfill the contract. My recruiter Sarah Meyers never fought for me. I believe it is because I decided not to work with them again on another contract. I worked well over the required hours contracted and I completed my 13 weeks. I am pending legal consult on this. I am simply putting this review out there to help prevent other travel nurses from being taken advantage of. There are other legal suits pending against this company as well so beware and good luck! 05/10/2018
Recruiter never follows up. Doesn't check paperwork. Calls and emails go unanswered unless you complain. Then they lie about communication with you "oh, I spoke with her the other day"-No.You haven't spoken to me for 2 weeks. Wouldn't complain without reason. Gave them a second chance and they did the exact same thing! Grrr! Found a job on my own. I should get paid just to fill out their paperwork! 03/08/2018
I still have 3 weeks left in this contract with 112 hours of call to pull. Medical Solutions now owes me for 95 hours and 40 minutes of call over the last 3 weeks. UMMC uses the WAND system for payroll. Medical Solutions has been inputting my hours worked for approval,but not my hours of call, so UMMC payroll department can't see these hours to approve them. My director has now signed my paper time sheets in an attempt to get me paid, which I have emailed in to Medical Solutions today. My recruiter, Kelly Baker, has been no help. Kelly's advice to me was to refuse to take call until I'm paid, stating to me that UMMC wasn't approving my call. I say that UMMC can't approve what they can't see. As further proof of the fault being with Medical Solutions is the fact that my Director at UMMC advised me to submit signed and approved paper time sheets, which we have now done. It remains to be seen if I'll be paid for my call worked and yes, call pay is in my contract. 01/06/2018
I was told of this company from a colleague while working at the Veterans Administration. I'm glad I did. I signed up and was handed over to a great recruiter, Jenny. Jenny is very good to work with and truly gives it her best effort to get the assignments I want. 01/01/2018
If I decide to travel again, I will definitely go with this company. Gerri was awesome! I can not say enough good things about her and how I was treated. I spoke to several people in the company and they were so professional and treated me with the utmost respect. 12/29/2017
Great to work with. Supportive career consultants. 12/28/2017
Pay rate isn't the highest but they have always had my back and treated me right. 12/27/2017
Out of the 5 companies I looked into, these guys had the best benefits. My recruiter has always been easy to contact and has always done what she could to help me. They are on top of things and always ahead of the game. Rates could be better sometimes but from my research, its very competitive. 12/22/2017
I have an excellent communication with my recruiter and the agency. I'm very satisfied with medical solutions in my3 contracts I've worked with them. 12/20/2017
Love them 12/20/2017
Medical solutions has been nothing but amazing ! And very helpful when it comes to getting ready for travel. Although with out the best agent it would be almost impossible! Big huge shout out to Aaron Bogren who makes my life and travel super easy ! Goes the extra mile every time Couldn't do it wothout him. Medical solutions is more like family 12/20/2017
A great company.. Love working for them! Recruiter is awesome!! 12/20/2017
I love working with my recruiter, Rick Schleue. He works hard for me and makes me feel like I am an important part of the company. They give great gifts to their travelers too! 12/20/2017
I love my company and my recruiter 12/20/2017
I can appreciate how consistently reliable this company has been during the time that I have traveled with them. If there was ever a situation that I needed to be ironed out, they are always very responsive and to the point. The only negative is the pay rates in comparison to other companies and occasionally there is not a lot of options of assignments to choose from. My recruiter is awesome and works hard to ensure that I am comfortable at every assignment. Because of their consistency, I am willing to continue to work with this company. 12/19/2017
Medical Solutions is a great agency to work for. Rick is always available for me. If he does take a day off he lets me know . He keeps me laughing even when I'm having a bad day. I would recommend him and the agency to any interested in traveling. 12/18/2017
Rick schelue is wonderful, knowledgeable, vey easy to contact. He is the bomb 12/18/2017
my recruiter Rhonda Fogel s awesome. She has worked with me through hard times. I appreciate you very much. Thanks! 12/14/2017
Everyone was helpful and I'm having a great experience 12/14/2017
Love this company. I feel that they always have my back and make me feel valued. 12/13/2017
Amazing agency extremely fair and considerate. Compassionate real people! Very grateful! 12/06/2017
Tim Smith- The best! Really goes out of his way to help me find an answer and to feel comfortable! 12/06/2017
After my last agency which was a totally horrible experience, working with medical solutions has been an amazing, hopefully will work them long term 11/15/2017
Medical Solution has done a great job with helping me transition into travel nursing. 11/05/2017
Felt bullied by a recruiter. Would get crappy on the phone with my spouse as well as my child. 11/04/2017
I truly can't say enough about Medical Solutions. My recruiter Wade is a total rock star! He is always shooting me phone calls and just checking in to see how things are going with me. When I was freaking out about housing he reassured me that all would work out and is super knowledgeable about housing & the areas you are going to. I couldn't recommended Medical Solutions more! 10/31/2017
I love my recruiter. The agency seems good as well. This is my first assignment with them and as a travel nurse 10/27/2017
First travel assignment with this company. My recruiter is fantastic with communication and always available. I feel some of the negative aspects of this company are that they send you things in the mail (medical solutions messenger bag and foot massager) that are very nice and thoughtful but I would rather see that money going into my paycheck than perks I don't necessarily think I will use. I appreciate the thought though. Also, communication amongst staff could be improved so that the same question or email is not sent from multiple different people. I would recommend this company. 10/23/2017
Brian King has been nothing but amazing to work with and I credit so much of my positive experience to him. Brian always has my back and is always one step ahead. Thank you so much Brian for making my time with Medical Solutions! 10/20/2017
Paul Dibattista is an awesome recruiter! 10/19/2017
Will NOT have your back. Untrustworthy. Unreliable historians. RUN AWAY FROM THIS AGENCY. 10/17/2017
I work for Medical Solutions and Devin is my recruiter. I would recommend him to any new traveler! He has been great! He truly cares about his travelers, checks on them from week to week to make sure the assignment is going well, and overall is extremely knowledgeable and helpful. I was nervous about the new journey I was about to embark on when I started traveling but he has made every step along the way very easy and fun! Thanks Medical Solutions, and thanks to my wonderful recruiter for an awesome experience this far!! 10/11/2017
Awesome company! Great benefits! I got a great recruiter! Devin Juel is awesome!! 10/10/2017
Great to work for, esp my recruiter Stephanie B. 10/09/2017
My recruiter has been amazing!!!! Vince Odorisio has been nothing but the best at what he does. 10/05/2017
Great agency. I have no complaints. Vince is the BEST. Supportive, understanding, works hard to find the perfect assignment for you. 10/05/2017
This is my first experience with a travel agency, after having worked for one employer for over 24 years. I could not be happier! Having dependable, consistant work and paychecks is my priorty, and I have not been disapointed. My recruiter, Aaron Bogren makes me feel as though I'm the only nurse he works with, always there for me! 09/29/2017
Medical Solutionsnis awesome, espically my recruiter Brandon Wilson. I could not have prayed for a better recruiter. 09/20/2017
Most likely my positive experience with Medical Solutions has to do with my recruiter Stephanie Balkovec 09/17/2017
Have nothing to say but absolute positive things. Aaron is amazing. Helps no matter the time day or night. Will drop everything to make sure your happy and travel/job is everything you wish. He is also a great friend ! I couldn't ask for any one better ! Truly a blessing to have 09/13/2017
I loved working with Kelly Schoberg. I only wish Medical Solutions had more options for positions available for me. 09/07/2017
I love working with Kelly Schoberg. 09/07/2017
Medical Solutions has been a very trustworthy and dependable company. My recruiter, Stephanie, is like a true friend that is there for my every need. This month marks my first year as a travel nurse, second agency, and I honestly don't see any need to shop around for a different agency or recruiter. 09/01/2017
Stephanie, my recruiter, keeps up on everything so nothing gets missed. Never have had any problems contacting her if I needed to. She will follow up on any concerns I might have , then get back to me quickly. She's always there for me 08/31/2017
My recruiter, Josh is always on top of things. Never had a bad interaction. Always available. 08/30/2017
I have a good recruiter, who has been always easy to get a hold of, and knows what I need on my assignments, and has been a good advocate for me, and provides good housing for me., so that is why I stay with them!! 08/29/2017
I have never used agency housing. I wish they had 401 match. 08/29/2017
My recruiter is great and the benefits are great! Just wish their was a bigger selection of locations and I always hear people from other agency talk about making more money than myself. 08/25/2017
I worked with Medical Solutions for a long time and only switched due to an availability of a job. Medical Solutions always checked in with me and not only when the assignment ended but to see how I was doing. The staff seemed sincere and tried to work towards the goals I established. I was sorry to have to work with another agency. 08/11/2017
Shane McDonnel. Gives a personal touch helping the right travel assignment 08/02/2017
My recruiter Mike Wilder is excellent to work with. He does an excellent job and always has my best interest in mind. 08/01/2017
Shane is the best, he has always been able to accomodate my needs and wants, when I felt it was time for me to explore other venues, Shane made sure I would get what I wanted in the area that I wanted. Shane has gone above and beyond to keep this relation going strong. 07/27/2017
This was my first travel assignment and Medical Solutions was beyond amazing, super helpful and would walk me through every step if I needed help. Highly recommend! 07/25/2017
I absolutely love working with Medical Solutions! My recruiter is amazing. I always feel like she is working for me and puts my needs/wants first. I always get fast responses, and when I have encountered issues with hospitals, I know that medical solutions is on my side. Honestly, I wish there were a little more job options in some more high demand cities, but I've loved the company so much that switching hasn't seemed worth it to me. 07/13/2017
My agent Jennifer is what keeps me with this agency 07/12/2017
Ted Merkin is awesome! Always very helpful, friendly, and professional. 07/12/2017
Very nice man that Fred! 07/12/2017
I have been working with Ted Merkin at Medical Solutions for a couple of years, they have always been accommodating and Ted has had my back when needed. Will definitely continue working with him! 07/05/2017
I have been very happy with Medical Solutions as my Travel Agency. My recruiter, Scott Schuckman, is funny, kind, personable, caring, aggressive in getting the jobs I am looking for and fierce in his care of his "peeps." Even though I have been an RN for 39yrs this is my first Travel experience and I can't see changing companies as I feel it's not the job but who you work with and I work with the best! Come and join up with us....you won't regret it. 07/01/2017
Rick Schleue is the best recruiter ever. He is there for me. He calls me and checks on me asking if everything is ok or if I need anything. Very good experience at Medical Solutions. 06/29/2017
My Agent Ted Merkin has been excellent. Always there! 06/29/2017
I have enjoyed all of time with Medical Solutions. Two factors that have shocked me were the actual having of my back and the fact that I can count on my agent, Ted Merkin, and his word at all times. I would not only recommend the company, I have bet my family's food on the table with them for the past three years; there is nothing as or more important to me than family, that is how much I trust and depend on Medical Solutions and Ted Merkin. 06/27/2017
My recruiter is always available via multiple means with any questions or concerns. If he is away on vacation, he males sure that you know and that you have an alternate contact while he is gone. The only problem that I had was the compliance person on my first assignment wasn't as "on the ball" as she should have been, and I found out the day my file was due that I still had some requirements, which were not communicated to me before. The compliance person for my second assignment has been phenomenal 06/23/2017
My recruiter is easy and fun to work with. Erin makes sure I have everything that I need. I just love her... 06/23/2017
Very setisfied with this company. My recruiter Scot Shuckman is wonderful. 06/22/2017
Great company to work for 06/15/2017
My recruiter, Kelly Baker is the best. She responds quickly to my calls & always keeps me updated on everything! 06/15/2017
I am very pleased 06/14/2017
good experience will do again 06/08/2017
Love my travel company and my recruiter Katie Young!!!! She is amazing!!!! 05/23/2017
My husband and I loved working for Medical Solutions. Mike McSorley was our recruiter and he was fabulous. He went above and beyond, was always available or got back to us in a timely fashion and was so personable. We loved him as our recruiter! He was amazing. Nothing but good experiences with Medical Solutions. 05/19/2017
Excellent agency 05/17/2017
Mike M. is awesome! Checks in frequently to see how things are going and does everything in his power to make my assignments as smooth as they can be. 05/12/2017
Medical Solutions has been a great company to travel with. Julie Fulton has been nothing but spectacular in assisting my every need as a travel nurse. I feel fortunate to have found Julie and her staff, and look forward to future assignments with Medical Solutions. 05/10/2017
MS RN for life! 05/10/2017
jobs are limited compared to other companies. 05/09/2017
My agent Mike M. Is the best. He really makes me feel cared for and I feel confident that he has my best interests at heart. He is personable and caring. Best recruiter out there. 05/09/2017
Love my recruiter, wish they had more assignments available in the cities I wanted. 05/09/2017
Everyone that a have met at Medical Solutions are professional, reliable, and honest. I'm grateful to be working with such a great team. 05/08/2017
Very professional. Insurance starts day 1 and it's good insurance. Pay is competitive. 05/05/2017
My company and recruiter are amazing. If I had not found them, I probably would not be traveling. 05/04/2017
I adore my recruiter! I've had several assignments with Medical Solutions and I can't brag on them or my recruiter enough! Anyone interested in a gypsy life as a travel nurse, Call my guy Mike McSorely. 05/04/2017
Medical Solutions has made my first travel assignment so easy, from reimbursement for my license fees to answering questions and providing information in such a timely manner, I will definitely be working with them for future assignments and would recommend for all nurses interested in traveling! 05/04/2017
Love working with medical solutions. I just wish they had a little bit more choices for surgical technologist jobs. The pay needs to be more for scrubs. 05/01/2017
Jennifer Blanks is amazing!! 05/01/2017
Great communication and follow up. Great support. Never had a problem with pay check arriving on time. 05/01/2017
love working with eileen at medical solutions just wish they had more jobs in florida 04/30/2017
I am currently on my 2nd assignment. Lynda Gelecki is absolutely phenomenal! Being a new traveler, I was afraid and didn't know much. Lynda has been accommodating, friendly, & professional....she has taken my hand and walked me through every step. She explains everything, in detail, leaving nothing to question. For my 1st assignment, I spent 26 weeks at, since the hospital requested an extension. When they no longer needed me, I texted Lynda told her the need for a new assignment, and she had me not only submitted to another facility within a week, I had interviewed, and been offered the position...landing my 2nd assignment. Contract was signed the next day. Lynda makes herself available, giving her personal cell number, making her accessible even after hours. Can't say enough great things about her/Medical Solutions!! 04/29/2017
Pay scale at the lower end of some packages I have seen from other companies. However reliability and relationship is excellent and makes up for pennies off the dollar. 04/28/2017
Jen Blanks is awesome!!! 04/27/2017
I consider Eileen a friend. She is open, honest and always available. If she doesn't know something, she points me in the right direction. Eileen keeps constant contact even while I'm on assignment with another agency. She is the main reason I came back to Medical Solutions. The company itself, in my opinion, is filled with happy, relatable, and accommodating enployees. In my interactions with other travel nurses, they have said the same about the company and, along with myself, would highly recommend Medical solutions to any new or season traveler. 04/27/2017
Eileen Begley is a wonderful recruiter 04/26/2017
My recruiter is the best 04/22/2017
Have had 4 recruiters in 9 years, all excellent except 1(he is no longer with company).Denise is my most recent and the BEST!! Competent, professional, ALWAYS available by call or text, listens to what I have to say, compassionate, empathetic, THE BEST!! If she doesn't have an answer for my questions she finds someone who does. 04/12/2017
Awesome to work with answers question in timely manner. Helpful 04/04/2017
My recruiter Lynda Gelecki is an absolute sweetheart and a tireless worker. I'm so far satisfied with my experience with working with this company and plan on continuing to travel with them. 04/04/2017
They do what they tell you they will do and do it in a timely fashion. 04/02/2017
Great Agency 03/31/2017
I have a fabulous recruiter with Medical Solutions! 03/28/2017
Recruiter Jessica Sauser is wonderful and helps me succeed!! 03/24/2017
Staff is nice. Paycheck is on time. 03/23/2017
Medical Solutions is an excellent company to work for! Very blessed to have the opportunity to work for such a great agency and have the best recruiter, Julie Fulton, during my travels! 03/09/2017
Wonderful company, excellent communication, honest trustworthy recruiters. 03/01/2017
Brian King has gone over and above for me. He helped me find a job close to home with pay I could accept after I tried for another job where the pay was unsatisfactory. He helped me get ins after I declined it just a few days earlier. He is always texting or calling to make sure everything is clear and going well! He seems like a friend already. 01/27/2017
Medical Solutions has been nothing but excellent to work for! 01/26/2017
I love them! 01/25/2017
Jessica is a great recruiter, very efficient, always has my back- she always has an assignment ready for me. Pay is 100% reliable. I do feel that some of their strong customer service, benefits, great housing if utilized contribute to slightly lower pay overall, but I'm happy to take a slight drawback in pay for great service. 01/24/2017
I use to work with 4 agencies. Then, I met Ronnie with Medical Solutions. I have worked with them exclusively for 1.5 years now. For me, it is all about the journey! Location! Location! Location! They have come through every time. I have never had an issue with pay. On time. Every time. 01/24/2017
MY recruiter is great. Always available when I need him and goes above and behind to answer any questions/find solutions to any problems I may have. 01/24/2017
Recruiter was focused on the unimportant issues. She was very controlling of every aspect of the assignment, but did not have the best knowledge of everything involved. I was asked to sign multiple contracts during the first 6 weeks of my assignment. Housing was not managed well, they advertise to travel with your pet, then couldn't find satisfactory housing. There are many more issues, those are just a few. 01/23/2017
Excellent recruiter 01/23/2017
Pay is terrible you're not paid for your hours worked. Pay check is confusing pay rate is not what was promised. Had several conversations with recruiter that turned into a high argument. Mostly care about their reputation and not staff. Recruiter very pushy sends to to facility they don't even know anything about and refuse to listen to your current situation. Make sure you never get sick while doing as assignment for them or else you will be on your own. Never get your referral bonus. Would never work for them or refer any other nurse to them. 01/11/2017
I have worked with Medical Solutions for over two years and I think they are an excellent company to work for! My career consultant goes above and beyond to find the exact assignment I want to take based on my criteria and is always available for questions with a fast response. I have gotten assistance with them for finding housing even though I take the stipend set up my own. The entire team works to ensure your compliance is up to date and gives you ample time and options to complete what is due. I will continue to travel with this company and have highly recommended it to others that I have worked with as well. 01/11/2017
Medical Solutions has been a great company to work for. 01/09/2017
My recruiter Ted Merkin is the best. Friendly and always going above and beyond to find a contract or help out anyway. 01/05/2017
Lindsay Thomas is the best recruiter I could ask for. She goes above and beyond with every aspect of our working relationship. 01/03/2017
I did not use housing or benefits to comment on them. My recruiter, stephanie, is great. 01/01/2017
Overall good experience 12/30/2016
My recruiter is the best! =] 12/29/2016
great company 12/28/2016
Incredibly easy to work with. Friendly, professional, best recruiter with fabulous communication. 12/27/2016
I have worked with medical solutions the past two years. Overall I would say it was a great experience. 12/23/2016
This is the only company I have worked with so I cannot compare. My recruiter has been awesome and I feel supported by her. The company appears to be continually attempting to improve. Sometimes they have not had assignments in area I wanted to go. 12/23/2016
Ted Merkin is a great and caring recruiter. I would recommend him to anyone. 12/23/2016
have never had any problems with this company. i have never used there housing or benefits so really not sure how good those are, but this survey would not let me skip them. 12/23/2016
Ted Merkin was the best recruiter!! He was always available and replied to emails/texts/calls very quickly. He was great to work with. 12/22/2016
Have been with Medical Solutions for almost 3 years and love my recruiter Stephanie. I have never had any issues with payment and even when I'm late submitting my information they always do everything to make sure I'm taken care of! 12/22/2016
Medical solutions has been amazing to work with. They are professional and yet make a point of getting to know you and making sure They are doing everything to meet your personal and work goals. I have been with them for 3 years and look forward to many more. 12/22/2016
Medical Solutions and our recruiter, S.B., has been successful 100% of the time in finding assignments for my husband and myself in the same facility. Our company has been able to negotiate our pay, while we take the housing, meals/incidental stipend. MS has many contests, fun activities, Traveler of the Month, and such for their travelers. We are given gift cards and kudos for our "good work"--appreciated! Con: no extension bonuses, no sign-on bonus for new assignments. MS has a "loyalty" bonus of $600.00 for every 600 hours worked. Unfortunately, you may have to be tied to another assignment to complete the 600 hrs, or not receive it at all. If you leave, then return the hours you accumulated can still be applied to your new assignment. Con: We only receive the $250.00 of the promised "$500.00 for referral" every time my husband has referred another nurse to MS. MS cites that they have had communication or has sent information to that nurse >5 years ago....the full amount should be given, considering that the referring nurse made that final "push". No more recommendations from us, if that continues to occur.... 12/22/2016
I have been with 2 other agencies and the worst was MAXIM but the best is and I will stay with for all my traveling RN experiences will be Medical Solutions. 12/22/2016
Ted Merkin is the greatest recruiter! 12/22/2016
DO GREAT JOB. 401K WITHCOMPANY MATCH STARTS DAY 1. IMPORTANT FOR US OLDER TRAVELERS. 12/22/2016
This company is great and my recruiter is, also! 12/22/2016
Facilities are pretty good, career consultant has worked very hard to find me great choices especially accommodating my personal needs. I know I can depend on her to help me out if I need it. 12/21/2016
Aaron has been the absolute best and I wouldn't trade him for anything, he is easily reachable, even outside work hours, very caring and such positive energy... moments when I felt overwhelmed he was there to talk me thru it all... 12/21/2016
Wonderful company. A little low in the price range but high on reliability for an employer 12/20/2016
i am glad that i chose medical solutions. i cannot imagine working elsewhere! 12/20/2016
I love working for Medical Solutions! My recruiter, Mike McSorley, goes above and beyond to get me contracts I want and to help me with whatever I need before and during an assignment. He answers all my questions quickly and I know he is looking out for my best interests. I highly recommend Medical Solutions! 12/20/2016
Very good travel company to work for. Always able to reach my recuiter. Always able to find nursing assigments that i'm looking for! 12/17/2016
My recruiter Mike McSorley has been fabulous for my last 3 travel assignments! Always easy to reach and super helpful with anything I need! 12/15/2016
Medical Solutions is a fabulous company to work for. My recruiter made me feel comfortable and taken care of. My voice was heard and that's important. Favorite travel nurse company by far! 12/15/2016
Great company!!! Best recruiter we've had so far! 12/15/2016
Medical Solutions has been my favorite travel company yet! My recruiter Mike is the best and really helps me find and get what I need! 12/15/2016
I've always found my recruiter Geri and Medical Solutions as a whole to be a great company to work for. They came highly recommended to me and I recommend their services to other travel RNs. 12/15/2016
Honestly I think it depends on your recruiter that you have more than the company. But thankfully I got both a great company and a great recruiter 12/15/2016
My recruiter/client managerial the best.I have immediate follow up with every request/issue. 12/15/2016
Very Helpfull. 12/15/2016
This is my first travel nursing assignment. My recruiter got me a job in the time frame I wanted. After only being a nurse a little over a year, I was accepted instead of having to wait for more experience. So far I have had great experience! 12/09/2016
The company is very supportive of their travelers and communicate in a timely manner. My only complaint is this company pays a little lower when compared to other companies but the pay is still a decent amount and enough to live very comfortable. 12/08/2016
Happy with them so fat 12/07/2016
This was the company I started my travel nurse career with, and after working with many other agencies since, I can say Medical Solutions is the best for me. I really feel that I can trust them - it doesn't have the feeling of wheeling-and-dealing come negotiation time. My recruiter Chris Palassis has always worked to get me the contracts and shifts that I want with really good pay packages. He's available before and throughout the contract and often checks-in just to make sure I'm still happy. I do wish they had more contracts in some of the bigger cities. I've been really happy with every assignment I've taken through them over the years. 12/06/2016
I love my recruiter Jennifer Blanks! From day one she has made this journey less stressful because I can count on her to find what I need! She is an Angel! 12/03/2016
Mu recruiter Austin Baeumlisberger is very helpful, encouraging, and informative. I am very happy in regards to choosing this agency for my first assignment. 11/29/2016
Medical Solutions staff is great. 11/20/2016
Very personal, helpful company. I have always felt important and valued as a person, not just an asset. 11/14/2016
Stephanie Short is available any time of day or night. Answers my questions and concerns immediately. Makes sure that my needs are met. She truly cares about me and my family. 11/13/2016
I do not use their insurance and have other insurance. My recruiter is great. 11/10/2016
I think Medical Solutions has a knowledgeable staff. Assignments in most cities so easy to find a place to go. Paychecks always there without hassle. I think pay could be increased however 11/09/2016
My recruiter, Melissa, is AMAZING! Very quick to respond, helpful, professional and personable. 11/07/2016
Melissa Kersten is great. I've always gotten with in 50 miles of where I wanted usually much less or the exact location. She follows up on my concerns and keeps me informed. 11/04/2016
Melissa Kersten is great. I've always gotten with in 50 miles of where I wanted usually much less or the exact location. She follows up on my concerns and keeps me informed. 11/04/2016
Melissa Kersten is great. I've always gotten with in 50 miles of where I wanted usually much less or the exact location. She follows up on my concerns and keeps me informed. 11/04/2016
I have just signed on with Medical Solutions and so far, I could not ask for anything more. My recruiter is friendly, attentive, helpful and all others that I have worked with in the company have never been less. Thank you for making my job possible! 11/03/2016
I highly recommend my Medical Solutions recruiter, Melissa Kersten. I have worked with her on multiple assignments, and she is a delight to work with. She is proactive, efficient and super friendly! Any questions or problems I have, she solves immediately. She goes above and beyond in finding my assignments and negotiating contracts. 11/03/2016
Great company to work with. Todd Linde is awesome!! 10/25/2016
Nothingbto add 10/25/2016
Always friendly and supportive. 10/24/2016
Love Steve Knapp. He has been an excellent support through my first experience as a traveler. Love Contra Costa Regional Medical Center, Martinez, CA 10/22/2016
Biggest complaints are I didn't get the location or schedule i wanted. Also base pay low and stipend for housing/travel should be more. 10/18/2016
Hard to make judgements since I have only worked with Medical solutions, so far I have had great service from my recruiter, he does his research when it comes to finding the right placea for me 09/28/2016
Couldn't be happier with this company and my recruiter (Roy Burton). 09/28/2016
I have tried two travel agencies. This one is my favorite of the 2. I enjoy working for this company. 09/27/2016
Medical solutions has exceeded my expectations. I have had zero complaints. Jeff Reece has been extremely diligent throughout everything. I have recommended this company and him to several people so far. 09/23/2016
I have worked with medical solutions and my career consultant Shane for over a year and a half and have never even thought about switching companies. The company and Shane take great care of my family and I and they are always ready to help with whatever we need. My career consultant is more than that, he's become a very good and trusted friend. 09/22/2016
Medical solutions is a wonderful company. Very friendly staff, professional, accommodating, and caring. My recruiter has been absolutely wonderful to say the least. He has went above and beyond for me and I can not thank him enough. I have no plans on ever switching companies. 09/22/2016
You are a nurse not a number. Respectful,honest,attentive, and got your back. I recommend MS to anyone. Pay not always be the highest but they are very close and you get individualized care. . . To me that is worth a few less dollars. 09/20/2016
If you want to be treated with respect, and feel cared for, Medical Solutions does just that. They do not pay as well as other companies, but they have their act together, treat me well, very professional, respond quickly, and they take the time to get to know ME and my personal and professional goals. My one complaint is they consistently tell me they will reimburse me for things like my license costs, having to buy new scrubs, parking, etc, and they never do. Not a huge deal, compared to some horror stories you hear, but still irritating, nonetheless. Would recommend though! 09/16/2016
I am lucky to have a great recruiter in Jeff Reece. Always supportive and available. 09/12/2016
My career consultant always makes me feel like I am her number one priority. 09/12/2016
Medical solutions is the best I have worked with. My recruiter listens to my needs and wants and takes care of me 09/06/2016
I have had great experiences with Medical Solutions and my recruiter there. If there is ever a problem, they are quick to fix it and compensate me for any inconvenience for me. 09/05/2016
Absolutely the best company I've worked with, and my recruiter, Chris Palassis, is top notch! 09/04/2016
My recruiter is Kelly Baker and she is amazing!!! I was very nervous about leaving a full time job to start traveling and she made the whole process very easy and stress free!! Over the last two years she has stood by me and supported me. She has become like part of our family!! I could not have a better recruiter!! 09/02/2016
They don't pay as well as other agencies but very service oriented and caring. 09/02/2016
Honestly my recruiter is amazing! He's the biggest reason I worked with medical solutions for so long. Chris Palassis is the best recruiter I've ever worked with and should be acknowledged for it! 09/02/2016
Fist time traveling. I joined Med Sols a year ago. I have extended at my current assignment for 11 months. I have been satisfied, especially with pay and paycheck always on time and accurate. 09/02/2016
Kelly Baker is amazing! Best recruiter and best agency I could ever ask for! 09/02/2016
I've been with the greatest recruiter for the last 15 years this October. Kelly Conn Baker is the best in the business. Love the staff and this company. so haopy to be on assignment with ya'll again !!! 09/02/2016
Career consultant Chris Palassis, does a great job. He is very professional, helpful, and friendly. I would personally recommend him for anyone looking at Medical Solutions as a travel company. 09/01/2016
Kelly Baker is always honest, reliable, no hidden agendas,love her and this company 09/01/2016
I love this company 09/01/2016
Worked for a few other agencies and I always come back to this one. The assignment is always what they say it is straight forward. 09/01/2016
I love working with this agency and especially my recruiter Kelly Baker. She always has time for me as her traveler. She is hardworking, honest, and dependable. I consider her a friend! 09/01/2016
I have been with my recruiter, Kelly Baker, for about 10 years. She is what makes my travel nurse experience so great! Couldn't ask for better! 09/01/2016
I love my recruiter, Kelley. She is available 24/7. Feel safe in her very reliable hands. Thanks so much. 09/01/2016
Love working for this company and the extra perks that you get 08/31/2016
I really enjoy working with my recruiter R. Fogler as she is always available when I need here but is not pushy or being on top of me all the time. I've been treated like a nurse and a professional. 08/28/2016
This is my first assignment with Medical Solutions and my recruiter Megan is great! I like that I work with the same recruiter throughout all assignments. Some companies you get a new recruiter when you go to a different state or a different part of the state. 08/28/2016
I'v worked for other travel companies and when i started working with medical solutions i didn't want to work anywhere else.i love my recruiter Bobbi Poole ,she's always there for me to answer questions when i call, sends unexpected gifts to show appreciation.Medical Solutions' pays good and paychecks are always on time. I highly recommend working with this company ,they're the best!! 08/27/2016
I work with Megan Hughes as my recruiter, and she is a fantastic recruiter. She's kind, caring, sweet natured, and she is very supportive. I appreciate her honesty and the honesty of this company. I had traveled with another company in the past and gotten ripped off by them, so was quite gun shy. But they are very professional and have proven themselves to be trustworthy each and every time. I wouldn't think of working with anyone but these guys. 08/26/2016
Love medical solutions. Always there for their nurses!!! 08/26/2016
I loved my recruiter, she was always available and willing to help me even when I always took the housing stipend because I had a pet. 08/26/2016
My recruiter is the best. She works so very hard for me. She makes me feel like I am the most important. She has my back all the time. I truly cannot say enough good things about her. 08/26/2016
Medical Solutions has been a great agency to start out with! First off, I love my recruiter. She's always there to answer any of my million questions. My paychecks are always accurate and on time. My only complaint as far as benefits go is that they don't offer life insurance. Selection & pay: I don't feel like there is as wide a variety of assignment locations as with some other agencies, but I enjoy dealing with Medical Solutions, so I compromise for the time being. As far as pay, I am beginning to see that it might be a little on the low side, but again, I'm just starting out and am taking quality over quantity for the time being. All in all, I would definitely recommend Medical Solutions, especially to a first-time traveler! 08/26/2016
Megan is the greatest! I love her she is always there when I have a question or need her. 08/25/2016
Working with Medical Solutions, Nick Penders particularly, made my travel experiences invaluable. Any traveler can expect quality customer service and memorable conversations when interacting with Nick; he has quite the sense of humor. He's more like a friend and less like a recruiter. 08/25/2016
my recruiter sapan shah is amazzziiinnnggggg. always there when needed no matter the hour!!!! 08/25/2016
I've been a Medical Solutions traveler as well as with other companies, and Medical Solutions delivers every time. My recruiter is my main contact point, and is accessible to me at all times. I've recommended them and him to many people and will continue to do so. They're a very well rounded company with few flaws. To this day, I'll continue to travel with Medical Solutions. They have my trust, support and have generally made my travel life easier. 08/25/2016
Medical Solutions is an amazing company, particularly my recruiter Nicholas Penders (seriously, ask for him). I love being on assignment with medical solutions because I'm never worried that there will be something that can't be fixed, and most of this is because nick is so supportive. The company itself clearly cares about it's nurses, I've never felt like just a number. I've worked on assignments with three companies and medical solutions is the most supportive of my career and pets that I travel with, as well as forwarding my career (they presently are paying for me to get my BSN). Check them out! 08/24/2016
I have traveled with Medical Solutions for about a year, but have been a loyal nurse for 5 years. Highly recommend Nicholas Penders as a recruiter. 08/24/2016
I signed up with a few different agencies when I was looking into traveling. I started out with Medical Solutions to give them a try and wanted something else to fall back on if this didn't work out with them. 2 years later, I am still with Medical Solutions with no intentions of switching companies. My consultant has always been professional and is able to resolve any issues that come up in my assignments in a very timely manner. I have been paid on time every time and any discrepancies have been handled quickly. I have recommended Medical Solutions to my co-workers, knowing that they will be taken care of. 08/24/2016
They actually care. I had trouble getting home on my time off once on a Sunday. My recruiter stayed on the phone on her time off and got me home. I've never arrived at an assignment that I wasn't called to make sure I arrived safe and had everything I needed. Love Medical solutions. 08/15/2016
I can depend on them to find the job I want and follow thru. 08/09/2016
They didn't offer housing, I found my own. Overall, the company was great. My recrunter Denise was amazing. She kept in contact with me weekly and always answered my questions in a timely manner. I would recommend this company. 08/05/2016
Love my recruiter,Denise Pottorf. Stayed with company after they bought out On Assignment because of this recruiter. Would follow her to another company. 08/04/2016
Very pleased with this agency and my recruiter specifically. They're very good at placing me into locations that not only pay well, but are safe and fun places to work. 08/04/2016
ok 08/03/2016
Jennifer Blanks is an AMAZING recruiter! 07/29/2016
Medical Solutions is an excellent company to work for they make you feel like family!! 07/27/2016
My recruiter Erin Altman has made all the difference. When i first started traveling in general my biggest request was to be back in New England, she found me a job that was perfect. My second request was that my recruiter helped me with every little detail as I was a new traveler and didn't know anyone else. She went above and beyond her job description. I recommend Medical Solutions to every nurse I meet at each assignment if they are interested in traveling and share my stories of my awesome recruiter. 07/26/2016
I have enjoyed working with this company, my recruiter calls me weekly to check on me and if I call her with any issues she's working on a solution as soon as she gets off the phone with me. 07/21/2016
Medical Solutions is a great company to travel with. They care about the travelers and make sure everything is going smoothly. I told Jennifer Blanks (my recruiter) that I wanted a job in Florida and she came through and in less than 24 hours, I had and interview and started that following week. I appreciate how they go above and beyond to make sure I am happy and that is including their whole team. 07/21/2016
I love working with a company that is supportive and my recruiter is supportive and checks in to make sure everything is going good. 07/21/2016
My nurse recruiter Erin Altman is the best!!! 07/21/2016
Michael McSorley is the best recruiter! A number of things make a company great from pay to benefits, and of course a great Recruiter! I recommend this company to anyone looking to make memories and have great experiences as a traveler. 07/21/2016
My recruiter is very on top of things. He makes my life much easier. 07/07/2016
Lynda Gelecki from medical solutions is the bomb! :) 06/30/2016
Great travel company. I will stay with them. No complaints. I know other travelers who want to come to Medical Solutions. 06/30/2016
It has been a great experience so far! Andrea has been a great communicator, very friendly and you can always count on her. She is always available! Super awesome to work with! 06/28/2016
NA should available for this questionnaire 06/25/2016
When company was on assignment great company after medical solutions took over horrible and do not care about nurses 06/21/2016
I cannot say enough good things about Stephanie Short. She was so easy to talk to and made every process so easy!! If there was a problem, she would address it immediately. I really am so lucky and thankful I got the chance to work with her. If I decide to travel again, I will be giving her a call!! 06/20/2016
N/A 06/16/2016
My requiter curt has gone above and beyond to make my family and I feel welcome and apply with my first travel assignment. I only speak to one person and he is available always. 06/07/2016
I love working for Medical Solutions. I feel at ease with all my travel assignments. Always someone on the other end of the line to help!! 05/26/2016
I have worked with this agency throughout my travel years. They are the best - they know what I like and don't like and work with me on everything. I will continue to work with them for a long time!! 05/23/2016
My recruiter, Charity Crawford, is truly amazing, I can't say enough about her!!!! She is the all around package and was lucky to have found her 05/23/2016
Great company. My recruiter was extra efficient and consistent. 05/21/2016
Worked for them twice. Second experience much better than the first. 05/08/2016
Geri is my recruiter and she is amazing... She makes my experience stress free and fun. She always there when I need her and takes my feeling in consideration. I definitely recommend medical solutions to any RN!! 05/06/2016
Trust is the most important criteria for me. My client manager, Geri Koehler, has been like a close sister to me. I value her no-pressure, respectfulness and sound advice. Working when I really don't have to, and in a state beyind the clutches of HCA (I live in FL), indicates the level of freedom I desire. Yes I want to work, in fact love to work, but not in an unhealthy and unsupportive work environment. Medical Solutions and Ms Geri offer a perfect 'solution" for my needs. I am very grateful to have found them. 05/04/2016
Trust is the most important criteria for me. My client manager, Geri Koehler, has been like a close sister to me. I value her no-pressure, respectfulness and sound advice. Working when I really don't have to, and in a state beyind the clutches of HCA (I live in FL), indicates the level of freedom I desire. Yes I want to work, in fact love to work, but not in an unhealthy and unsupportive work environment. Medical Solutions and Ms Geri offer a perfect 'solution" for my needs. I am very grateful to have found them. 05/04/2016
Recruiters seem to disappear a lot. The pay is lower than others. My Recruiter always thought you were supposed to take any assignment he came up with, no matter how low the pay was. He did not seemed motivated to work too hard even using the term "picky". That is why one travels to have a "choice" of where to work. Otherwise, may as well take a job as Staff Nurse. Worked 1 contract and they disappear! 04/28/2016
I worked 2 contracts with this company and they were very good overall. My particular recruiter had a tendency to come on a little strong especially when it came to extending. The benefits were good, paychecks always on time and were correct. One major thing is that the pay will definitely be lower than you will make with some other companies, but they definitely make up for that with customer service. I ended up leaving just because I realized I could make a lot more with other companies. 04/27/2016
My recruiter Lynda Gelecki is amazing. I never have trouble getting ahold of her and she's always on top of things. 04/04/2016
My recruiter Rhonda Fogle is the greatest 03/18/2016
My recruiter Rhonda has really been amazing. 03/18/2016
Great in everyway 03/18/2016
So far everything has been a wonderful experience especially with me being a first time traveler... My recruiter Sharon has been awesome as well.... 03/16/2016
Andrea is a great recruiter. Always willing to chat and help in any way she can. 02/09/2016
Excellent experience with Medical Solutions. 01/03/2016
My husband and I travel together, and we have an exceptional recruiter. Although we have heard from other travelers that they have had better experiences with other companies, we stay with medical solutions because of our recruiter 12/25/2015
I can't say enough about my recruiter with Medical Solutions. Jennifer Blanks is amazing! It is a smaller company, so they can't always get the location I want, but they will ALWAYS have first dibs on me! 12/24/2015
My recruiter Lynda has been nothing, but great to me. She gets back to me within hours the same day and knows me by voice when I call so I don't feel like just another traveler to her. This company is great with getting problems resolved quickly and stress free! 12/23/2015
Personable- work hard to get what you want in your contract- and in the location you want. Friendly and knowledgeable. 12/22/2015
Love Medical Solutions 12/22/2015
The absolute worst company I have ever worked for in my career! Every one of my pay checks were incorrect, by my pay being extremely below what my contract stated. My recruiter and his Ohio Branch Team were well aware of my pay discrepancy, and stated they will reimburse me, but never did!! I was unable to complete my contract due to the Ohio Branch of Medical Solutions unprofessionalism, immoral aspects, and unethical ways! Extremely disappointed with this company and telling all travelers to stay away! 12/21/2015
Great company 12/11/2015
Bonuses! Pay increases for serial assignments. 12/07/2015
Loved my recruter! She was very responsive and the credentaling team got me started in less than a week after my first assignment, with another company, got cancled. Will be with them for a while! 11/23/2015
They were my first travel. At first they were very professional and nice. As my first contract was nearly over and looking for a new contract. Many other company's offered many choices in my area. I was looking for a certain area. They offered areas that were 2-3 hours away. The area I was looking other companies had at least 4-7 hospitals in the area. It is a very large city with tons of hospitals. The closer it got to the end my recruiter contacted me less and less and would keep offering those 2 hospitals far away. During my contract the pay was lower, insurance cost were higher and no bonuses offered only bags, and massagers. Got to the point my recruiter never contacted me again. I get an occasional contact from the agency but not my recruiter. 11/20/2015
Been with Medical solutions for about a year and have never had a problem with them. My recruiter is always available and prompt to return calls. The company is geared to helping it's travelers get the most from each assignment 11/13/2015
My recruiter, Scott, is wonderful. He is available 24/7, and if for some reason he is planning to not be accessible, he will make sure I have contact info for somebody who is. Good pay, reliable, good health insurance. 11/11/2015
Working with them for 10 years, only agency I stayed with...Looking at 10 more! 11/10/2015
Love Medical Solutions,they are efficient and never leave me hanging when I have questions. 11/01/2015
This travel company and my awesome recruiter,KY, have made my years as a travel nurse a truly enjoyable adventure. 10/31/2015
My recruiter, Katie Young, had been friendly and helpful from the beginning. I feel that she's been upfront and honest, and I recommend her to everyone I talk to about traveling! 10/30/2015
Katie Young is my recruiter and she has always been upfront and honest with me from day one. She's always available and always helpful. She's the best! The one thing that I'm not so happy about is how our bonus hrs get added into our paycheck. It get taxed and you don't really see it. It would be nice to have a separate check for bonuses/referrals. 10/29/2015
This year has been the best of my life. I have Scot Shuckman at medical solutions to think for that. would recommend this agency to anyone. 10/29/2015
This is a great agency! I been having a great experience with them. My recruiter, Joe, has been reliable and exceptional! He always knows which hospitals are great to work with. Never pressures me. Very easy to talk to and to express my concerns. My paychecks have been on time and accurate. Overall, they support nurses and have helped me to accomplish my goals as being a traveler :D 10/07/2015
This agency doesn't support their nurses and are unprofessional. They do everything to cover and support their own employees in the office, but not the nurses who work for them. I had a family emergency back home to deal with, they wouldn't support me in handling the situation rather they placed me as a do not rehire. 10/07/2015
From day one my experience has been nothing but awesome. My recruiter is very knowledgeable but if there is something she isn't sure of, rest assured she will find out and get back to me ASAP. She never pretends, very straightforward but so kind. 10/06/2015
My recruiter Lindsay Thomas is awesome 10/01/2015
I have had a great experience working with Medical Solutions. It is the only company I worked with and gave me to reason to look elsewhere. They were able to meet my needs and find me assignments in the places and areas that I preferred. I would definitely recommend them to anyone thinking about traveling. 09/08/2015
I have found that the recruiters are great to work with, they try to go above and beyond to make you happy and keep you traveling with them. However, the higher ups are terrible. I won't travel with this company again because of the management team. They only have eyes for the dollar and not the individual nurses. An email accidentally got forwarded to me from one of them basically calling me a liar about something I didn't have anything to do with. I never got an apology from the one who called me a liar, only from my recruiter. Very disappointing. 09/05/2015
Having been in the medical field for 38 years and a traveler on and off since 1997, Medical Solutions is, without a doubt, the best travel agency we have ever dealt with!! We have done assignments with other companies on several occasions and have been sorry we ever left Medical Solutions. Doug Rowe is the BEST recruiter we have ever worked with. He works hard to make sure everything we can want or need is in place before we ask for it. And if we ever have to wait for anything, Doug is right there making sure its delivered as soon as possible. We plan on doing this another couple of years and have no plans to leave Medical Solution. 09/01/2015
The pay was not very good, but the company lived up to everything in the contract and was supportive. My recruiter, Ryan, was ALWAYS available and willing to help in any way he could. Working with him and discovering that I could count on him to resolve any issue or give great advice made working with this company a positive experience even though the pay was low. 08/23/2015
My recruiter,Ashley K. has been a very hard worker in getting me great assignments. Never a pay problem. Ashley is always quick to respond when I call; and very interested in how my assignment is going. Very trustworthy! Medical Solutions is a great company to work for! 08/20/2015
Someone is always there to speak with you. Any issues resolved quickly. They have always found me good housing as I travel with 2 dogs. I have absolutely nothing negative to say about this company 08/18/2015
I've been very happy with Medical Solutions and my consultant Mike McSorley. They were recommended to me by a friend who was traveling with them. I would gladly work for them again and I would definitely recommend them to anyone thinking about travel nursing. I was in good hands! 08/17/2015
Great company to work for ! 07/29/2015
Lindsay is the best! This is my first assignment and she made it painless and easy. I've read so many horror stories about travel nursing which had me nervous and skeptical about being a traveler, but not here! 07/29/2015
My recruiter is always easily accessible and very informative. She always keeps me informed about the different steps when getting ready to start a new contract and also while I am working at different assignments. 07/14/2015
Medical Solutions is a great agency for first time travelers and/or LPN's. I worked with them on a 7 week and 13 week assignment. They are extremely professional, accessible and most importantly, diligent about assisting with any issues/concerns you as a nurse may have. My recruiter Rob, was a big part of making everything work. He was always just a call away and even gave me his cell number in case I ran into an emergency. The facilities I worked at were not problem free but Medical Solutions were true to their word about hours and pay and I never felt misled. The housing was generally pretty good too. I've since worked with a less reliable agency, Maxim, so I feel this further emphasizes Medical Solutions good work. I'd recommend them to any traveler. 06/25/2015
My recruiter Renee awesome, she works very hard to secure me an assignment, she always comes through for me)I have worked with agencies that paid better but I was very unhappy with them. 1405I am so happy with Medical solutions 06/08/2015
I love Eileen!she understands my needs as a traveler and is always available! 06/05/2015
I really like my recruiter for this agency but they pay like crap! $17/hr are you kidding me? It sucks because I think they are really friendly and help you out a lot. Another negative that happened to me is I turned all my paperwork in on time for the company and hospital but somehow the company and hospital messed up and I was delayed a week for my start date and I didn't know until the day I was supposed to start that this had happened. I was living in the city with an unplanned week of no pay. The only thing the company could do was give me a gift card to shell gas station (doesn't make up for a week of lost pay). 06/05/2015
"Free Housing" housing is not free. In fact your paycheck is about $400/week less if you let the company find you housing. Every time I sign a new contract I get the same gut feeling that I do when purchase a vehicle. I know Im getting ripped off. My latest assignment I found for myself because "there is nothing in the area for you." If I was an organized person, I would find a different agency. 06/03/2015
I appreciate the fact that medical solutions goes above and beyond to help me get all the documentation I need and that they advocate for my needed time off etc. I also enjoy the loyalty bonuses and the relationship with the organization. I feel like they care about me not just the bottom line. 06/02/2015
I've been with this company for over a year the recruiter that I work with is truly amazing she always gets me the assignment that I want and the pay that I need she's always available for me whenever I need her 06/02/2015
My recruiter is very professional and honest. I did not use the housing or insurance so I cannot speak on those things. My recruiter is always prompt with her responses, honest about the negatives and positives of assignments and does not overwhelm me with phone calls. My pay checks are always accurate and on time, including promised bonuses and reimbursements. LOVE THEM!!! 05/31/2015
Wonderful experience! 05/28/2015
I have been with this company for a little over a year. love it, my recruiter is the best at being easy to talk to and understanding my needs. I would definitely recommend this company. 05/28/2015
This is my first travel assignment. I have had a great experience with this agency. My recruiter is very friendly, always available and very attentive to my needs. I chose their housing and they put me in the nicest area around the hospital, my place far exceeded my expectations and I was able to bring both my dog and cat! I have been paid on time every week. And when they needed something or I was running behind sending them my time sheet, I would get a text to remind me. If I ever have a question or a problem I can text my recruiter at anytime and she gets right back to me. My only problem doesn't really have to do with the agency but the hospital. The hospital lied about what kind of unit it was and while my contract and specialty says ICU, the hospital told me I was working an ICU unit but it's really a long term med surg unit. Like nursing home long term. I could have fought it and my recruiter would've helped me but I didn't want to deal with the hassle of finding another job when I had just traveled all the way out and was all set to work. Next time I will just make sure to really question the hospital about what kind of unit it is. All in all, I would definitely recommend this agency to anyone. I am very satisfied with them and they go out of their way to make sure my needs are met and also make me feel appreciated. 05/06/2015
My recruiter has always been available and works hard to get me the assignments I want. 04/30/2015
04/30/2015
Curt Hermesch is awesome. Probably the best recruiter in the business! 04/29/2015
I have not had them find me housing so I can not comment on that. I love my recruiter Sarah Kirkpatrick!!! They are all very helpful and everyone in the company works well together. Pays pretty good but it's human nature to always want more ;-)... Let's just say I'm finally getting out of debt. I highly recommend them and would feel comfortable answer anyone's questions 04/17/2015
Overall, wonderful experience. I feel very well taken care of so I can focus I just doing my job. 04/14/2015
I have nothing but positive experiences when dealing with MS They have been very professional, Prompt and diligent with every assignment. Melissa has been like an family member she has made my time so welcoming 04/13/2015
Medical solutions has provided excellent service. My recruiter has taken care of every issue that has come up and went out of her way to find exactly what I wanted. 04/11/2015
. 04/10/2015
Great company that appreciates their travelers. 04/10/2015
In everything and in every way they have been good to me. Doug is always there and he checks in on me weekly unless it's a new assignment and then its every other day to make sure assignment going well and if there's a problem he and or the company address it. In almost 30 years working as a nurse, I have not had a better employer. 04/06/2015
Medical Solutions has been a great company to work for! My recruiter is always available and willing to listen and the company itself has alot of perks. The pay rate is not as much as other travel companies however the attention to detail is superb. 03/27/2015
Medical Solutions has been a great company to work for! My recruiter is always available and willing to listen and the company itself has alot of perks. The pay rate is not as much as other travel companies however the attention to detail is superb. 03/27/2015
n/a 03/26/2015
Loved this agency!! Worked with them as a first time traveler, received referral from a coworker. Shane is an amazing recruiter! Very knowledgeable, professional, and so good to work with! I got paid accurately on the correct day. I didn't have to get my time sheet signed each week, because the hospital would send the agency a time sheet as well. Shane always calls, texts, or emails me at least once a week to see how things are going. I had to switch companies due to there not being a need where I wanted to go. I love that they truly care about their travelers! I received lots of goodies from Medical Solutions. A laptop bag, a foot massager for my achy tired feet, a box of brownies, gift card, and thank you cards. This meant alot to me! I really recommend Shane McDonnell. I wish they had MORE job positions. 03/10/2015
n/a 03/02/2015
Had car trouble in a town with no public transit, hospitals cancels contract, and they expected me to move in 24 hours without transportation. Agencies cannot just kick you out with State Housing/Eviction Laws. Hence, "it is not our responsibility" is not a place to work for when you are making thousands off my work. 02/25/2015
Placed in a horrible hospital where I found out that nurses from other agencies were making almost twice as much. When I approached my recruiter, his response was "you signed the contract, you are stuck with it". Lost over $13,000 on a 13 week contract. Stay away from this company!! 02/15/2015
I will definitely keep working with Medical Solutions! 02/05/2015
good recruiter 01/30/2015
I worked my past two assignments with Medical Solutions and with Stephanie as my recruiter. She went out of her way to get me positions and helped me out on a number of housing issues evenings, weekends, absolutely ANY time. She's been great. 01/18/2015
I have the best recruiter. Always available, easy to reach, supportive, and has my back. 01/14/2015
This travel company is one of the best I have worked with. My recruiter is better than the best. He is always available 24/7 & always goes above & beyond to find & get me the job I want. The other departments that help with documents & housing are also always on top of things & take my housing requests very seriously. I have recommended them to many other travelers. 01/12/2015
Advertised as pet friendly yet when I took their housing I could not have my dog! Poor choice of housing..too far from facility, inadequate lighting, no snow removal or shovel to use..supposed to be fully furnished . Front door froze, locking you in...or out. Allowed facility to use me in other capacities repeatedly than what I was hired for. Did not hold facility accountable for their end of the contract 01/09/2015
Like that only deal with one recruiter. Able to build rapport. 12/22/2014
I have had the most incredible experience with Medical Solutions. My recruiter is outstanding. She is very professional, friendly, prompt and professional. I feel like she is always looking out for me; knows what I'm looking for whether experience/memories or great pay. I recommend Medical Solutions and my recruiter EVERYWHERE I go! 12/22/2014
Medical Solutions is MY travel nursing company! I have been a traveler for 2 years. Medical Solutions has been the only travel company that I have dealt with and I would not want to deal with any others for so many reason. They are sincere and truly care about you and your best interest. They are pet friendly, they pay you weekly, on-time, and sometimes early depending on where a major holiday lands. They are professional, easily accessible, and send some great gifts for starting up with them, for Nurse's Week, Christmas, and other random times. I am sad to be parting ways with them for a wonderful permanent position that is the result of extending my contract multiple times at a great job Medical Solutions found for me. Thank you, Medical Solutions, for being a leader in the travel industry and for doing it right every time! 12/22/2014
Never heard from them after I started. Refused to pay for lunches that I never got to take. Low pay compared to other travel nurses doing the same job. Their 'insurance' was overpriced and basically useless. Got hurt on the job and they never offered medical care or returned calls about workmans comp. Don't answer when they call! 12/15/2014
The best thing about my recruiter is that she listens to me. We connect mostly by e-mail by my choice. If I need to talk to her, she calls back quickly. I get e-mails before, the first week, several times throughout, and in plenty of time to situate a next assignment. 12/11/2014
n/a 12/10/2014
I have been completely impressed with Medical Solutions. It has been my favorite company to work with at this point in my travel career. My recruiter is amazing and always makes herself available. The company as a whole makes me feel like a valued employee, and they consistently go out of the way to let me know how appreciated I am. The only reason that I would choose to go with another company is if Medical Solutions didn't have a specific job I was looking for. You can't go wrong with this terrific company! 12/09/2014
Charity Crawford with Medical Solutions is a God-send!! So is attentive & pays close attention to the nurses/travelers needs & gets it done! Also has a sense of humor, so when you are making important decisions about moving, job changes, etc...that helps ease things 😊 Medical Solutions has been an excellent company to work for, especially as a first time traveler. I would recommend them (and Charity) to anyone looking to travel soon. 12/08/2014
Not the highest paying company, but my recruiter, Charity Crawfor, knows my needs and always comes through with a contract that meets those needs. She is professional, available, and fun! Can't imagine working for anyone else. 12/08/2014
Recruiter never called me after assignment started. Couldn't access pay stub, nobody returned my calls. Low pay rate. Got hurt on job and nobody ever followed up or offered medical care. Horrible housing. 12/02/2014
Lets just say, I will not work with them again! Nor recommend them to anyone!! Payroll needs education. 11/08/2014
Very good experiences so far 10/29/2014
Great company awesome recruiter! 10/25/2014
I really enjoy working for my company mainly because my recruiter that I was set up with is wonderful and makes sure that I am 100% happy with everything going on during my assignments. He also gave me his personal phone number so I can contact him at any time in case of an emergency or if I need anything. This company is great and sends me random thank you things in the mail. 10/22/2014
Good agency and good recruiter. Not overly involved, but involved enough to help me feel like I had a partner. 10/21/2014
Amazing company. I love my recruiter and have always had fast responses when I've had any problems. 10/16/2014
I love this company due to my recruiter, Scott Schuckman, is the best. His CS ethics exceeds the bar for any business you can imagine. When I got stranded by another Agency because they were relaxed on getting a drug screen to a hospital in a timely manner, he picked up the slack an got a client to extended their contract that would start later this year to start in Oct. He is honest. He will tell you what he can and can not do. He's just a great guy that's concerned about his nurses' as well as his clients. I'm just glad I chose the right agency to give my business too. Up until now, I use to think having more than one agency to choose from was a great idea until that one agency just stuck out far ahead above the rest. 09/27/2014
Been traveling for two assignments, great housing, honest company, No BS, good assignment, they are aggresive, good company 08/19/2014
Mike, my recruiter is always on the lookout for a good Home Health assignment for me. He always gets back to me, and puts together the best pay pkg. I treasure him and Medical Solutions both as resources to make traveling easy and fun. 07/26/2014
I love my agency. They have always done exactly what they said they would do. The only thing I have noticed with all agencies is that if the hospital does not want to keep to the contract they have the ability to cancel it any time without them having to pay any restitution. I think this is something that we as nurses need to come together and make them abide by the contract just like we have to. 07/09/2014
My wife and I worked with Brad Bell as our recruiter. He was amazing. Made our first assignment as easy as possible. We since went with another company only because they got us to California in a good location. Brad has since still kept in touch seeing how we are doing. Will be going back with Medical Solutions 06/21/2014
Love this company! Best out of all the ones I have worked for. 06/13/2014
Medical Solutions staff has been friendly and helpful throughout my time with them. Each time I call or email I get a real person or a very promt response. I feel my recruiter works hard for me. 06/11/2014
SARAH KISLER HAS BEEN MY RECRUITER ON AND OFF FOR 7 YEARS. SHE IS ALWAYS UP FRONT AND HONEST ABOUT ASSIGNMENTS AND I FEEL LIKE SHE ALWAYS WORKS HARD FOR ME. I RECOMMEND HER TO ANYONE WHO ASKS ABOUT TRAVELING. 06/10/2014
As I tell everyone I come in contact with, I think I work for the best travel company! I try to bring every nurse on board with my recruiter! He is always up front and honest and always looks out for our best interest! 06/06/2014
I have been working with Sarah K. from this company for 5 years....lets just say once I found them I never left. 06/06/2014
I have nothing but great things to say about Medical Solutions 06/04/2014
I have nothing but great things to say about Medical Solutions 06/04/2014
I was assigned Sarah Kissler as my recruiter. I was told by her that she only wanted to send first time travelers to a great place their first time to ensure that they have a great experience. I did communicate to her that I wanted to be in Northern California - hopefully bay area - and that I needed to be near an airport due to my husbands job. After a week of being "submitted" with my CCRN and 7 years as an ICU nurse I was told that I should be more flexible and start applying for telemetry jobs. I ended up in a crap hospital in the middle of the a dessert in Southern California - and my husband had to drive 2 hours one way to an airport twice a week. She would NOT share anything about pay until after I interviewed for a job - which magically when I got within an hour of making myself more flexible. The job was very poor pay ($13 an hour if I took their housing). I told her I didn't think I could accept a job that paid that low. She told me if I didn't sign her contract she wouldn't help me with any other jobs because it would look poor to interview with a manager and then turn around and say no. I reluctantly, as a first time traveler that didn't know any better, took the job. As soon as I signed the contract, she was basically unavailable. She would call once every 2-3 weeks, but if you weren't there to pick up the phone, you missed her. If you called her, don't expect a return call if you're already signed by her for at least 48 hours. When you did catch her she would spend a good portion talking about her latest vacation and what a disappointment it was. (I think she somehow traveled three times between the four months I worked on a contract and traveled with her.) If you do get her, ask to be reassigned. I talked to other travelers with medical solutions at my hospital I was assigned who had better recruiters. Medical Solutions pays the poorest though out of the three companies I've worked with. As to the job availability - with every other job I've applied for, I gotten my first pick of where I want to go AND I've had a job at the first place I've applied. A recruiter should ALWAYS tell you what the pay is before you interview so you you'll feel comfortable taking a job. 05/04/2014
I am currently on my 1st assignment with them, but my recruiter, Charity Crawford is AMAZING!! This is my 2nd travel assignment, the 1st company I was with was AWFUL just like the hospital. The insurance coulod be a little better, but in my experience it's better than having none!! Definitely will be sticking with Medical Solutions:) 04/17/2014
Eileen Begley is the best recruiter I have had in 5 years I love her 03/29/2014
Great company to partner with 02/21/2014
Awesome people. Best I've ever worked with!!! My recruiter is there for me anytime for anything. He became a very good friend and confidant. 02/21/2014
The hospital I worked at understaffs the unit and then doesn't pay past 7pm, and they don't tell you this up front. If you have a bad day and have to stay late to chart, you work for free, and apparently the staffing company can't do anything about it despite your contract which states you will be paid for working. My recruiter assured me "they fought for me" but it has to be illegal to decide after the employee has worked that they aren't going to pay past a certain time. The hospital also makes travelers take the PBDS test which is timed with essay style answers, and the recruiter new nothing about it ahead of time. I really felt like I might have been the first RN they had ever placed. This was such a bad experience all the way around that I am completely turned off not just travel nursing but nursing in general. My recruiter presents one or two potential contracts like it's all that is available in the entire USA and doesn't know much about them anyway. It definitely doesn't help that my recruiter has never been in healthcare. My recruiter calls constantly and often with questions that leave me with serious doubts about their capabilities that maybe should have tipped me off in the beginning. The comments my recruiter made leads me to believe they had never countered an offer to negotiate a contract before. They also quoted me pay per week off a 40hr week for the job to get me to sign the contract when they know they aren't going to pay nurses for more than 36 hours a week. The pay is exactly $21 per WEEK gross more than I made back home before I started traveling. They pay about $17 per hour plus provide housing or a stipend. The stipend sounds like it might be a lot until you check housing cost in the area and everyone quotes the full stipend price for short term housing. So you are going to make $17 per hour for 36 hours a week no matter how many you actually work. My recruiter assures me they "are there for me" but always end up being absolutely useless. The long silences on the phone before they hang up after they are done speaking are weird too. 02/11/2014
I cannot say enough great things about Medical Solutions. My only problem with them is they don't always have very many positions available, but they more they make up for it in customer service. Joel Pilka placed me in great housing, close to my hospital, called or text me at least once a week, usually more, to check on me and to see how things were going. Joel started very early in my assignment to get me resigned for an extension with higher pay. If you're looking for a great company to work for, I definitely recommend Medical Solutions and Joel Pilka! 02/09/2014
One of top two companies I have ever worked for. Honest, pay well, and look out for their nurses. A definite recommend. 01/13/2014
Now that their insurance is super affordable, there is no reason to travel with another company. Had one small problem with a check arriving due to a timesheet issue, but it was resolved fairly quickly. 12/09/2013
very very orgainized--have ur own recruiter--always someone to anwer questions quickly--great co to go with 11/16/2013
great company; works for you!! 11/08/2013
Sometimes their rates are lower than other agencies, but the service I receive from my recruiter makes up for it. We've developed an open communication channel and problems get resolved. Now that they are growing, maybe rates will too! 11/08/2013
The staff in Omaha makes the money not the nurse working at the hospital. 10/31/2013
Eileen is my recruiter, she is Great! Friendly professional & reliable I would highly recommend. I have worked with four other agencies & they are my favorite 09/11/2013
took over my company, On Assignment. Would not allow me to extend current position unless I took an almost 40% pay cut. An assignment I might add, that extended me four times. They made no attempt to try and keep me in the current assignment. 08/31/2013
very helpful when i had a family medical emergency recently. worked with me and my assignment to ensure a benificial result for all parties 08/21/2013
Medical insurance was too expensive. Hourly pay was $7.25 for RN,most income was from subsidies. Housing was quoted at $400 weekly. Couldn't afford to stay with them. 08/20/2013
Wonderful Company, no complaints 08/14/2013
Wonderful Company, no complaints 08/14/2013
None 07/29/2013
very professional, can always reach my recruiter, never any issues with pay. Pay seems to be a bit below what other agencies are offering. I feel secure and confident with medical solutions 07/26/2013
My recruiter is Shari Dalton and I counld not ask for a better one. She is always on top of things, very honest and willing help in any way she can. She truly is a 'star' with medical solutions. 07/26/2013
So far I have loved working with this company. Their health insurance is too expensive in my opinion so I went with individual insurance through a private company, but other than that have no complaints. I have had 2 recruiters (due to one having to leave the company for personal reasons) and both have been so wonderful and supportive and getting me all the resources I need. Would definitely recommend Medical Solutions. 07/09/2013
I work with a great recruiter Charity Crawford and all the people here have been superb. Paycheck a are accurate and on time every week. I have many years experience and have had nothing but a great relationship with them. 07/07/2013
I love my recruiter. He is always there for me. Always making things happen. Unfortunately I was quoted $100 more per week WITH insurance than Medical Solutions offered without insurance. Their assignment choice pool isn't huge. But my recruiter is accessible at any time. He keeps his promises. Always calls me back. Checks in frequently. And it's worth it to me to give up a little money for that kind of security. But yeah...affordable insurance would be nice. 06/17/2013
Recruiters work hard to get travelers the job they want, many options available across the country. The staff are very knowledgeable, professional, and friendly. Pay rates could be more in line with the competition. Housing should be free for a leading company that is growing. Health insurance is very expensive and totally at the expense of the traveler. No life insurance offered. 05/29/2013
I have the best recruiter ever. Charity Crawford and I will be working together for a very long time. Thanks Charity for everything! 05/29/2013
Medical solutions is a great company to work for. Although the benefits could be better, the bonus program is awesome. Very supportive and the recruiters take very good care of their nurses. 05/27/2013
none 05/26/2013
Great company! 05/23/2013
Was not as competitive as other agencies in certain areas. Not interested in matching other pay scales. 05/21/2013
No Problems 05/21/2013
The only reason I am leaving them is I need insurence and I can not pay the $1200/ mo they charge for a fam of 3. It was over $400 for just me! My recruter always returend my calls and I truely felt he had my back and went to bat for me. Pay isn't the best but they work with you. I have enjoyed my time with them. 04/27/2013
I have the best recruiter! Everyone that I've worked with at this agency has been wonderful! They were the 1st travel company I tried and have yet to leave--that should tell you something ;) 04/27/2013
very professional,friendly,and supportive agenc 03/01/2013
Medical Solutions is an awesome company to work for! Always helping you find your perfect contract! 02/21/2013
With some issues I have had, there has been a great delay or no response to emails I have sent. 02/18/2013
Out of three agencies I have worked with medical solutions is the most reliable with the best customer service. I have never been left waiting all day for a call which happened all the time in the past. I would recommend cole and medical solutions to any traveler. 02/13/2013
I have worked with two travel companies and this one far exceeds the other in professionalism and support. My recruiter is very helpful and supportive and friendly, an all around great guy. I would not have any second thoughts about doing other assignments with Medical Solutions nor would I hesitate to call them if and when I have a full time position somewhere in management. 02/13/2013
They do what they say and they do not try and mislead you. Always willing to answer any questions. They also call and check on your frequently to see how your assignment is going. I never feel rushed on the phone when talking to them. 02/13/2013
Health insurance is WAY too expensive!!!! 02/12/2013
i 02/11/2013
Medical Solutions is a wonderful company to work with, all personal are very helpful and polite. 02/11/2013
I have been pretty happy with Medical Solutions. 02/11/2013
I appreciate this company, and I really enjoying traveling under medical solutions. 02/11/2013
I appreciate this company, and I really enjoying traveling under medical solutions. 02/11/2013
I am having an enjoyable easy transition traveling with my company. 02/11/2013
Cole Reller recruiter is always fighting for the best pay and benefits available. His knowledge and experience in the industry make him one of the best recruiters out there. Medical Solutions is lucky to have him. 02/11/2013
Great company to work with 02/11/2013
Took 600.00 a week out of my paycheck to pay for housing they said cost 2,200. monthly. Would never pay that to live ANYWHERE, they should have told me what they were paying for housing before I arrived at the apt. and that it would come directly out of my paycheck.Oh the other 200 I guess they just kept!! Threatened to withold my paycheck at least once a month.Had to fax 2 copies of my timesheet every week they blamed the hospital of course. Funny it wasnt the hospital that was witholding my paycheck. 02/10/2013
Low pay. 01/29/2013
I have been with Medical Solutions off and on for three years now and my recruiter Chris is amazing. I wish my insurance was a little cheaper but overall working with them has been great. 09/11/2012
I had personel problems on my assignment that made me have to cancel my contract halfway through. But I would work with them again. 08/08/2012
Easy to work with. And defintiely did not feel like a number. 06/28/2012
My friend referred me here and I am glad I listened. Pay could be higher, but the quality of the company overall makes up for it. 05/03/2012
Very satisfied with recruiter Geri and the company. Have worked with them over 2 years. Have only had 1 issue and it was resolved very quickly. Only complaint is the pay rate seems to be a little lower thana lot of companies. 01/25/2012
Pleasantly surprised with Medical Solutions. My pet even got a welcome letter. Very cute. 01/03/2012
Found them to be honest and willing to go extra mile for travelers. 01/03/2012
I've had an easy time working with them. Pay could be higher, but otherwise they are a good company. 01/02/2012
I'm on first assignment ever, so I don't have much to compare them too but thought they were very helpful and knowldegable. 01/01/2012
Love this company. Will work hard to find me the job I want. 12/31/2011
Benefits are good. Decent number of jobs. Really good service from my recruiter Greg and rest of company. 12/30/2011
I work with a few different companies, but this is one of the most reliable. 12/30/2011
good benefits and plenty of jobs to choose from, but most important to me is how attentive my recruiter is. 12/27/2011
Easy to work with. Great follow-up. 12/27/2011
Wish insurance was cheaper, but overall a great agency. 12/27/2011
Simply the best! 12/27/2011
they always call you back...same day. they do what they say they will. 12/26/2011
Need to be more supportive of traveler when here is a contract discrepancy. 12/24/2011
really find an ally in my recruiter 12/24/2011
Always ask & make sure you understand your base pay. Make sure your contract stipulates "maximum" number of call off shifts allowed. 12/23/2011
My recruiter is great and my experience with them has been great. 12/23/2011
This was my first time working with them, but it was a great experience. Would definitely work with them again. 12/20/2011
I am so happy with Medical Solutions. Todd Linde has been awesome! He's very accessible, professional and supportive. 11/06/2008
Erin has been my recruiter and always willing to listen. Available and helpful along with honesty. 09/19/2008
Recruiter very willing to go the extra mile to make my life easier. Will bend over backwards to get whatever you want - an assignment you want, housing, pay, support in a difficult situation. 08/09/2008
I switched over from another agency and found them to be wonderful! They are great company to work for. The recruiter was always responsive and handled my assignment as if I was the only nurse working for her. They made me feel important right from the start. 06/23/2008
Corporate Housing. Very professional. Stephanie Weeden is a great recruiter. I highly recommend this company. 06/21/2008
I love this company.It would take a lot to get me to change. 06/07/2008
This is my first assignment with them. I just switched over to them. They have been great to me and the pay is a lot better than my last agency. I would certainly recommend them and I plan on staying with this agency.
Return to top of page
---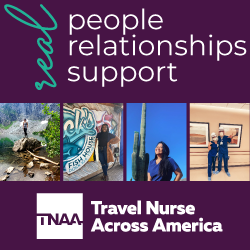 Click here for advertising info