Travel Nursing Agency Ranking Results
Each ranking is averaged and updated on a continual basis. The highest score for an agency is 100.

Go back to travel nursing agency rankings.

Click here to view a list of over 300 agencies and their contact information.

Travel Nursing Company Review of: Medical Staffers.com

Score
(all time)
Score
(within 1 year)
1. Knowledgeable
3.8
2. Friendly
4
3. Efficient
3.2
4. Honest
3.3
5. Pay rate
3.1
6. Paycheck accuracy
3.8
7. Housing
3.7
8. Benefits
3.1
9. Supportive
3
10. Assignment selection available
3.1
11. Individualized
3.1
12. Insurance plan
2.8
13. Reliable
3.2
14. Accessible
3.2
15. Reputable
3.2
16. Accommodating
3.3
17. Professional
3.6
18. Paycheck arrival time
4.3
19. Chances you will recommend this agency
3.3
20. Chances you will work with them again
3.4
Total Score (number or rankings)
67.5(16)
(0)
Always has variety of assignments available. Able to get the pay you want, the hours and benifits you want. If there is a problem with your pay it is resolved quickly, you don't have to wait. I have had a good relationship with my recuruiter and the president of the agency. They are very personable. They always remember me on holidays and continue to suprise me with gifts and flowers for hard work. I keep telling them I have the best bosses I have never met! 05/16/2008
NONE 06/15/2007
There was a lack of communication across the board. All that seems improtant to this company is fulfilling thier assignments, not their traveling nurses. 02/13/2007
This is the only agency I have used so far, so I don't have much to compare it too. That said, I think it is a pretty good agency. My recruiter is really good, easy to get a hold of. My only issue is with payroll. If I send in the time card there is no problem, but if the hospital sends in the time card, there are always mistakes. 01/13/2007
It is very difficult to get a return phone call, after leaving a voice mail. I have had situations come up, when I needed to speak to a live person but got a recording several times and many days later I was finally able to speak to someone. I also spent alot of money faxing my forms in, only to have to refax 3 or 4 times because they couldn't locate or read the ones I sent in. 11/16/2006
I love my recruiter! He is wonderful. He calls just to chat. I have had great housing. Easy to get contracts and extend. Pay and bonus problems at times. Limited jobs in certain states.
housing a sham when you travel w/pets. be careful, even when you check yourself, lies are abundant. paycheck correct and on time. states no bonuses then find out everyone you work with gets one. very unreliable. recruiter never returns calls and places blame for mistakes on others and doesn't take any responsibility for actions. travelers beware, if you want a reliable agency that cares about you, this is NOT the one. have never been phoned to see how my job is or the hospital i am working at. they could care less.
At first the recruiter was a little pushy which drove me bats. Now I know her & the company better which helps. Company salaries are mid range. I had to give up bonuses to get free, private housing. They have never lied to me and have always been up front. No games with this company. Assignments are readily available but not always where you want to be placed. I've been lucky in that interesting assignments have popped up at the last minute. I do find it quite interesting that most of my assignments seem to come thru American Mobile which is one Preferred's sister companies.
This company is excellent and is very good about working with you to get the best assignment possible.
My recruiter was a bit ditzy but she tried to get me the best deal
My recruiter lied to me. My recruiter never returns my phone call. .but will call my travelling partner back. They are not following through all their promises
My recruiter bent over backwards to get me the assigment I wanted and the pay rate I wanted. She was willing to do what ever it took to keep me happy and working. I have referred several other nurses to her and they have been very happy with her and the agency.
Return to top of page
---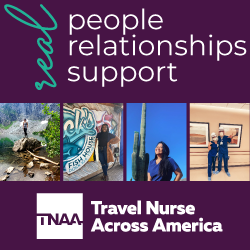 Click here for advertising info