Travel Nursing Hospital Ranking Results
Each ranking will be averaged and updated on a continual basis. The highest score for a hospital is 100.

Feel free to rank any hospital. You are not limited to the ones below.
Travel Nursing Hospital Review of: Bon Secour Maryview Medical Center
Score
(all time)
Score
(within 1 year)
1. Friendliness and acceptance of travelers by staff
3.8
2. How open are they to allowing you to expand your skills while traveling?
2
3. Hospital Technology
2.8
4. Location (A nice area to live)
2.5
5. Cafeteria food
2.8
6. Parking
3
7. Physical layout of hospital effecient
2.2
8. Hospital appeal (looks)
1.8
9. Hospital orientation geared toward travelers?
2.2
10. Simplicity being initiated into the system (Do you have to do lots of unneccessary paperwork, drug testing, criminal background checks, etc. in addition to what the agency requires before you can start working?)
3
11. Reputation of the hospital
1.2
12. How nice are the doctors to staff
3.2
13. Friendliness of staffing office
2.2
14. Happy with the work scheduling procedure?
2.5
15. How efficient is their system so you can get your job done?
1.5
16. Adequacy of their nurse to patient ratio
1
17. How well staffed are they
1
18. How happy were you with your workload?
1
19. Staff morale (overall)
1.2
20. To what extent would you recommend this hospital to other travelers?
1
Total Score (number or rankings)
41.9(4)
(0)
I worked in the Emergency department(s) in the hospital. The immediate area is pretty sketchy, but we have had a good experience staying in Suffolk (40 min drive). This hospital, though, is so miserably understaffed it's not even funny. 10/23/2020
Housing was approximately 15 mile(s) from the hospital. The name of the housing complex was Davis Lakes RV Resort. Housing was located in city of Suffolk, VA. On a scale from 1 to 5, I would rate it a 5. Quiet friendly RV resort with decent and well kept bath house.
I worked in the CVT Stepdown department(s) in the hospital. Ratio is 5:1 on stepdown with cardiac/insulin drips, bipap, confused, and medically unstable patients. Manager/CCL can't be found most days. Unit is ran by new grads/travelers that don't know the unit/policies. Nursing supervisors dump patients into open beds without actually knowing what kind of patients they're assigning. The tele monitors are being watched by the nursing staff and not by a tech. When management or admin are around they're more focused on white boards/customer service than actual safety issues. Be prepared to always run short staffed. You're lucky to have a CNA. The staffing is supposed to be 4:1 with 1 or 2 CNAs. Yeah right, it's standard to be 5:1 with maybe 1 CNA. I would not come back unless its to a non-bedside area such as PACU or Cath Lab. 01/02/2019
Housing was approximately 10 mile(s) from the hospital. The name of the housing complex was rented a room. Housing was located in city of Virginia Beach. On a scale from 1 to 5, I would rate it a 5. Lots to do during the spring/summer because of tourist season but during fall/winter everything quiets down. Make sure you do figure out your flood zone if you're going to be here during the hurricane season because Portsmouth does flood easily. Lots of tolls and there is a tunnel to get to Portsmouth if you live in VA Beach. There is a way around it but it'll take you longer to get to work.
I worked in the 3 North Telemetry department(s) in the hospital. The hospital is very old and dated. When I interviewed with Cheryl Hewlett over the phone, I was told this unit was a cardiac step-down/telemetry unit and that the nurse to patient ratio was 1:4 with the very occasion of 1:5 on nights and the CNA ratio was 2 scheduled on NOC shift and if there wasn't 2 CNA's the nurse to patient ratio would be smaller. When I got to the hospital and got top the floor the reality of the unit was 1:6 ratio every night and we were lucky if there was even a CNA scheduled. The unit was in no shape or form either a cardiac step-down nor a telemetry unit. It was in fact a Med/Surg unit where patients wore telemetry. Most patients were not there for any cardiac reason, but rather UTI's, abdominal pain or c.diff. 07/31/2017
Housing was approximately 20 mile(s) from the hospital. The name of the housing complex was Cambridge Apartments. Housing was located in city of Hampton. On a scale from 1 to 5, I would rate it a 4. The housing that I stayed at were pretty nice, the amentities of the complex were very nice. there was a pool, gym, 24 hour computer access and free wifi in the club house. The apartment itself was ok, the walls were thin and dated but suitable.
I worked in the med/surg oncology department(s) in the hospital. I only met the nurse manager one time in 13 weeks and that was when she came out to tell me that since I was called off on friday night I would have to make up the night on my week-end off! They can't decide if weekends for night shift is Fri/Sat or Sat/Sun. Staffing was a joke. Usually a 8:1 ratio at night. Overall the area was nice. We went to Washington D.C., Williamsburg, Yorktown, and the beach. A tip...visit D.C.on the week-ends hotels are 1/2 the week night rates. 09/10/2007
Housing was approximately 7 mile(s) from the hospital. The name of the housing complex was Harbor Breeze. Housing was located in city of Suffolk. On a scale from 1 to 5, I would rate it a 3. Fairly new complex. Almost no parking. Luckily I was in the back of the complex and it was not as congested.
Return to top of page
---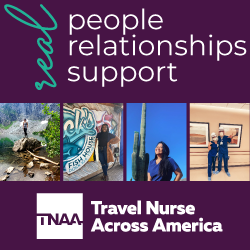 Click here for advertising info