Travel Nursing Agency Ranking Results
Each ranking is averaged and updated on a continual basis. The highest score for an agency is 100.

Go back to travel nursing agency rankings.

Click here to view a list of over 300 agencies and their contact information.

Travel Nursing Company Review of: The Quest Group

Score
(all time)
Score
(within 1 year)
1. Knowledgeable
4.7
2. Friendly
4.9
3. Efficient
4.8
4. Honest
4.8
5. Pay rate
4.7
6. Paycheck accuracy
4.7
7. Housing
4.4
8. Benefits
4.5
9. Supportive
4.8
10. Assignment selection available
4.6
11. Individualized
4.9
12. Insurance plan
4.4
13. Reliable
4.7
14. Accessible
4.9
15. Reputable
4.7
16. Accommodating
4.9
17. Professional
4.8
18. Paycheck arrival time
4.9
19. Chances you will recommend this agency
4.7
20. Chances you will work with them again
4.8
Total Score (number or rankings)
94.6(49)
(0)
Overall good experience. Great pay. Had to get my pay check fixed for the first few months but other than that it was great. 02/24/2017
The Quest Group & my recruiter Soto have been amazing to me. They handle all situations amazingly while keeping the traveler in mind at all times and making sure you feel like a priority. I can reach Soto any time I need him & he always has an answer. I have not had any problems with pay or anything. Both company and recruiter are great. If you're looking for an efficient company and recruiter, call The Quest Group and ask for Soto :). 10/07/2016
Sotiri Nikolopoulos is the best, always attentive and phone call away. 05/22/2016
The only thing good about the quest group is I got my paycheck and I got it on time. Other than that you're on your own. They do not help you with housing and they say you'll get insurance but they never sign you up. They are super friendly to talk to you but that seems to be just a show, as they never get anything done that they say they will. Maybe it was just my recruiter, but regardless, I will never go back. 05/14/2016
I have yet to start my first assignment but have been extremely impressed with all of the hard work Josh Caperton has put in for me. I was previously with another company with another recruiter, ready to take the leap but still had gotten no interviews. I contacted Josh who was suggested to me by a friend and he went above and beyond to get everything submitted within 24 hours! I had at least 6 interviews within 4 days, 4 of them within 24 hours! The pay is incredible compared to most that I've communicated with. A lot of assignments based more in the south and west coast, but I know that if I want to go somewhere, Josh will work his butt off to get me where I want to go. Great company and very receptive to questions and any stress you might have about travel nursing. And if they don't know, they refer you to someone who does! 05/11/2016
Nikki Williams is amazing. I was looking for an awesome recruiter and found one in her! Nikki has been so efficient with communicating with me and placing me exactly where I want to be. A good recruiter will always keep you on board with a company. I highly recommend anyone to The Quest Group and to ask for Nikki Williams. From day one she has been on top of everything and is the sweetest person. The process to get on with the company was not hard at all. Nikki has went above and beyond for me in a short period of time. I am looking forward to working with her and The Quest Group for more assignments in the future. 05/06/2016
Nikki Williams is the best recruiter I have worked with. As a new traveler, I have spoken with many agencies and none have move as fast and communicated as well as Nikki has. I contacted her on a Tuesday, was submitted on Wednesday had an offer by Friday! She not only worked hard to get everything I requested, she always keep me in the loop and updated on everything that was going on. Excellent communication skills hands down! Just having that piece of mind that your recruiter is working hard for you take away a lot of the stress we endure in this profession. Thank you Nikki! 04/27/2016
Josh Caperton has been amazing to work with! I reached out to him and told him my requests, within the day he had an amazing opportunity with amazing pay. Most places wanted me to fill out a million forms before I could get any info on jobs. Josh started working right away with no forms required. When most recruiters laughed at my requests Josh took them serious and got everything I asked for. He got me $500 more per week then any other company had even said was possible. Looking forward to working with Josh and The Quest group from here on out! 04/25/2016
Nikki is a fantastic recruiter. Thanks for everything 04/14/2016
My ratings are based on my dealings primarily with my recruiter, Arthur Choe. He has been absolutely amazing. From the start he has been very kind and helpful, extremely knowledgable about the process and fought to get me amazing pay on my current contract that NO ONE else offered. When I found other jobs where he wasn't sure he could get me a slot, he was honest about the timing and encouraged me to go where I would get the best deal and to keep him in mind for the future. Changing to Quest from my previous company has been a breeze. All of their paperwork is online in a nice, streamline program. No printing, signing, scanning things back. I just created an account, logged in, completed my modules, and initialed/signed all of my paperwork. I emailed pictures and scans of all of my cards and titers, etc. When it came to my physical and drug screen, they scheduled everything for me immediately. The communication is very good. I haven't been with Quest long but I switched to them because I saw that they were offering jobs in places I was interested, after my previous recruiter from a popular company told me there were none available there. After I mentioned this to my former recruiter, he magically found these jobs, but couldn't offer me near the pay that Arthur did. My initial recruiter submitted me for a job without my permission and Arthur was very helpful in instructing me on my rights and how to intercept the contract if I really did not wish to be submitted by the first company. We were able to get it figured out smoothly. Arthur is always interested in what's going on with me and what I have to say and is very appreciative. He has been diligent with checking to make sure I have what I need to start my assignment. I'm excited to continue working with Quest Group and highly recommend them to anyone. 04/13/2016
Nikki was my agent, she was courteous, professional, kind, and had great customer service skills! 04/04/2016
Kenny Li and The Quest Group have been phenomenal! I am currently on my first travel assignment and Kenny has done everything to make me feel comfortable transitioning from a permanent position to a travel RN. Kenny is very friendly, accessible, and even checks on you to make sure you're doing okay! My paychecks are accurate and always in my bank on Fridays! Thanks for the best transition I could've ever hoped for! 03/24/2016
I have worked w a few travel agencies over the years. I have had both 13 week contracts as well as smaller assignments ' i.e. Flu clinics, immunization clinics. This is the first agency that I feel like I am more than just another person that they have to deal with -- I communicate often w my recruiter - just to see how I am doing that day/week, and if there is anything that I need. They have even followed up w me on the weekend! Outstanding! This is my first assignment w this company -- have renewed current contract twice - and they negotiated a pay increase w contract renewal!! None of the other agencies had ever offered to represent me like that! I would rate them 10+ if that was an option, but I can only give them the highest listed. I plan to have a long and prosperous relationship with this company!! Thank you for having a forum where I can relate the my experience. Newish the other companies I had worked with had informed me about this site. They, however, wouldn't have gotten the high marks this company has earned from me!! 03/22/2016
Kenny Li has by far exceeded my expectations. I have some issues with one of my licenses and he is dealing with it and going above and beyond for me to get a job despite a blemish on my record. He is reliable and I hear from him daily. I would HIGHLY recommend Kenny Li to ANYONE looking for a travel recruiter. 03/17/2016
Kenny Li my recruiter is so dependable. This is my first time to do travel nursing and he made it an easy transition for me. He always checks on me and make sure i'm doing ok. He is available 24/7 with any questions or concern. I'm really happy working with a great company and recruiter! 02/24/2016
I have been pretty much bouncing around ten or more agencies but have done three with Quest. On the way to my current assignment, we blew the transmission. My recruiter, Harold, called a wrecker, called a mechanic shop, and got the agency to front me $2500 to pay for repairs. Would your agency do that for you? Mine did. 01/30/2016
I highly recommend the Quest Group and my recruiter Josh Caperton! He was really on top of things and got me my first travel assignment in the location I requested. I had previously signed up with another company and they never came through, always saying I needed more nursing experience since I had only been a nurse for a year and a half. I had almost given up on travel nursing until Josh was recommended to us by two other travel nurses. He was so helpful and I had a contract within a week! What a difference it makes when you have a great recruiter that's committed, does what he says and follows up! Everyone I've dealt with in the Quest Group has been really nice and I haven't had any issues with the company. Pay has been great also! 01/21/2016
Josh Caperton is the best recruiter ever!!!! 01/21/2016
I traveled around with a few different companies mostly just going with whichever company paid best or had a job where I was looking to go until I found The Quest Group. They have treated me with exceptional character, honesty and professionalism and as long as they can find me a job I will stick with them! My recruiter Cody Tomplait is the best recruiter I have had! 01/20/2016
This company has bent over backwards for me. Cody and Tyler are just so accommodating and reassuring. They get the job done and ask your approval before everything. It has been a pleasure working with such an upstanding company, and I look forward to my future with them. Would recommend them to anyone. 01/20/2016
They had a job for me before I had my paperwork finished!! Awesome company! 11/05/2015
Quest Group is awesome and friendly. 10/29/2015
Best company I have worked for in a long time. 10/29/2015
VERY HONEST, CARING AND THOUGHTFUL. 10/28/2015
Cody Tomplait is amazing!!! They really have went above and beyond for me!! 10/13/2015
Sonal is my amazing recruiter, and she has bent over backwards to get me my current assignment. A few months prior, though there were no job postings at a particular hospital of interest of mine, she called the hospital to try to place me nonetheless. When I gave her my specifications in what I needed in my current contract, she did all she could to make it happen. Several other companies that were vying for my business were not as flexible, and thus lost my faith in them. I enjoy working with her because she is a "straight shot" – meaning she is to the point, and doesn't waste your time with fluff. She is very responsive – calls me back immediately after she researches the answer to makes sure someone is calling me back. Every time I'm looking for a new contract, Sonal always follows through with concentrating on what is important to me, instead of pushing what will make them the most money – though she will always throw out there a few other options to consider. With some other companies, I have found that they had not submitted me to hospitals that I specifically requested (even though they said they did); and, Sonal found out that I had not (after I asked to check on this – as I was suspicious), and she ended up placing me with one of these hospitals (even though she and the company had to jump through a few extra hoops to join a specific organization to make it happen). So, she won the contract with me, and earned my trust as well. They are Joint Commission Approved, which is important to me – as you know they are doing things above board. All the compliance items were easy to perform, using their online signature process. My rate is competitive; and my paychecks have, thus far, been accurate and timely. They were even wonderful enough to manipulate my pay structure to meet my needs. My overtime rate is the highest I've ever had, which is important to me, as I tend to do a bit of overtime on occasion (to help pay back my school loans). If I am running late turning my timesheet in, I get a friendly reminder from their "timesheet" personnel. My recruiter has been out for a few weeks on vacation, and the owners of the company have been extremely professional and available in her place. They have even called me during off hours and weekends to help manage my situation. When I was looking for placement, Sonal would answer her cell phone off hours as well. I had an issue with one hospital employee, and one of the owners of the company called the hospital to see how we could all best rectify the situation, and they kept checking up on me to see that I was coping well. Some other companies would not go to bat for their recruiters to this degree in fear of losing their good report with the hospital. It all ended up well. I like the fact that they have referral fees; so I have just referred a nurse friend to them. Working as a contractor, I have learned that it's best to find my own housing and manage my own benefits – though they do have these options available. So, I can't comment too much on those items here. But, when it came to me finding my own housing, I was having troubles for this assignment because I was focusing of finding an assignment in a smaller town. When I conveyed this to Sonal, she called the hospital several times to see if the manager had any leads for housing. I ultimately placed an ad in the local paper, as there was nothing in Craigslist at the time, and I found something satisfactory last minute. Overall, I feel very satisfied with the level of service and pay I have received from The Quest Group; and I would continue to work with them if they can place me where I'm wanting – which I have no doubts they can do. But, I still shop with other companies, just to make sure I'm finding the best match for me, and the best package deal. There are some other companies that may promise you the world, but watch out, they may not have the support that you deserve. I give them 5* on everything! 07/12/2015
I love my recruiter. Made my first assignment stress free 05/19/2015
Even buys lunch😎 03/13/2015
Great agency to work for 03/05/2015
I would have added to the contract not to float to different areas in the hospital during my contract. 02/18/2015
Great agency to work for. 02/16/2015
Working with the Quest Group was great! They were always on top of any issue that ever arose in the 3 years with them. Both Cody and Rhett are fun and great to work with. If they didn't have particular contract I was looking for they went our and hunted for one. Great place! Highly recommend them 10/31/2014
I am unable to fairly judge the housing criteria as I have always taken the stipend. But their stipend allowance is more than satisfactory. Overall working for Quest Group has been nothing less than an absolute joy. 10/30/2014
Everything thing has been great!!!!!! Love everybody that works there and will continue to work there until I can't anymore! 10/28/2014
I have worked with six different companies over the last four years traveling and I finally feel I've found one that cares for me as the nurse primarily. The Quest Group has been amazing to work for! 10/27/2014
This is my second travel company and my last! I was with a larger company first and received sub-par customer service and no insurance benefits. Now, I have good, reasonably priced insurance, a great recruiter (Cody), and always get prompt responses and great customer service! So long as I travel, I will remain with Quest, and recommend them to my friends always! 10/25/2014
They are great company to work with! 10/25/2014
Great group! Always available 10/25/2014
I have worked with a couple other companies and none of them have recruiters as honest, friendly, and helpful as Cody from The Quest Group! A++ 10/25/2014
Working with the Quest Group has been a wonderful experience thus far. My recruiter works hard to get me the best contracts & goes above & beyond my expectations for an agency. I truely enjoy working with them & I highly recommend other nurses do the same! 10/25/2014
Marissa Clark is a great recruiter! 02/10/2009
comment2, 01/04/2009
My Recruiter Marisa Clark is very helpful,reliable and nice. 09/24/2008
Have done multiple assignments with them, my recruiter Dixie is the best,always available and helpful 01/01/2008
I have been traveling 5 years, have been with Quest almost 1 yr, my recruiter is great, pay checks always correct and on time. Pay is not as good as other companies and not as many states available,but its a good fit for family needs. Housing is flexible if you want to find your own and recommend to them. 04/29/2007
I have worked for them for over a year now. I feel very supported by them in any problem that might arise. My pay is good and on time, and correct. If they don't have the job I want they go try to get a contract there for me if at all possible. My recruiter even gave me her personal phone number so I can call her any time. Great company! Great recruiter - Dixie Bostick.
I have been with 3 companies since traveling and this is my favorite. Recruiter is very nice and easy to work with. Paycheck never late and paid weekly. Health Insurance free for individual (not family of course) and only $6/paycheck for dental insurance. They have customized packages to fit your needs which can increase or decrease your pay depending on what you need. The only drawback with company is that most of their contracts in California are with "Kaisers!" This is my 3rd contract with them and I'm on my way to another Kaiser (unfortunately) but am willing to do it because I like the company and I want to visit San Francisco! I would highly recommend this company to any nurse!
Return to top of page
---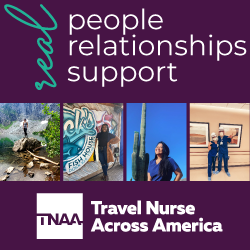 Click here for advertising info