Travel Nursing Agency Ranking Results
Each ranking is averaged and updated on a continual basis. The highest score for an agency is 100.

Go back to travel nursing agency rankings.

Click here to view a list of over 300 agencies and their contact information.

Travel Nursing Company Review of: QShift

Score
(all time)
Score
(within 1 year)
1. Knowledgeable
3.2
2. Friendly
3.3
3. Efficient
3
4. Honest
3.1
5. Pay rate
3.2
6. Paycheck accuracy
3.7
7. Housing
3.5
8. Benefits
2.8
9. Supportive
2.8
10. Assignment selection available
3
11. Individualized
2.8
12. Insurance plan
2.5
13. Reliable
3.1
14. Accessible
3.2
15. Reputable
3.2
16. Accommodating
2.9
17. Professional
3
18. Paycheck arrival time
3.8
19. Chances you will recommend this agency
3.1
20. Chances you will work with them again
3.1
Total Score (number or rankings)
62.3(12)
(0)
Wonderful company, pay always on time and better than most agencies. Would suggest that the recruiters respond quicker when called or emailed. 01/11/2016
This is the best there is! I would recommend to anyone. I worked for Qshift for six years and truly found them to be excellent in all areas. I would never choose any other company. My recruiter is wonderful, very knowledgable and of excellent character. Again, this company is the BEST! 09/11/2015
After working with multiple agencies and recruiters, it has been refreshing to work with a recruiter who is more like a friend. Krystal is a great recruiter and I look forward to working with this company and her for years to come! It's nice to finally feel like I've "come home". 03/05/2015
One of the worst agencies I've ever worked with. They lie and tell you one thing then turn around and say they never said that. They even insist they respond to your calls/emails when they have not. Very dishonest. Also very condescending. Always unprofessional, calling you "hun" like they think they are needing to pamper you. Their contracts aren't anything but protection for them - FROM THE TRAVELER. That says it all.... 04/30/2014
This is the cheapest, worst company I have ever worked for. They fire recruiters left and right so just as you get a decent one they're gone. They have no perks and no good assignments - it's all prisons and places far away from everything. The pay is way lower than other agencies and they don't pay for cars, etc. like better agencies will. Trust me, there is way better money out there and tons of companies that value your worth as a nurse more than their profit margin. I'd never send anyone to them and don't see them sticking around much longer. 11/07/2013
My recruiter wasn't very good. Sometimes she never returned correspondence, and wasn't very supportive. The pay is so good though, that I let it go. 06/15/2013
I LOVE my company! I get the hours that I need! Melissa loves me and sends me to some of the best facilities. 06/04/2012
They are consistent on travel contracts. Their staffers are very professional and are always on the lookout for new contracts for me! I enjoy talking to my recruiter, and she always returns my phone calls! 06/04/2012
this company is really good at lying and stealing your money not one of my paychecks were right and they took out 112 and 185 for electricty for a month. You'll be sorry to work with them so dont. 02/25/2007
I've traveled with qshift twice now and they are wonderful. They don't have much of a travel assisgnment but what they do have are really good places to work and housing and paychecks are great. Insurance not so hot and not much benifits. But if in a pinch and you need an assisgnment they would be a good bet. 11/04/2006
From day one this agency was so good to me. When housing messed up lights and gas they corrected it immediately. I still work with them and will continue to. They don't have a lot of locations especially for LPN's but they try hard. And what they tell you is exactly what you get, no surprises. 09/28/2006
Only did one assignment with them. Base rate poor. Took stipend instead of housing, so can not comment of housing status. Contracts are very general. I suggest negogiating specifics be placed in your contract and stick to your guns. Had a total of 3 recruiters with my 1st and only assignment, but company very professional about the turnover with contacting you, etc.
Return to top of page
---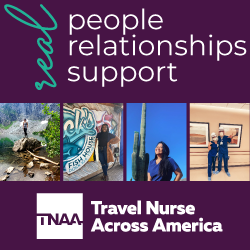 Click here for advertising info