Travel Nursing Agency Ranking Results
Each ranking is averaged and updated on a continual basis. The highest score for an agency is 100.

Go back to travel nursing agency rankings.

Click here to view a list of over 300 agencies and their contact information.

Travel Nursing Company Review of: RN Demand

Score
(all time)
Score
(within 1 year)
1. Knowledgeable
3.5
2. Friendly
4.4
3. Efficient
3
4. Honest
3.3
5. Pay rate
3.4
6. Paycheck accuracy
3.8
7. Housing
2.8
8. Benefits
2.8
9. Supportive
3.3
10. Assignment selection available
3.2
11. Individualized
3.5
12. Insurance plan
2.6
13. Reliable
3.4
14. Accessible
3.2
15. Reputable
2.8
16. Accommodating
3.3
17. Professional
3.6
18. Paycheck arrival time
4.1
19. Chances you will recommend this agency
3.3
20. Chances you will work with them again
3.5
Total Score (number or rankings)
66.8(12)
(0)
My comments are these, my husband and I are travel nurses. We have NEVER had a problem like this. We were seaching for a company that could get us closer to home. This company, I'm listing all of them associated, RNDEMAND, American Mobile, Medcial Express, Perferred Healthcare Staffing, Nurses RX, Nurse Choice, 08/06/2008
I got to my assignment and found out that the accomodation had not been arranged. I ended up in a Hotel for a week finally ended up in a really awful apt complex. Stuggle to get any compensation for the extra costs ie food etc. They did not provide microwave or vaccum cleaner. I did buy and they did refund this after some discussion. I found them to be constantly making excuses for everything. Apparently they had not budgeted correctly for this area the Apt they finally put me in costs $935 per month which in this area is way to cheap - no wonder I am living in a substandard housing. They blame it on my dog - however my small 15lb dog has not been an issue with any other company. They never return phone calls either which I found very fustrating. I could never recommend this company to others. 07/17/2008
Personnel at RNDemand have always been great. Had some housing problems but they tried to fix it (small town availability issue). Pay is about average. Would go with them again if they had the right assignment. 07/05/2008
terrible, dirty housing, falling apart, to refridrator, no couch, walls falling in. when called them to complaint on arrival, did not call back after numerous attempts....only contract i have ever broken 10/07/2007
This was a great agency to work for. My recruiter and the logistics coordinator were both helpful and supportive. since this was my first assignment I was a little nervous, but they really worked with me and found me a job with everything I was looking for. I will definitely woork with them again. 07/24/2007
I'm about to start my 5th assignment with this company. I am always very pleased with all interactions with the staff. 02/24/2007
Love the way I've been treated on my assignment. They work hard for you. My housing isn't as close or as luxurious as another company's, but it is safe, clean and comfortable. Assignment selection isn't huge, but they make up for it in quality of assignment. I would reccomend this company to anyone thinking about traveling. 11/06/2006
They work a little different than other companies in that I have a recruiter and an account rep. The recruiter offers jobs and when I narrow it down, I start dealing with the account rep for that area. The account rep is the person you deal with during your assignment and you recruiter is who you deal with between assignments. It works great. I have two people on my side!! 09/23/2006
On our third assignment with this agency. Good selection of assignment and very negotiable. we usually find our own housing due to traveling with pets.Only drawback has been negotiating with so many people in agency for housing, assighnment and paperwork due to larger corporation. Our recruiter Brie Fowler has been great though and made paperwork issues more tolerable. 09/19/2006
housing unsafe,dirty, no couch, no refridgrator, falling down, would not return my call about housing for 7 day, never fixed it, left assignment early, very untrustworty.
RNDEMAND IS A LITTLE KNOWN COMPANY.STARTED WITH THEM IN NOVEMBER WITH SOME PROBLEMS AND DEDUCTIONS I WASNT HAPPY WITH. ASSIGNMENT IS ALMOST DONE AND CONTIPLATING GOING WITH ANOTHER AGENCY. SAME RECRUITER THROUGHOUT ASSIGNMENT WHICH IS GOOD. HOUSING COORDINATOR NEEDS TO MAKE A BETTER EFFORT ON HOUSING. MAKE SURE YOU READ CONTRACT VERY CAREFULLY. I WOULD RECCOMEND RNDEMAND IF YOU WANT PERSONAL SERVICE. CORY CRAIG IS A GOOD PERSON TO DEAL WITH AND ALWAYS RETUNRS ALL CALLS WITH 15 MINUTES. NO RECRUITER IS PERFECT AND THIS IS MY FIRST ASSIGNMENT SO I MNUST LEARN AS I GO ALONG AND I GUESS OTHERS WILL HAVE TO ALSO.
Return to top of page
---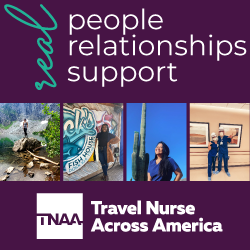 Click here for advertising info