Travel Nursing Hospital Ranking Results
Each ranking will be averaged and updated on a continual basis. The highest score for a hospital is 100.

Feel free to rank any hospital. You are not limited to the ones below.
Travel Nursing Hospital Review of: Kendall Regional Medical Center
Score
(all time)
Score
(within 1 year)
1. Friendliness and acceptance of travelers by staff
1.5
2. How open are they to allowing you to expand your skills while traveling?
1
3. Hospital Technology
1
4. Location (A nice area to live)
1
5. Cafeteria food
1
6. Parking
1.5
7. Physical layout of hospital effecient
1
8. Hospital appeal (looks)
1
9. Hospital orientation geared toward travelers?
1
10. Simplicity being initiated into the system (Do you have to do lots of unneccessary paperwork, drug testing, criminal background checks, etc. in addition to what the agency requires before you can start working?)
1.5
11. Reputation of the hospital
1
12. How nice are the doctors to staff
2
13. Friendliness of staffing office
1
14. Happy with the work scheduling procedure?
2
15. How efficient is their system so you can get your job done?
1
16. Adequacy of their nurse to patient ratio
1
17. How well staffed are they
1
18. How happy were you with your workload?
1
19. Staff morale (overall)
1
20. To what extent would you recommend this hospital to other travelers?
1
Total Score (number or rankings)
23.5(2)
(0)
I worked in the IMC and ICU department(s) in the hospital. Staff and patient's are 95% Cuban, therefore , if you don't speak Spanish you will have a lot of difficulties in this place. I have been a traveler for many years and this is by far the worst hospital I have set foot on. I can see now why this place is known as Kendhell and Kendeath. Let's start with safety, the patient ratio is 1:5 in IMC and most of the time 1:3 ICU, no tech, you will have to do full care regardless of the patient's condition Covid or not Covid. In IMC, the charge nurses are a little more helpful, but in ICU you are left to your own devices, to figure things out, because the charge nurses are blatantly dismissive to travelers and will no help you as well as the staff. I once tried getting a hold of my patient's care team and after 3 hours of calling the attending and their team, I gave out! I called the supervisor and she was incredible rude and just dismissed me. I just did what I could for the patient. Also, there was this time, in Covid, that a patient was intubated bedside emergently because for 2 days no one saw that the patient had an order for high flow oxygen, and the patient just kept desaturating and no one checked the orders. Everyday I would find medications that clearly were scanned and no given in the computers on wheels drawers. I always thought that perhaps this was the reason why people decompensated so quickly in these units, there was always code blue after code blue, I have never seen so many even the non covid patient's, it was the same thing. Staff and patient's alike are unmannered and dismissive, do not expect a please or a thank you, don't expect courtesy or kindness in this place, it's just awful. If you are a nurse who takes pride in your practice and with a happy go lucky personality, this is not your place. I have never in my life seen so much blatant rudeness from staff and management. I once had the ICU manager rolled her eyes at me because I knock on her office, they just don't like travelers. Stay away from this place if you value your nursing license and take pride in your work. This hospital will most likely jaded you. 04/06/2021
Housing was approximately 8 mile(s) from the hospital. The name of the housing complex was Extended Stay America. Housing was located in city of Kendall. On a scale from 1 to 5, I would rate it a 4. It was a nice place to stay and close to the hospital.
I worked in the IMC department(s) in the hospital. I hate to sound so cynical but after 13 years of nursing I never dreamt I would see a facility as awful as KRMC. I didn't want to give a "1" on some of these questions but no option for "0". No techs ever available for most of staff because of call outs or just plain short staffed. I was on day shift with 4-5 IMC (some ventilated and covid) WITHOUT a tech. There would be 4-5 "charge" nurses who rarely helped. They were evidently there to move beds all day long, everyday or doing admin stuff or looking down your back. Literally had to keep our computer on wheels on one side of the hallways at all times with all of the outlets on the opposite side of the wall. If your computer died you might as well try finding a new computer (which there never was extra) bc when it restarted it wouldn't allow you to sign on. If you missed a scan or documented something accidentally wrong you'd know it within an hour and be forced to stop what you were doing to edit your charting. Never so much as a thank you, or even a smile. No access to linens/gowns for travelers. Pads for bed and wipes for patient in two separate closets and also locked with two different keys. A normal job that would take 10-15 minutes would take 30-35 if no tech to help. Had to deliver all food trays for covid patients and if they're diabetic, you guessed it YOU are taking their sugars so if all 5 are diabetic good luck. Just not enough space to type all of the shortcomings and unsafe practices at this facility. 11/27/2020
Housing was approximately 6-7 mile(s) from the hospital. The name of the housing complex was Larry & Penny Campground. Housing was located in city of Miami . On a scale from 1 to 5, I would rate it a 4. If you're a traveler that uses your RV/Camper this is likely the best spot but for winter it's full of snowbirds so you'll have to reserve as early as possible.
Return to top of page
---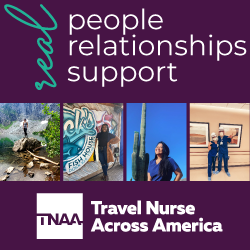 Click here for advertising info