Travel Nursing Agency Ranking Results
Each ranking is averaged and updated on a continual basis. The highest score for an agency is 100.

Go back to travel nursing agency rankings.

Click here to view a list of over 300 agencies and their contact information.

Travel Nursing Company Review of: Foundation Medical Staffing

Score
(all time)
Score
(within 1 year)
1. Knowledgeable
3.5
2. Friendly
3.8
3. Efficient
3.8
4. Honest
3.8
5. Pay rate
3.2
6. Paycheck accuracy
4
7. Housing
4.2
8. Benefits
3.8
9. Supportive
3.6
10. Assignment selection available
3.5
11. Individualized
3.9
12. Insurance plan
3.2
13. Reliable
3.8
14. Accessible
3.9
15. Reputable
4
16. Accommodating
4.1
17. Professional
4.1
18. Paycheck arrival time
4.6
19. Chances you will recommend this agency
4.2
20. Chances you will work with them again
4.4
Total Score (number or rankings)
77.4(8)
(0)
Fusion is such a great reliable company! They are so easy to work with and I have the best recruiter! So glad I'm with this awesome company! 10/21/2018
Everything is on point with this agency. They are professional, reliable, honest, and speak in terms that are easy to understand. They accomadated me when I had special requests without a problem. I wish the pay was a little better, because if it was, I would never even think about switching! Pay isn't too low, it's just average. Insurance is a little pricey, but it is great insurance. They seem to have good working relationships with hospitals. My recruiter was friendly while being professional, and trustworthy. I recommend Guy Hale! 04/27/2013
I am a Dialysis RN and have been with this agency for over 2 years. They always find me a contract even with my personal extra request which makes it almost imposible for other agencies. I am no longer a workahaulic so I only work less than 40 hours/wk. The pay is always fair for someone with my level of experience. I will continue with them. 06/09/2008
Pay on the low side, but have more dialysis assignments than other agencies. Lots of locations. I don't get the benefits so can't comment. Housing is fantastic. Provide everything except your toothbrush. Not alot of contact - no handholding. 10/21/2007
First assignment with company, apartment not available when arrived. Stayed in hotel 2 weeks, not reimbursed quickly. Pay Check lost 1st pay period! recruiter friendly great and available. Apartment when recieved very nice! Will stay with agency probably. 02/23/2007
Very vindictive when I wanted to quit the assignment.Never got my last pay stub. Not offered Cobra for insurance
One of the best agencies I've worked for thus far!!!
Return to top of page
---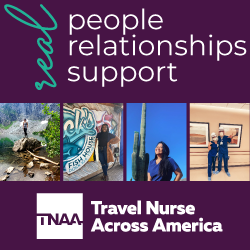 Click here for advertising info