Travel Nursing Agency Ranking Results
Each ranking is averaged and updated on a continual basis. The highest score for an agency is 100.

Go back to travel nursing agency rankings.

Click here to view a list of over 300 agencies and their contact information.

Travel Nursing Company Review of: TravelMax

Score
(all time)
Score
(within 1 year)
1. Knowledgeable
3.2
2. Friendly
2.9
3. Efficient
2.6
4. Honest
2.5
5. Pay rate
3.1
6. Paycheck accuracy
3
7. Housing
3.2
8. Benefits
3
9. Supportive
2.6
10. Assignment selection available
2.9
11. Individualized
2.9
12. Insurance plan
3.1
13. Reliable
2.6
14. Accessible
2.9
15. Reputable
2.6
16. Accommodating
2.4
17. Professional
2.7
18. Paycheck arrival time
3.1
19. Chances you will recommend this agency
2.4
20. Chances you will work with them again
2.4
Total Score (number or rankings)
56.1(20)
(0)
I worked with Josh Lambert whose manager was Chas Saurez with Maxum/travelmax out of Tampa, FL. The first assignment was good when Alex was our recruiter. The second assignment we were Josh/Chad and we're sent to a hospital we found out was closing during our first day. We did 40+ hours of education we were paid $75 for and drove over 1,500 miles and ended up getting paid $0.09/mile. It wasn't until the 12th week (2nd to last paycheck) that we were finally reimbursed after going through Florida labor department that they paid us back over $600 for sign on bonus, education, licensing, and travel reimbursement. We then found out our insurance was cancelled by Maxim (told this by BC BS) and never recieved an answer why so we had to get Cobra after 15 days waiting for a response that never came. There were 5 checks out of a 13 week assignment where I was shorted anywhere from 19 minutes of pay to over $800 which was not paid up until 8-10 days later. Josh has his read receipts on and will read texts within minutes yet not respond for 4-10 days. Our contract has been over for a week and neither Josh or his manager Chad will respond to t/c as to why our insurance was canceled or the fact that they shorted us 12 hours of oncall pay on the last check and it doesn't look like we will be paid. 11/05/2018
I realize there are a lot of bad reviews here but I really think your experience with Travel Max is very dependant on the recruiter and which office you use. I work with Westdon Ladnow out of Miami, FL and he is fantastic. I have been working with him for nearly all of my assignemnts for over 2 years. The only time I use a different company is when Travel Max doesn't have an assignment in the location I'm looking for, which hasn't been that frequent. Weston is very responsive and in the rare instance when there is an issue he makes it right as soon as possible (lets be honest these companies are big and run by humas, human error is a thing). Also important to note is pay. With Travel Max pay is on the high end of every other company I have either worked with or been shown packages with. There aren't a lot of frills like gifts for nurses which helps lower the overhead and increase RN pay. I'd much rather get extra money to invest rather than a foot massager that I can't even fit in my car to move to my next assignment. Overall I would absolutely suggest Travel Max and Weston. 09/25/2018
No 12/02/2017
This has been a great company. I enjoy working for them. 08/02/2017
I agree with the other comments on this company. The fair values I marked were given for areas I am unfamiliar with.I do not recommend this company at all. College frat boy attitude. Recruiters treated like Gods, nurses are peasants. Recruiters forget we make them money and we take chances with our licenses in these facilities they send us to. Trust me when I say do not trust them.They will not have your back. 06/12/2017
If the assignment does not work out; for whatever reason they DUMP YOU! So at this time one remains unemployed! Trying to start all over again. 07/28/2015
Lots of empty promises, including housing not being available upon arrival to my assignment. Have not received pay for shifts worked. 07/03/2015
Does not stand up for employees 03/16/2015
I worked for this company for one travel assignment. I had the worse experience with my recruiter. She was rude, unprofessional and that should have been a sign to use their company. She gave me the run around with contracts-she would send me contracts to sign then at the last minute tell me that they hited someone else. I have plenty of experience and have great reviews. It turned out she wasn't even submitting me to the facilities. I called her on it and that was when she finally got off her butt and actually found me a real assignment. Stay away from this company. 02/28/2015
Errors made on pay more than once, including a time when NO PAY AT ALL was deposited in account. They like to apologize a lot, but, after so many apologies for treating an employee badly, they mean nothing. Untruthful about availability of assignments. Will leave you in a state far away from home waiting for a next assignment with no money. Not concerned if you have a place to stay or not. I'm a person that never missed so much as ONE hour of work throughout the whole 13 week assignment with a schedule that was every fri, sat, and sunday! Horrible treatment of an employee, if you ask me. 02/07/2015
this agency had no idea of what needed to be done once i arrived @ that state's capital city-getting that state's nursing license in time enough to catch a connecting flight, one snafu after the next. once i started at the facility,after a month a nurse subbing for chg nurse(who hired me)told me to gather up my things, escorted me out,I was terminated. this agency took 7 days to conclude they wanted nothing more to do with me,leaving me 3000 miles from home without trying to reinstate me,believing only their side and discounting mine and just cut me off entirely. they also owe me lots of money and caused me to have to max out my credit card and lose my otherwise good credit.what a poor excuse for an 'agency'. NURSES BEWARE11111 oh and by the way i had more than 12 years experience in that field 12/18/2014
Due to a miscommunication amongst TravelMax staff, I lost my contract that I had been in for several months. Will never use them again. 07/05/2014
I love traveling with Travelmax, a division of Maxim Healthcare Services. They have great opportunities throughout the country and a large number of local offices to support supplemental assignments as well. Highly suggest reaching out to Adam Schultz to gather more information. 04/11/2014
Per diem rates prorated based on hours worked..get canceled: per diem decreases, work overtime: per diem does not increase. Poor assignment selection. Recruiter out of office on Fridays, but someone else is available to you. 11/06/2013
plant in house 05/29/2009
reality...pay was less than I made 10 years ago but implied that I was making "bank"...took 3 weeks to get direct deposit...paperwork is soooo...tedious...redundant...remind me of used car salesmen...3 different recruiters in 1 year...didn't pay me for return travel because I choose to leave early on 3 shifts because shifts were overstaffed 12/03/2008
the apartments are nice but find out what happens if sick a day 11/04/2007
Absolutely would NOT resign with this company. I've had 3 different recruiters in 3 different states in 6 weeks, have faxed the same information multiple times, was given incorrect information daily, had incorrect paychecks, are not professional, are disresctful to employees (including ones who have been working for many years with them) and do not pay well. Recruiters give information they think you want to hear, but change the details once its been 'confirmed' with management. Very unorganized as a company. 10/25/2007
Excellent company to work for. Very supportive 12/09/2006
this agency does a credit check, and if yours is unsatisfactory they will put you up in a hotel instead of an apartment. agency also has local per diem across the country, so while on a travel assignment, you also have the option to do local perdiem. This is great!
Return to top of page
---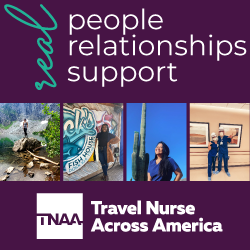 Click here for advertising info