Travel Nursing Hospital Ranking Results
Each ranking will be averaged and updated on a continual basis. The highest score for a hospital is 100.

Feel free to rank any hospital. You are not limited to the ones below.
Travel Nursing Hospital Review of: El Camino Hospital
Score
(all time)
Score
(within 1 year)
1. Friendliness and acceptance of travelers by staff
4
3.0
2. How open are they to allowing you to expand your skills while traveling?
3.8
3.0
3. Hospital Technology
3.5
3.0
4. Location (A nice area to live)
4.2
3.0
5. Cafeteria food
3
3.0
6. Parking
3
3.0
7. Physical layout of hospital effecient
3
3.0
8. Hospital appeal (looks)
3.8
3.0
9. Hospital orientation geared toward travelers?
3.8
4.0
10. Simplicity being initiated into the system (Do you have to do lots of unneccessary paperwork, drug testing, criminal background checks, etc. in addition to what the agency requires before you can start working?)
3.2
3.0
11. Reputation of the hospital
4.2
3.0
12. How nice are the doctors to staff
3.2
4.0
13. Friendliness of staffing office
4.5
4.0
14. Happy with the work scheduling procedure?
4
2.0
15. How efficient is their system so you can get your job done?
2.8
2.0
16. Adequacy of their nurse to patient ratio
4.2
3.0
17. How well staffed are they
3.2
2.0
18. How happy were you with your workload?
3.8
2.0
19. Staff morale (overall)
4
3.0
20. To what extent would you recommend this hospital to other travelers?
3.2
2.0
Total Score (number or rankings)
72.4(4)
58.0(1)
I worked in the Float pool department(s) in the hospital. I've never felt compelled to write a review, but El Camino has left me with not such a great impression of the "magnet hospital". I am a California RN and lived in the Bay Area before moving so I returned to the state for a short bit and picked up this contract because I had high hopes for this hospital of which I have been a patient and once worked. But never have I ever worked in a place where the RN workload seems double elsewhere. Their transportation system is one cluster. In every hospital (and I've worked for three other great organizations), they usually have transporters transfer patients onto gurneys and beds and bring the gurneys to the bedside. Not here. If your CNA is unavailable, which happens 99% more often than not, the RN will need to find a gurney, wheel it in the room, and transfer the hopefully ambulatory patient onto it. And if you get a patient from the cath lab don't ever expect those RNs to lift a finger to help you. They'll just leave you to your own device while you track down a CNA or another able body so your patient isn't left unattended for too long on a GURNEY while you're in the middle of med pass, call lights, chasing doctors, being called to do a million other things. Overall, I did not mind floating to the many departments the float pool sends you to, but beware of 4B medical/oncology. The three or four shifts I was there I never was offered my first fifteen minute break, my lunch would never happen before 1 pm and the last time I was there and was asked if I wanted a break they had me stay cause they did not want to have to do a certain thing I asked them to. And when I was asked again they waited till 19:00, the time for me to give report, if I wanted a break. I've been spoiled so maybe that's my issue but I see those who really enjoy it here as travelers are those that come from out of state cause California is great for patient ratio, and if you work elsewhere than El Camino, you will have so much help and resources. But 4B, the place where compassion for cancer patients should reside, leave so little for their hard working nurses. I am planning to write a letter regarding 4B, it probably won't go anywhere but we should never not say something of which could improve the work place for all. 02/08/2020
Housing was approximately 6 mile(s) from the hospital. The name of the housing complex was Private . Housing was located in city of Los altos. On a scale from 1 to 5, I would rate it a 5. I received the stipend and found an Airbnb about 10 minutes away.
I worked in the L&D department(s) in the hospital. None 04/28/2017
Housing was approximately 30 mile(s) from the hospital. The name of the housing complex was Commuted . Housing was located in city of Gilroy. On a scale from 1 to 5, I would rate it a 4. I maintained my housing from previous assignment vs pay Silicon Valley prices
I worked in the Float pool department(s) in the hospital. Overall this is a really great place to work. Most of the staff I encountered were travel friendly and very welcoming and helpful. I was night shift and in the three months I was there I only had one rude encounter when calling a doctor in the night. All of the docs I saw in person, which wasn't a lot, were all friendly as well. The staffing office was very nice and did block scheduling for my nights most of the time and worked with me on days I needed off. Epic charting, typical cali ratios. For the most part they were very well staffed. The nurses that work there are some of the happiest employees with their jobs that I've seen at a hospital. You are in the Bay Area so there is a ton of stuff to do around the hospital or a short drive away. 04/23/2017
Housing was approximately 11 mile(s) from the hospital. The name of the housing complex was A rental house. Housing was located in city of Santa Clara. On a scale from 1 to 5, I would rate it a 4. Housing in the area is very expensive so just be aware of that
Hospital is under construction, building a whole new hospital in the same location as the existing,...so you have road blocks everywhere in the hospital. Computer system is ancient. You use something called a Vocera to communicate to other staff..95% of the time you are unable to connect to others...because "it can't understand you". No block nursing here...your patients are spread out everywhere. The MD's ARE NOT nurse friendly at all...consults and er. They use a lot of travelers here...not a lot of permenent staff. I will have to say though nursing staff and the nurse manager are very friendly and courteous. The nurse manager is well aware of some of the above issues and is trying to resolve them.
Housing was approximately 5 mile(s) from the hospital. The name of the housing complex was Trellis Square. Housing was located in city of Sunnyvale. On a scale from 1 to 5, I would rate it a 5. Housing was decent...quiet. If you are use to AC...there is only one window unit here...not a problem in the winter but summer is hot. I had a pet...so was kinda of limited as to housing.
Return to top of page
---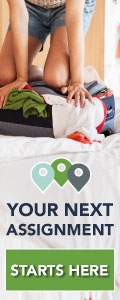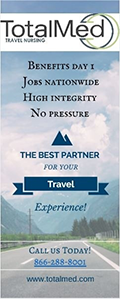 Click here for advertising info