Travel Nursing Agency Ranking Results
Each ranking is averaged and updated on a continual basis. The highest score for an agency is 100.

Go back to travel nursing agency rankings.

Click here to view a list of over 300 agencies and their contact information.

Travel Nursing Company Review of: Readylink

Score
(all time)
Score
(within 1 year)
1. Knowledgeable
2.3
2. Friendly
2.9
3. Efficient
1.9
4. Honest
2.4
5. Pay rate
2.4
6. Paycheck accuracy
2.5
7. Housing
1.9
8. Benefits
1.8
9. Supportive
1.7
10. Assignment selection available
1.7
11. Individualized
2
12. Insurance plan
1.8
13. Reliable
2.3
14. Accessible
2.6
15. Reputable
2
16. Accommodating
1.9
17. Professional
2.5
18. Paycheck arrival time
3.5
19. Chances you will recommend this agency
1.7
20. Chances you will work with them again
1.9
Total Score (number or rankings)
43.7(11)
(0)
1. Taxable wage for RN set at $7.25/hr without my knowledge. Contract contained only blended rate. First assignment so I was too new to know to ask about taxable rate. 2. Repeatedly requested assignment closer to home. Recruiter stated there was none but posted openings nearer days later. 3. Sent to a location where I had zero orientation. 6 acute care patients on dayshift with no aide. Didn't get a badge until I was there 5weeks. Recruiter aware. No changes made. 4. Notified recruiter of unsafe pt/nurse ratios. Was told there were no other complaints but my concerns would be forwarded to risk management. Never contacted by recruiter for the remainder of my assignment until 1 week before the end. 5. Recruiter contacted me 1 week before end of my contract to say..."I'm looking for a place closer to where you want." 2 weeks AFTER assignment ended recruiter contacted me with new assignment options. 6. Not Honest recruiting. Illegal tax practices. Company/recruiter will not have your back if something is wrong. 7. Will never work with them again and will highly NOT recommend them to others. Esp new travelers. 04/22/2017
Told Cheryl, I did Not have vent or ICU experience. She said it would be med/surg only Very slow on way of submitting credentials. When I went to my first assignment I was placed in house supervisor position. Threw to the wolves. It was house supervisor over all nurses in vent and ICU. Tried calling the company all night. I wasn't going to lose my license over not being in my scope. Very dishonest. 04/07/2017
Horrid misrepresentation 03/07/2017
Frustrating experience. Readylink requested info, which was supplied and I was told that the submittal process was complete. They kept requesting more. Questions about housing were ignored, as was reimbursement for travel. The assignment agreement came late in the process and there were multiple issues not previously addressed. It should be noted that the applicant could not alter the "contract." Pay and per diem was not commensurate with surrounding area. Having worked for other staffing firms, I would advise you to closely consider using these people. 09/25/2015
They are OK. 12/08/2011
This is a great website! Keep up the great work. Well done. Nice site. I will be back! 06/28/2007
did not meet my expectations, housing below acceptable..not happy 03/03/2007
It was totaly the worst travel experience. I changed companies and now I truly love traveling. 08/21/2006
I LOVE RN Travel Connection. The only reason I had to switch companies was bc of assignment availability. The current company I am with is ripping me of completely!!!! RN Travel connection is awesome & so are their benefits. I got a bonus from them at the end of every 13 week assignment... When I had a problem, all I had to do was call & the president of the company took care of me herself on a friday night, the weekend before my assignment start date.
Nice folks, but they need to get their housing department together and actually set up apartments for nurses, rather then sticking them in overpriced extended stay hotels that nurses have to pay for. Also, no health insurance, benefits or sign on or completion bonuses.
Return to top of page
---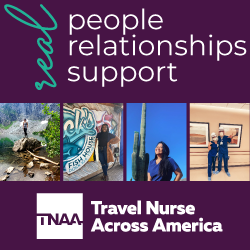 Click here for advertising info