Travel Nursing Hospital Ranking Results
Each ranking will be averaged and updated on a continual basis. The highest score for a hospital is 100.

Feel free to rank any hospital. You are not limited to the ones below.
Travel Nursing Hospital Review of: Curry General Hospital
Score
(all time)
Score
(within 1 year)
1. Friendliness and acceptance of travelers by staff
3
2. How open are they to allowing you to expand your skills while traveling?
2.3
3. Hospital Technology
1.3
4. Location (A nice area to live)
3.7
5. Cafeteria food
2.7
6. Parking
2
7. Physical layout of hospital effecient
3
8. Hospital appeal (looks)
3.7
9. Hospital orientation geared toward travelers?
1
10. Simplicity being initiated into the system (Do you have to do lots of unneccessary paperwork, drug testing, criminal background checks, etc. in addition to what the agency requires before you can start working?)
1.3
11. Reputation of the hospital
1
12. How nice are the doctors to staff
3
13. Friendliness of staffing office
2.7
14. Happy with the work scheduling procedure?
1.7
15. How efficient is their system so you can get your job done?
1
16. Adequacy of their nurse to patient ratio
2.7
17. How well staffed are they
1.7
18. How happy were you with your workload?
2.3
19. Staff morale (overall)
1.7
20. To what extent would you recommend this hospital to other travelers?
1.7
Total Score (number or rankings)
43.5(3)
(0)
I worked in the Emergency department(s) in the hospital. The management of this facility is a joke. There is no teamwork, the orientation is sub-standard, the CPSI charting is a poor excuse for an EHR, this facility lays off travelers then turns around and hires more. Instead of filling staff positions, management hires low level managers at ridiculous salaries but won't hire more EVS employees to clean even to pre-covid standards. Don't walk, RUN away from any assignment here. Also, be aware staff nurses will be required to "float" between the free-standing ED in Brookings AND will be required to take multiple on-call shifts... no exceptions, unless you are one of the manager's pets. Staff, including providers, are physically attacked and assaulted on a weekly basis, yet the facility refuses to hire security. Do not expect help from law enforcement... they tell the people just walk away or you will go to jail, only to have them return again and assault staff. There is no local police out after midnite and no deputies assigned to this area. Oregon has NO protection for healthcare workers. STEER CLEAR OF GOLD BEACH! 11/24/2020
Housing was approximately 2 mile(s) from the hospital. The name of the housing complex was Condo. Housing was located in city of Gold Beach. On a scale from 1 to 5, I would rate it a 3. This is a tourist area and rental rates are stupid high. Beware of the homeless and drug addicts that prowl. Don't expect help from the PD... no officers out after midnite!
I worked in the Emergency department(s) in the hospital. TRAVELERS BEWARE! I came to CGH knowing how their rotations were designed with CGH ED and CMC Brookings, OR as a free-standing ED. The bulk of staff are travelers, some extending, some leaving. This facility is top-heavy with managers, not leaders mind you, but people placed into high-paying jobs that have little to no ability to lead people. During the COVID, there were travelers laid off, but then new travelers brought in right behind the ones that left. The charting system is CPSI, an office clinic system that barely functions in the clinic, let alone in acute care or the ED. The managers dictate duplicative charting that wastes so much time, especially during triage, which is not fast at all, with some patients waiting up to an hour before having their triage completed (good thing they can back time their charting!) Most travelers are told there will be "some shifts" split between CGH Gold Beach and Brookings, which the facility calls "floating between departments" This is a good 35-45 minute drive difference, when the weather isn't heavy fog, or the road collapsed, or herd of elk crossing, or deer.... get the picture. What the facility, nor the agency tell the traveler, is how MUCH time is spent floating. As of today, there is a 2/3 and 1/3 split...whichever facility is considered "home" the traveler will spend 4/6 weeks assigned there, and float the other 2 weeks at the opposite facility. On-call is required, which, as of today, is 3 shifts per 6-week schedule. The policy for this facility are next to nothing, and the policies that are in place are outdated and ineffective. There are so many new "house supervisors" permanent and traveler, that they do not know the policies and are mostly ineffective with any help in the ED, that is, when they are willing to even assist the staff. Be extremely cautious and thorough in your charting, if you choose to accept, because the administrators are demanding specific charting and will rapidly and easily point blame if it is not "acceptable" Beware, CGH handles BH patients but Brookings does not (nor trauma) All BH patients require evaluation by mental health, but you may also be boarding patients in an isolation room in the ED for days to weeks at a time, waiting for placement. Before you accept, ask lots of questions. Then, if you accept, come and enjoy the coast and the cuisine. 09/29/2020
Housing was approximately 1 mile(s) from the hospital. The name of the housing complex was AirBnB. Housing was located in city of Gold Beach. On a scale from 1 to 5, I would rate it a 5. I found an apartment rented almost exclusively to travelers, the hosts were magnificent, friendly, welcoming and accommodating.
I worked in the O.R. department(s) in the hospital. This is a critical access hospital. They expect their OR travelers to do preop and PACU. A lot of redundant paper charting. 2 ORs and one endo room. Lacking processes and procedures. Call is rotated every other week on for a full week. The 08/12/2017
Housing was approximately 15 mile(s) from the hospital. The name of the housing complex was Honey Bear RV Resort . Housing was located in city of Ophir. On a scale from 1 to 5, I would rate it a 4. Stayed in our 5th wheel and the park was clean. It has a restaurant that serves dinner. Summer time was busy. Monthly rates available and discounts if you lend a hand around the park.
Return to top of page
---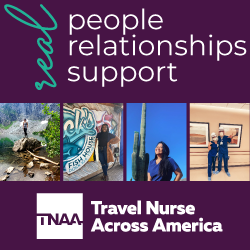 Click here for advertising info