Travel Nursing Hospital Ranking Results
Each ranking will be averaged and updated on a continual basis. The highest score for a hospital is 100.

Feel free to rank any hospital. You are not limited to the ones below.
Travel Nursing Hospital Review of: CHI St. Vincents Infirmary
Score
(all time)
Score
(within 1 year)
1. Friendliness and acceptance of travelers by staff
2.7
2. How open are they to allowing you to expand your skills while traveling?
2.3
3. Hospital Technology
2.7
4. Location (A nice area to live)
3.7
5. Cafeteria food
3.7
6. Parking
4
7. Physical layout of hospital effecient
4
8. Hospital appeal (looks)
2.3
9. Hospital orientation geared toward travelers?
2.3
10. Simplicity being initiated into the system (Do you have to do lots of unneccessary paperwork, drug testing, criminal background checks, etc. in addition to what the agency requires before you can start working?)
3.7
11. Reputation of the hospital
2.3
12. How nice are the doctors to staff
2
13. Friendliness of staffing office
2.3
14. Happy with the work scheduling procedure?
2.7
15. How efficient is their system so you can get your job done?
2.3
16. Adequacy of their nurse to patient ratio
2
17. How well staffed are they
2
18. How happy were you with your workload?
2.7
19. Staff morale (overall)
2.3
20. To what extent would you recommend this hospital to other travelers?
2.3
Total Score (number or rankings)
54.3(3)
(0)
I worked in the Main operating room department(s) in the hospital. Dirty..no support to turnover rooms and hire surgical techs bu5 d9nt let you scrub cases..they have surgical techs doing sutures unsepervised..giving local...the want travelees to take first assistant roll...never discussed that in phone interview..they expect you to turnover fast without support..gotta get your own beds and make them up while turning over your room.. 02/28/2020
Housing was approximately 1 mile(s) from the hospital. The name of the housing complex was Rentalmade. Housing was located in city of Little rock. On a scale from 1 to 5, I would rate it a 5.
I worked in the CVICU department(s) in the hospital. This hospital should be shut down. Filthy, filthy dirty!!!!! Trash piles high in trash rooms, spillage on the floor, flies and maggots. Patient care is horrific. Patients don't get turned, bathed regularly, physicians don't believe in death with dignity and will give families false hope when a pt. is dying. Physicians are bullies, Dr. Rayburn lets his hands wander and the hospital does nothing when a complaint is filed. When physicians make mistakes they blame the nurses. Charge nurse, Becca, is on a power trip and creates drama in the unit. Unit is staff by 70% travelers because they can't keep staff. Techs are lazy and usually hide somewhere to avoid working. Hospital in bad area of town, rapes/assaults have occurred in the parking garage. Would never go back and risk my license again!!! 02/25/2018
Housing was approximately 15 mile(s) from the hospital. The name of the housing complex was RV. Housing was located in city of Sherwood . On a scale from 1 to 5, I would rate it a 1. I RV it.
I worked in the MICU department(s) in the hospital. First assignment as a traveler in this facility, and I am more than satisfied with how my assignment went. The staff was friendly and I probably got floated three times in the three months that I was there. The assignments were not heavy, you received so much help from every one around. Mu unit manager was awesome and always worked around my schedule. He was always making sure that I got out and visited other cities and states during my stay, so he made sure to give me a few days in a row off. I would love to go back and work so St. Vincent's. 12/10/2016
Housing was approximately 11 mile(s) from the hospital. The name of the housing complex was The Links at the Rock. Housing was located in city of Maumelle. On a scale from 1 to 5, I would rate it a 5. They offered a three month leasing with fully furnished apartments. Apartments were in great condition. Rent included tennis courts, discount on property owned golf course, full gym, pool, jacuzzi, computer labs which had fax and printers, library, and ping pong/ pool tables.
Return to top of page
---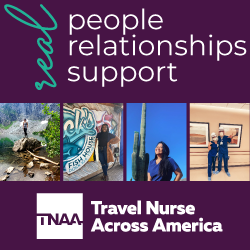 Click here for advertising info