Travel Nursing Agency Ranking Results
Each ranking is averaged and updated on a continual basis. The highest score for an agency is 100.

Go back to travel nursing agency rankings.

Click here to view a list of over 300 agencies and their contact information.

Travel Nursing Company Review of: Agostini

Score
(all time)
Score
(within 1 year)
1. Knowledgeable
1.8
2. Friendly
1.9
3. Efficient
1.8
4. Honest
1.2
5. Pay rate
2.8
6. Paycheck accuracy
3.2
7. Housing
2
8. Benefits
1.2
9. Supportive
1.3
10. Assignment selection available
1.8
11. Individualized
1.3
12. Insurance plan
1.4
13. Reliable
1.6
14. Accessible
1.9
15. Reputable
1.9
16. Accommodating
1.3
17. Professional
1.6
18. Paycheck arrival time
3
19. Chances you will recommend this agency
1.3
20. Chances you will work with them again
1.3
Total Score (number or rankings)
35.6(9)
(0)
Please make sure you have them put in your contract that you want to be paid for call-offs because they have 36 hours in their contracts that you can be called off. That doesnt seem bad if you are called off 12 hours straight. But when you make time and a half after 8 hours like in california and they keep calling you off 4 hours here and there, it makes a huge difference. The insurance plan is HORRIBLE!!! You do not get a referral bonus. You only get $200 for travel. I found an apt at the beginning of my assignment, which would leave me several hundred dollars left over from my housing stipend. Then, was told by them once they researched the place that I had to go through Agostini to get into these apartments. Needless to say, I chose nicer apartments somewhere else and didnt tell them where. I just asked for my money. 04/20/2008
Would not return calls. Housing was a nightmare. Worst company I have ever traveled with. 08/30/2007
Will not work for again. My first travel assignment and they made me pay for an apartment. 12/28/2006
Rude non responsive recruiters. Had to call daily to get updates on needs etc. I got my own contract through a facility but they offered crappy pay rates. Also have to pay extra to have an apartment! Other agencies have better lodging options no charge to me and offer benefits. This agency does not offer benefits that are worth wild and the only good thing I have to say is I get my paycheck every week on time. Do not travel with this agency unless you want a mom and pop shop. 12/19/2006
Agency is dishonest, recruiters don't know much about anything regarding travel, Not the best agency to travel with. Might have been around for many years but time to move on. 12/18/2006
The recruiter I had was very hard to work with. The information she gave me was usually incorrect. They made me pay for all my labwork-fingerprints and license. They also made me take a cut in pay to move from a hotel to an apartment that I had to wait longer for then expected. The apartment that I was supposed to get at a certain time was then unavailable so they wanted me to cut my pay even more for the apartment that they did get me. I ended up getting $8 per hour less than I originally thought I was going to get or I should say as they advertised. 09/18/2006
dealt with 2 different recruiters- both manipulative and rude. felt like I had to pull info.out of them. Pay rate is good, but not worth the hassel. No benefits.
My recruiter was not upfront about alot of things. Wanted me to sign contract without telling me things ahead of time. No 401K, no free health insurance, wanted me to pay an extra $450/mo for 2nd bdrm.Did not feel they were honest.(could have just been the recruiter I had) Be careful with this one!!
Return to top of page
---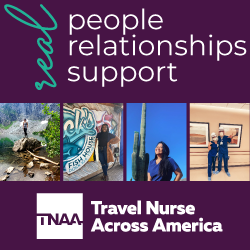 Click here for advertising info