Travel Nursing Agency Ranking Results
Each ranking is averaged and updated on a continual basis. The highest score for an agency is 100.

Go back to travel nursing agency rankings.

Click here to view a list of over 300 agencies and their contact information.

Travel Nursing Company Review of: Nurses in Partnership

Score
(all time)
Score
(within 1 year)
1. Knowledgeable
3.2
2. Friendly
3.5
3. Efficient
3
4. Honest
2.4
5. Pay rate
2.5
6. Paycheck accuracy
3.1
7. Housing
3
8. Benefits
2.6
9. Supportive
2.6
10. Assignment selection available
2.6
11. Individualized
2.6
12. Insurance plan
2.9
13. Reliable
2.2
14. Accessible
2.9
15. Reputable
2.4
16. Accommodating
2.5
17. Professional
2.8
18. Paycheck arrival time
2.9
19. Chances you will recommend this agency
2.5
20. Chances you will work with them again
2.6
Total Score (number or rankings)
54.8(8)
(0)
Great company, I sure have enjoyed working for them. 05/08/2018
I have had my paycheck bounce, been given an eviction notice each month and have had my electricity threatened to be cut off. I have called my recruiter many times and have gotten no response. They are liars!!!! 11/08/2010
FABULOUS COMPANY. HAVE DONE SEVERAL ASSIGNMENTS WITH THEM. ACNT SAY ANYTHING BAD! 06/17/2009
They were good at one time but have gone down the tubes quickly... Avoid them! 05/22/2008
several areas of false advertising on website. Promises to pay full license reimbursement and they put a cap on mine, 2nd paycheck over a week late, almost never returns phone calls/emails. Recruiter says one thing but doesn't put it in writing. Very poor company 08/23/2007
Mixed feelings. Paychecks always correct. Lots of trouble with housing department. Awful accommodations at first. Insisted on moving...now am great. Unprofessional during housing "crisis". Was first assignment. Now know what to look for. 06/14/2007
EXCELLENT 09/18/2006
Be very careful and cautious with this company. They are underhanded and will keep your pay check with excuses that the nurse owes them.I worked three weeks without pay because of their accounting. They kept my last check because they said I owed them rent. They will not return my calls now to work this out. When the hospital hired a permanent nurse they broke my contract. I had traveled three thousand miles to go to this job and lost alot of money. They did not reimburse my travel.
Return to top of page
---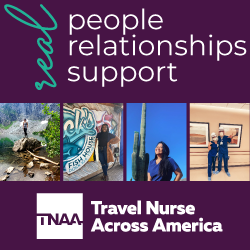 Click here for advertising info