Travel Nursing Agency Ranking Results
Each ranking is averaged and updated on a continual basis. The highest score for an agency is 100.

Go back to travel nursing agency rankings.

Click here to view a list of over 300 agencies and their contact information.

Travel Nursing Company Review of: Premier Healthcare Professionals

Score
(all time)
Score
(within 1 year)
1. Knowledgeable
3.8
2. Friendly
3.8
3. Efficient
3.6
4. Honest
3.8
5. Pay rate
3.8
6. Paycheck accuracy
3.6
7. Housing
3.6
8. Benefits
3.6
9. Supportive
3.5
10. Assignment selection available
3.2
11. Individualized
3.6
12. Insurance plan
3.6
13. Reliable
3.6
14. Accessible
3.6
15. Reputable
3.6
16. Accommodating
3.4
17. Professional
3.5
18. Paycheck arrival time
3.9
19. Chances you will recommend this agency
3.6
20. Chances you will work with them again
3.5
Total Score (number or rankings)
72.2(20)
(0)
This company does not understand the contract with guaranteed hours. If you have a contract with 40 hours guaranteed, required on-call, and call back...each with their own rate, they should honor it. Very unprofessional. 05/28/2018
A lot of empty promises and threats from this company, especially recruiter Nicole. I am the nurse, and if I don't work, you do not make your money. So how about do your best to meet the nurse's needs in the future. Do not put them in an awful situation all around and tell her to deal with it. 11/02/2017
I have worked multiple assignments with PHP and have never had any problems that couldn't be quickly resolved. I was always able to contact my recruiter via phone, text or email. The only negative is the lack of urgency in getting my next assignment when I only had a few weeks left on my current one. It all worked out but I had to initiate the conversation. 05/15/2017
I have traveled with PHP for 4 years. They always have the highest pay, Tamara Lane is my recruiter. I consider Tamara a friend. Tamara is always available, honest and truly looks out for me. If there is an issue, they fix it! 09/24/2015
I had the opportunity to work 3 assignments for this company. I honestly, have nothing negative to say about this agency. The only con is the insurance. It's rather expensive, because it's approx. $100.00/wk deduction for 1 person. My recrutier Melissa P. was awesome. I appreciated her honesty, and I never had any issues contacting her. She was always quick to respond, or attempt to help resolve any problems. I would work for them again. The pay was okay, considering the location for the assignment. 07/27/2015
Great communication, easy to contact when needed. Not very many assignments that interest me, though. 10/29/2014
Tamara Lane picks her nurses assignments by the amount of money she will get as a bonus. 04/06/2014
The recruiters and the housing coordinator are excellent. I have had problems before and they are quickly resolved. 11/10/2010
Love the staff!! Always friendly and very efficient. 11/10/2010
M 11/10/2008
PHP is the agency I have worked with for the past four years. I would not work with another agency. They are what their name implies, professionals. More importantly, they are professionals with HEART! That goes a long way in my opinion! 11/06/2008
WONDERFUL! this is my first assignment and I am more than impressed. :) 11/04/2008
as you'll see above, php is great. the only thing i could possibly ding them on is i wanted to go to memphis, but nothing there was budging. after calling at least 10 other agencies, only one of them could place me there and the pay was not worth it. thanks, lyndell howard 11/04/2008
Did 2 contracts with them last year and had a great experience. Had housing issues that they worked with me on and fixed. My furniture was a day late and they offered a hotel. Did not like speaking to a different person for every issue (benefit, pay, housing) and they didn't seem to talk to each other, but someone always resolved any issue quickly. Always had pay on time, even when I faxed late! I will work with them again! 06/15/2008
I've been with this company 2 years and will continue to use them! Very nice and flexible. My recruiter Angie, goes out of her way for me. A couple paychecks were wrong but were fixed very quickly. The only con is the lack of contracts in smaller areas. 04/01/2007
My recruiter(Leanne M.) was awful. Never returned calls. selection of assignments not very good. Wouldn't recommend this one.
Don't even consider this agency!! They never return phone calls, have small selection of travel destinations, and basically are not assessable. This was the first agency I signed up with and it was a terrible experience!!!!
Return to top of page
---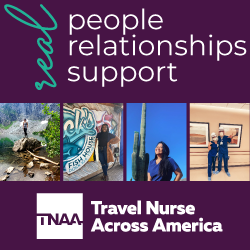 Click here for advertising info