Travel Nursing Agency Ranking Results
Each ranking is averaged and updated on a continual basis. The highest score for an agency is 100.

Go back to travel nursing agency rankings.

Click here to view a list of over 300 agencies and their contact information.

Travel Nursing Company Review of: Sagent Healthstaff

Score
(all time)
Score
(within 1 year)
1. Knowledgeable
4
2. Friendly
4.5
3. Efficient
4.3
4. Honest
4.4
5. Pay rate
3.9
6. Paycheck accuracy
4.4
7. Housing
3.9
8. Benefits
3.9
9. Supportive
4.3
10. Assignment selection available
3.3
11. Individualized
4.4
12. Insurance plan
3.8
13. Reliable
4.3
14. Accessible
4.5
15. Reputable
4.5
16. Accommodating
4.5
17. Professional
4.5
18. Paycheck arrival time
4.5
19. Chances you will recommend this agency
4.4
20. Chances you will work with them again
4.4
Total Score (number or rankings)
84.7(13)
(0)
Unfortunately, I did not ask all the right questions before this assignment. They never offered me medical, found it on my contract as "declined" when I was never asked. They did not offer to assist with housing (1500 miles from home in a city I had never been in before), I flew to my assignment and was fortunate to find housing within walking distance, but they did not help with car rental if I did need one. The pre-job requirements were excessive. They hound you when they want something, but drag their feet when you want something. Cancellation shifts not spelled out in my contract but the facility has right to cancel once every two weeks. They automatically deduct per diem and housing with every on call shift and you are stuck trying to live on your 24 hours a week. Will not travel with them again and would not recommend to anyone either. 01/23/2012
A great experience with Sagent. My recruiter really made helped me find judt the job I wanted. 12/28/2011
paycheck wrong several times had to fight to get my checks right. insurance was VERY expensive Housing was VERY small Had to fight to get anything 01/31/2009
Sagnet was the only company to get me a job in the area I wanted. My recruiter went above and beyond to get me the job I wanted!! 07/15/2008
GREAT COMPANY!!! I got everything I asked for and more. My recruiter was amazing. She also returned my phone calls promptly and dealt with any problems in a timely manner. The housing was always excellent and far exceded the one bedroom efficiency requirements. Ask for Heather Bruce. 05/07/2008
I'm on my second assignment with this company, and did at least 3 months of researching different companies before starting to travel. I am 100% satisfied with Sagent and have not had a problem with anything on either assignment. (Heather Bruce rocks!!!) At my first assignment, another traveler from the same company came to the same hospital. She's on her 4th assignment with them and has also had no problems whatsoever. I won't travel with anyone else. 04/03/2007
I only wish I had started with Sagent from the beginning! Accessibility to the business office or recruiter is spot on. Paychecks are weekly, and always on time. Have recommended them highly to would be travelers. 01/02/2007
GREAT STAFF, Heather Bruce is my recruiter tell her marsha sent you 11/30/2006
Love these guys! They quickly won me over and are my favorite company. They have a limited selection of jobs, that is my only complaint!
this is a nice agency to work for, have a good recruiter which helps. housing was excellent for the assignment i was on and felt that they went out of the way for me to make it a good experience. pay was weekly and always on time. beni's started day one with no problems. would work for them again if they had what I wanted.
have had a good eperience with this company, this is the east coast office,(think there are more than one)have excellent housing, they have been very supportive and listen to my needs. pay checks weekly and on time, insurance starts day one. will work with them again if they have something in an area I want to go.
Best company I have ever worked for. Wish they had more jobs across country, would stay with them forever!
Return to top of page
---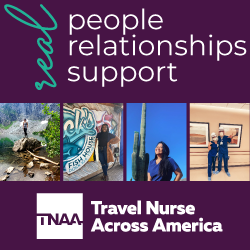 Click here for advertising info