Travel Nursing Agency Ranking Results
Each ranking is averaged and updated on a continual basis. The highest score for an agency is 100.

Go back to travel nursing agency rankings.

Click here to view a list of over 300 agencies and their contact information.

Travel Nursing Company Review of: Advantage RN

Score
(all time)
Score
(within 1 year)
1. Knowledgeable
3.7
2. Friendly
3.7
3. Efficient
3.4
4. Honest
3.3
5. Pay rate
3.5
6. Paycheck accuracy
3.6
7. Housing
3.3
8. Benefits
3.3
9. Supportive
3.3
10. Assignment selection available
3.4
11. Individualized
3.4
12. Insurance plan
3.1
13. Reliable
3.2
14. Accessible
3.4
15. Reputable
3.3
16. Accommodating
3.3
17. Professional
3.3
18. Paycheck arrival time
4.1
19. Chances you will recommend this agency
3.2
20. Chances you will work with them again
3.2
Total Score (number or rankings)
68(84)
(0)
I LOVE my recruiter, but let me tell you...ever since cross country bought them out, it is going down hill. The disorganization of cross country is now spilling into advantage RN which is sad, cause when I started travelling, they were a great company. I am only staying with them cause I love my recruiter and my time as a travel nurse is coming to an end. There may be more job postings, but the pay is not what it should be, the insurance and benefits suck...I just feel like I am always being screwed by them (cross Country...not my recruiter). As much as I hate saying it, I would say to try another agency like med solutions or travel nurse across america. I have heard from many travelers that those companies are good and that is what I would choose if I would continue travelling. If they were never bought out, I would endorse this company to my grave but not anymore...which is sad. 04/30/2020
I love this company and my recruiter!! I was nervous when Cross Country bought them but it has actually been way better!! Lots more jobs! 12/10/2019
Horrible since being bought by Cross Country. Very disorganized. 07/13/2019
Since being bought by Cross Country, pay has decreased, paycheck accuracy has decreased, jobs in certain areas have decreased. They do not stand up for their employees. It is all about their bottom dollar. My recruiter is wonderful and very efficient and accommodating. If it wasn't for him, I would no longer be with this company. 06/28/2019
Stay away!!! They are now under Cross Country's umbrella and have just destroyed my relationship with a hospital I had already done three prior contracts with because of Cross Country's incompetent compliance team. Lost my 4th contract, which I put in their lap...all they had to do was get compliance info to the facility (95% of which I already provided them copies of) and they had almost a full month but messed it up. 06/04/2019
Multiple issues with paychecks. My last faciluty was awful. Tried to talk to agency and was pretty much told to suck it up. Heard from my recruiter weekly until I had issues with the facility. Rarely heard from them after that. Has sick pay available on my paystub, but when I tried to cash it in for a missed shift I was told it was an error, but they took part of my housing for the missed shift. Very frustrating. 06/07/2018
EXCELLENT COMPANY TO TRAVEL WITH. ALWAYS VERY HELPFUL AND CHECKING TO MAKE SURE EVERYTHING IS GOING OKAY. I HAVE BEEN WITH THIS COMPANY FOR THREE YEARS. HAVE HAD SOME MINOR PROBLEMS BUT MY RECRUITER ALWAYS SEEMS TO GO ABOVE AND BEYOND TO GET THINGS FIXED QUICKLY. 06/07/2018
I was referred to this company and to Melanie from another traveler. Melanie is an amazing recruiter. Before I even started traveling, she took the time to explain all the ins and outs of traveling and how it worked. She really takes the time to talk to you and get to know you. She also has been so supportive of me, has my back, and a great encouragement. I never had any issues with my benefits and think they are great! Pay checks are always on time if you submit within the required time frame. If there are any issues, they fix it right away, and out of the 2.5 years I have been traveling, I may have had one issue but again...it was fixed immediately. I have only traveled with advantage RN and plan to stay with them and my recruiter for the foreseeable future. They never lack in job listings. I never used them for housing cause I always find my own so I cannot truly comment on that process. I definitely recommend them to anyone. 04/27/2018
I have worked two contracts with this company. My recruiter seemed really nice at first but if there was any type of problem she was unavailable. The last contract there were three of us traveling to the same contract with this company and when we told them about the unsafe work conditions they did not stand up for us!! They took the hospitals side and basically told us to suck it up. Now i am with another company and three weeks later still have not recieved my last pay check!!! 06/03/2017
I have worked with Advantage RN for a year now and my recruiter, Toni Weakley, has always been there for me. She even kept in touch with me on her vacation to make sure that my needs were met. I think that is over and above. 11/03/2016
This was going to be the first company I began my travel career. The recruiters are dishonest and very unprofessional. The recruiter will tell you what you want to hear, but then when it comes to assignments; tried have me apply to anything except what I was looking for department wise. The company does not return phone calls. I do not recommend anyone new nurse wanting to travel to work with this company (10/2016). 10/12/2016
I was new to this agency and was placed on my first travel assignment which I was renewed five time. When I decided to switch 70s they left me high and dry and not one but two cities. They knew I had no money because I had no job so all of my money I made went To staying in hotel while waiting for them to find me a contract. The second setting, I still OU a bill to the hotel for the entire time I stayed because they would not help me out or negotiate with the general manager of the hotel therefore I will pay him once my real travel agencies that means my real contracts. My recruiter and I use the term loosely , must've been a staffer that turned her a putter. You ask her something she never answered you back or she would forget. She was never there, I was out sick, always has something to do, make sure to let you know she was leaving at 4 PM. This company is horrible. And as my cousin told me when I started with them he's been as house supervisor for 25 years. He said that in the 80s in the 90s they set the office stores turned off the phone and left all the nurses high and dry in every city of Boston United States and now I believe this has to happen tonight. Don't let it happen to hear a smart thank you 08/26/2016
dishonest with hidden deductions from pay. Do not have any conflict resolution or support. recruiters inexperienced. 08/22/2016
grossly underpaid, unwilling to meet competitive pay even after getting a great eval from hospital, greedy, paying 25$ less/hour for OT, if you take an interview but decline a job offer, you need to be 'reviewed' before they submit you again for a job- remember they work FOR YOU, unorganized, too many levels of management that are being paid off your back, do yourself a favor and look somewhere else. hate to say it, but its all true. thank goodness for other travelers who helped 07/01/2016
I am a new traveler-and so far advantage has been great on all levels-very transparent and honest- SELENA is my recruiter-she is great-very intelligent- very organized-their a good company 05/16/2016
Tried this company in 2015 Recruiter was very helpful in staying within area that I wanted. Once contract started things became different. You could no longer fax to them, timesheet-no longer worked. I was yelled at by my recruiter for faxing my timesheet. Was told to email. So, started emailing to payroll. Multiple times received email or phone call stating didn't receive my timesheet. Then I didn't get my W form from them and payroll guy got defensive. Not sure I want to put up with that kind of attitude. Assignment was good overall. 05/12/2016
My first assignment started rough and they had my back..paychecks are spot on. 03/11/2016
I was on assignment,3 weeks to go, then was in a car accident and unable to complete my assignment. I felt like I was dropped by the company. My recruiter was awesome and kept in contact. But I have nnot heard from the lady that pursued me in the beginning. that to me is disheartening. The health insurance cancelled 2 days before my accident, so I had no health insurance. Huge concern for me. It scares me to be a traveller and not have health insurance that is reliable, especially in those situations. Especially since I cover my children as well. Overall, everyone was professional and very accomodating. I felt deserted when I became unable to work, even when it is a temporary situation. Look, I get it. They make money when we work, but sometimes things happen that we have no control over. So, I liked my recruiter a lot. yes, I will probably work with them again. 03/01/2016
I worked with this company fir one assignment. I was c8 traced for.one unit in a very unsafe hospital. My concerns were overlooked and all my recruiter could say was "dont cancel your contract". Two weeks in, I was forced to the tel floor for the remainder of my contract with no help from my recruiter. They bend the contract to suit their purposes. One week of my assignment I was only scheduled 24 hours but my con tract guaranteed me 36....I only got paid for the 24 ( I had not called iff or been called iff by the facility, I just wasn't scheduled) after arguing with my recruiter and her manager about my pay, I asked for her manager who then told me that because I wasn't scheduled that one day, it's considered being cancelled...even though I finished out the two weeks after that???? There were multiple breaches if contract. On top of it all, when I had c9ncerns, I could n9t c9ntract my recruiter because I worked night shift and she didn't arrive in her office until sometime after 9. When I would leave a voicemail, she would not email me back until 530 pm.....right before she left the office...so she would not have.to talk to me. This company does not care about its nurses and I would not recommend it if you want a company and recruiter that will back you in times of need. 11/11/2015
On the whole ok agency multiple payroll issues that were resolved one assignment had 40 plus hours of online e-learning prior to arrival was promised payment for hours never materialized they don't necessarily know the assignment parameters Am told by other travelers that their pay isn't the top Have fired one recruiter got a new one but generally get her voice mail she usually calls back when I am sleeping as I work nights Payroll often sends a message that they did not get the fax of time card now I fax timecard multiple times with receipt to make sure they get one seems like a hassle but I know I will get paid Friday 11/02/2015
My recruiter is GREAT! He has a great picture of who I am and the types of units/places I will accept so that eliminates lots of unnecessary things. If there's a place I want but maybe not the type of unit, he will let me know "I know it's not what you usually do, but for the location?" I've had a few payroll issues that have been corrected the next day. Insurance is a little expensive, but it'll do. They pay for mandatory testing (drug, titers, TB, ACLS, BLS) no problem. I've been with them 2 years and will keep traveling with them. 05/30/2015
Tends to omit important information about assignments and company policy. Will not address problems...seems like they just want the traveler to go to work, but will not support them when things don't go well. A lot of talk, but not so much action when that's what's really needed. 05/25/2015
Donna is a wonderful recruiter, she's always looking out for me, looking out for those jobs I'd love! The follow through with new assignments is great! They are honest, clear in the contracts, and have assignments everywhere I've wanted to go! 03/01/2015
I'm so thankful that my recruiter is concerned about every aspect of my assignments. 02/26/2015
Worked several assignments over a year with AdvantageRN and loved them! Brian Weller is the best recruiter ever! Very few issues, placed in great hospitals, Brian stayed in touch and called back quickly when needed. Great company! 02/15/2015
DM IS/WAS THE WORST RERUITOR EVER!!! THIS COMPANY WILL LEAVE HIGH AND DRY. TAKE YOUR PAY EVEN CONTRACT WAS CANCELED BECAUSE OF UNSAFE HOSPITAL PRACTICES. WILL DROP PAY DOWN TO MINIMAL WAGE TO RECOUP HOUSING. WORST EXPERIENCE EVER!!! 01/07/2015
They been very informative polite and helpful! 12/10/2014
My recruiter at Advantage RN is absolutely, positively the sweetest, most caring & loving , very personable, dedicated recruiter that MAKES GREAT THINGS HAPPEN for her peeps!!! She is AMAZING!!! 11/18/2014
Had a contract cancelled on several if us traveling with them. They were horrible and stranded us at our assignment and took our last pay checks. Their housing person is the nastiest person you will ever meet 11/06/2014
My recruiter is amazing, love this company! 11/05/2014
THey are not very supportive at all. When I first started traveling with them, my recruiter called me all the time. Then it dropped off to no calls at all. I even compained to management, then the recruiter started calling me again. Housing is the WORSE I've ever seen as a traveler. In one assignment the housing person went way over the housing budget so therefore that 13 week assignment was a loss. Benefits/insurance I though were expensive therefore I didn't take it. They hired a recruiter from Cirrus who was bad. I had her when I wokred with Cirrus. Don't trust them. Poor followuo and follow through. WOuldn't suggest them to anyone or travel with them again. 10/27/2014
Everyone on my team at Advantage RN are the best! 10/23/2014
The company as a whole is not supportive. When the going gets tough they turn and run the other way. I had osme real tough assingnments with them. Don't use there housing. One assignment there housing department wnet well over the housing alottment. Needless to say that 13 week assignment was a bust, I lost on that one. Recsuiter stopped calling me for awhile till I complained then she started calling me again. That doesn't go well with me. 10/18/2014
They were VERY helpful!!!!!!! They understood and helped my stress! 10/15/2014
My recruiter has been awesome he is always there when I need him whether it is business hours or not. Its hard being a travel nurse, and yet he some how makes it easier and more enjoyable. I dont know where I would without that guy! 09/15/2014
Advantage RN has been courteous and professional. They were very up beat about helping me obtain a position as quickly as possible. They've shown me they know the business and I trust their knowledge and feel their guidance will get me where I need to be. 08/26/2014
Advantage RN has always been there when I need them and they frequently check to see how I am doing. 07/30/2014
My recruiter is the person who makes you feel like you are the only nurse she takes care of every time you speak with her! She is patient, organized, informative, sweet, returns your calls while she always has your interests before her own. I have been very happy working with Advatage RN so far. 07/25/2014
Repeated patterns of cheating travel nurse on housing and failure to honor contract financial obligations. Does not provide good customer service. 07/17/2014
I can say that I have the best recruiter  ever....always there to help no matter what's going on. Can honestly say I am super happy with him as my recruiter for almost 5 years and could not imagine working with anyone else! All the others at Advantage have helped make my traveling experiences great. 07/17/2014
This is the really good company. They actually give back to the traveler. They also have a lot of perks and so understanding. I was with cross country (stay far away from cross country ) before this but advantage Rn is the best!!!! Hands down. 07/06/2014
Advantage rn has been very easy and pleasant to talk to with a positive attitude. 06/25/2014
My recruiter is the absolute best!! She has found me the best assignments,she always calls to check on me and I feel like she is truly concerned about my wellbeing. Thanks! 06/02/2014
Very kind and laid back 05/29/2014
My recruiter has always been on top of giving me the best information on job opportunities and has always been available when I call her. She is always emailing me about information that is important to me and I am appreciative of the work she does for me. She is always friendly on the phone and I am sure that she works hard for every person that she has on her contact list for travelers. She is top rate in my book for recruiters. 05/19/2014
My advantage rn recruiter is an "Amazing Recruiter," that exudes a positive and professional image. Ten months ago, I started my travel nurse journey and I signed up with three agencies after speaking to almost 20 recruiters. My advantage rn recruiter was very friendly, patient with me and provided the ins and out to travel nursing. She wanted to make sure I knew what I was getting into which helped reduce my anxiety and she cared about my safety while on an assignment. However, at the time I did not take an assignment with the company she worked for. During that assignment, she called me every two weeks to see how I was doing and if I needed anything, we built a great rapport. She also called to wish me a Merry Christmas and Happy New Year; she never missed a beat. That says a lot about her character and who she is. That really meant a lot because my recruiter I was with barely checked on me and the other agency I signed up with the recruiter only called me right before my contract ended. My recruiter at Advantage RN is very honest, consistent, loves what she does, and smiles through her work. So of course I signed on because I know she would always be there and look out for my best interest. She goes above and beyond, she is always available through phone call, email, and text at any hour. I appreciate everything she does for me. I have referred several nurses to her and they all give postive feedback. AdvantageRN is lucky to have her on their team. 05/14/2014
I have worked with multiple companies during my nursing career, but Advantage RN stands out. I thoroughly enjoy working with my recruiter because she is personable, prompt and always accurate. Advantage RN has placed me in the best working conditions with the most amount of financial return. Traveling has been enjoyable as I have met great friends, and have had an abundance of site seeing opportunities — all while doing a nursing job I love. I appreciate all that Advantage RN does for me. 05/05/2014
I am always comfortable heading for an assignment because I know everything has been taken care of and that I have my recruiter and all the Advantage RN staff watching out for me. 05/01/2014
I have been a travel nurse since 2007 and I have worked for different agencies and with many recruiters. My recruiter here is consistently concerned about his travelers. He calls every week to see how things are going and if there is a problem he is quick to get it fixed. I really appreciate him and I really like this company. They try very hard to meet my needs. 04/16/2014
They supported the hospital who changed almost everything after I arrived. Kinda left me out to dry-although they did eventualy assist me. 04/13/2014
I've enjoyed my time with Advantage RN. They are always assisting with my needs, and they offer excellent pay packages and housing 04/07/2014
Considering that this was my first time engaging in traveling,I have to admit that they made the whole experience pleasant and enjoyable. 03/31/2014
I was placed in Alaska on my first assignment and was very pleased. I was then sent to a part of Arizona that was very unsafe. I was stuck in a motel that had no refrigerator and no microwave. The nearest shopping was 100 miles away.No conveniences at all. After 8 weeks there with no change, I totaled my car when I struck a steer in the highway because it was open range. There was no public transportation at all. Not even taxis. The only thing the company was worried about was if I was going to finish my contract. Their solution was to rent a car out of my own pocket for $178 a week and finish the contract. Needless to say, I left. They did not penalize me for leaving early but I will never be placed in that position again. 03/11/2014
I have been with Advantage or over a year now and taken several assignments. Recently, I have been having to fight to get paid every week for the hours I've worked, and been denied things expressly written in my contract, saying it was someones' 'mistake' that they were listed. 01/16/2014
Their insurance is expensive but they do give u some web sites to help find affordable insurance. Their housing liaison is awesome and finds nice and affordable housing. 11/17/2013
Constant miscommunications. Recruiter was hard to get on the phone and sometimes it would be days before she would call back. Problems with payroll. I still have yet to recieve my last paycheck from them and they are blaming it on me. Now they don't want to even answer the phone when I call. Had to file a complaint against them. 08/23/2013
Great experience 06/27/2013
BADDDDDD stay far away. You will make more in the end @ walmart. BAD people. Avoid at all cost. If $180 for 36 hr work week sound good, then travel with them. 04/05/2013
Refused to pay for many hours of online orientation. About 40 hours of your own time to orient before they will pay you for an assignment. Assignments leave a lot to desired. Per diem mostly so easy to be cancelled and out of your on pocket for expenses. 01/03/2013
Never paid holiday rate. they lie about the fact that it was paid and it is in black and white on pay stub. But when you argue, they offered a "loyalty bonus" on an amended contract half way through contract. Very vague wording on that. Why would you offer a bonus if you had paid someone correctly. I have been traveling for 9 years and have never had this much trouble with a company. Several others who have woked for them had similar experiences. 12/01/2012
Excellent all around 12/27/2011
They submitted me to a facility as a night nurse when the actual posting was for day/night, and they lied about the nurse patient ratio. I had to force them to pay me for orientation time at a professional rate instead of minimum wage as they wanted. No support to the nurse at all! 07/02/2010
Nice site, thanks for information! 11/11/2008
I previously worked an assignment with Advantage and had a great experience. This time around not so much!!!! The recruiter I have is completly unreliable, whenever I call her all I get is her voicemail, I leave a message and NO CALL!! I left 6 messages in 3 days about a very important matter and NEVER GOT a call back. The problem was only resolved by talking to someone else. They sent me out a week too early 3,000 miles away from my family and friends and I just had to sit on my a$$ for 7 days. They told me however that they would pay me...so I got a check for $250 (wow thanks) but I still have to stay an extra week at the end of my assignment! I WILL NOT travel with them again!!! 07/30/2008
I worked with INA for 3 assignments now and they have gone above and beyond what I expected. My last assignment in Fresno was great. Keep up the good work INA. 07/08/2008
Assignment ok. Some housing issues but they worked hard to fix them fast. Had a payroll discrepancy that was never addressed to my satisfaction. Did reimburse for some apt equipment needed. 07/05/2008
I JUST FINISHED MY FIRST ASSIGNMENT WITH THEM AND WILL BE STARTING MY SECOND SHORTLY. EVERYTHING THEY SAID THEY CAME THROUGH WITH. ONE PAYCHECK WAS WRONG AND THEY FIXED IT RIGHT AWAY. THEIR INSURANCE IS SPENDY SO I JUST BOUGHT MY OWN, OTHERWISE THEY HAVE BEEN VERY GOOD TO ME. RECRUITER(JUSTIN HESS) HAS BEEN GREAT AND EVERYONE I HAVE TALKED TO ON THE PHONE HAS BEEN AWESOME AND FRIENDILY 06/22/2008
I would never work for this company again. Even if they were the only travel agency on the face of the earth. I accepted an assignment with the understanding it was not a telemetry position. On my second day of orientation I was asked to take a telemtry test to which I refused because I am not a telemtry nurse. My recruiter told me not to take it because it was not a telemetry position. The HR person wrote the wrong description and it was a telemetry position. So, I had to come home. I was assured by 2 people at the agency that I would be paid for those 2 days. Guess what? I was only paid minimum wage because I refused to take the test. I was told by my agency not to take it. I notified them as soon as I found out it was a telemetry position with assurances someone would call me back. I found out from the hospital the next day it was a telemetry position. So, I had to pay my own expenses for this assignment. Needlesstosay I no longer work for that agency. I was with one agency from 1986 until 2005 and then another one from 2005 until 2007 when I switched to Advantage RN because of the pay. I would have been better off staying with the previous agency. They do not support you. They believe whatever the hospital says. 06/20/2008
Pay rate seemed on the low end for me, but they had locations that I wanted. One big issue is your pay depends on your recruiter, it is not consistent, but I would travel with them again. 05/29/2008
This company pays very well and was very accommodating about my housing. When I arrived at my new assignment and did not find the housing acceptable they immediately put me up in a hotel and rented the apartment I found which was not cheap. However...they suck at communication....if you need anything right away, forget it!! And they never answer their phone after hours!!!! 03/29/2008
I have traveled with other companies before and only left for this agency because of the promise of such great pay rates and extras- none of which are true! The rates sound great but then they deduct EVERYTHING from the rate so you don't end up with nearly what you expect it should be. I have had MAJOR screw ups (4 BIG ONES) with my assignment that were NOT handled well AT ALL!!! Although the company stated they were trying to rectify the situations, it was all just a bunch of lip service to appease me! DO NOT USE THEM- it's NOT worth the 'mistruths' they quote you during the recruitment process!!!! 01/13/2008
I had numerous problems with this company. I consider myself a pretty laid back person, usually optomistic, but I really don't have anything nice to say about this company. They gave us the wrong code to move into our apartment after they made us stay in a hotel for a week until I passed my EKG and medication tests (which they failed to mention until we were 12 hours into our 33 hour trip). They would switch recruiters on a regular basis without telling me. I would call with an issue or question and they would tell me that "that" person doesn't work here anymore. One time I called because I had been canceled and wanted to know what I needed to do and their 1-800 number was down for over a week. I had the cell number of my housing recruiter, so I tried to call her, no luck. She left a voicemail later saying that she was no longer dealing with my housing situation so I needed to call this other lady at the 1-800 number. LOL. I got the message and called her back to let her know it wasn't really a housing issue I just needed to know what was going on with the 1-800 number because I couldn't get through. She stated that she was in the middle of something but would call me back. No call. I ended up trying for 3 more days until they fixed it. When I complained they told me that yeah they have had a lot of complaints about that. No I'm sorry or anything. So I finally got through to my recuiter who had the nerve to ask why I didn't call her cell phone number. I stated that it would have been great had anyone given it to me, but since they had switch recruiters without telling me I had forgotten to ask. Around Thanksgiving they had a "problem" with payroll and hadn't payed anyone that week. She told me to keep calling my bank because it should go through soon. It's funny because this is just all the minor stuff. My greatest example is when I asked to extend for 2 weeks to make up for the time that I was in the hospital with kidney stones she (Jenny) said she would work on it. I got this great voicemail about a week and a half later stating that she had some great news they are extending me for 13 more weeks and she just couldn't wait to give tell me. When I called back and stated that I only wanted to make up the 2 weeks like I had originally stated she started asking me all these questions childishly like "why, do you have some other place you want to go?, are you talking with another company and not telling me? Do you just not want to tell me your plans?" It was bad. I would never travel ever again with Advantagern and hope that this helps other people that might be considering them. 12/23/2007
i have ben with the company for 4 years. have had a great experience with the company as a whole. have had problems with housing and tend not to accept it most of the time. Have had the pleasure of meeting with the main boss as well as my recruiter. i have my recruiters office, cell and home numbers for availability. be specific in what you want and you will get it..... 11/08/2007
great pay,small company so nurses get more instead of the company keeping it all 03/30/2007
This company is very vendictive. I once interviewed for a job and told them I was interested but then when the contract was prepared it was not what I was quoted. I appoligized to the hospital and explained that I was not taking the job because of a company error. They then blacked balled me...but its their loss. Guess they don't need the nurses and think we will settle for anything they throw our way. 02/16/2007
As long as they have an assignment where I want to go I'll stay with them. My recruiter is Pete Hoppe. He is very good to work with, no hassles, minimal paper work. I have not had them find my housing and I have my own insurance. They are flexible which I like. 01/29/2007
This was our third travel assignment. We travel as a family with our pets. A few errors on paycheck that were remedied immediately. Would highly recommend this agency to anyone. 09/19/2006
Of the 3 companies I have worked with Advantage RN has been the most supportive and helpful. My recruiter has with them has been great. 08/31/2006
Starting my 3rd assignment with Advantage RN. They have been great to me. I make more at my hospital than travelers with other agencies. Pay always on time.
Easily reached and eager to assist if have any questions or problems with facility assigned to. Everyone you reach at agency friendly. Pay is comparable to other agencies.
Paychecks incorrect, Contract recieved was much different from what was agreed upon. Housing was filthy and unsafe (refused to live there and they found safe and clean housing). Never took out state taxes. Filed state taxes in state they operate, not state worked in.
Return to top of page
---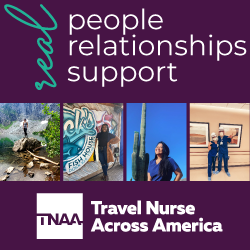 Click here for advertising info