Travel Nursing Agency Ranking Results
Each ranking is averaged and updated on a continual basis. The highest score for an agency is 100.

Go back to travel nursing agency rankings.

Click here to view a list of over 300 agencies and their contact information.

Travel Nursing Company Review of: Millenia Medical Staffing

Score
(all time)
Score
(within 1 year)
1. Knowledgeable
3.1
2. Friendly
4
3. Efficient
3.2
4. Honest
3.7
5. Pay rate
3.4
6. Paycheck accuracy
3.2
7. Housing
3.7
8. Benefits
3
9. Supportive
3.4
10. Assignment selection available
3.1
11. Individualized
3.3
12. Insurance plan
3.2
13. Reliable
3.3
14. Accessible
3.6
15. Reputable
3.3
16. Accommodating
3.7
17. Professional
3.3
18. Paycheck arrival time
4.4
19. Chances you will recommend this agency
3.3
20. Chances you will work with them again
3.3
Total Score (number or rankings)
68.5(9)
(0)
They are great! Although I agree that when Liz was director the housing was FANTASTIC! The last place I had was not the best but they supported me in getting the owner to cooperate with me. Paycheck in always there on time, Mike and Donna are great! 05/09/2015
Pay check was never the same, same number of hours worked every paycheck. Don't follow through with referral pay. Recruiter was rude more than not. 04/15/2015
I love this company! They have gone above and beyond for me! 09/19/2013
Liked my original recruiter, MIchelle Thompson. She really had her act together! Second recruiter was nice enough but didn't seem that interested in what type of jobs I wanted. Kept trying to put me in med/surg positions. I wanted to do something different and renew skills I had used in the past. 06/06/2013
never had any problems, housing the best, pay always on time and accurate. very friendly staff. would highly reccomend them. 09/04/2008
i have worked several assignments with them and will continue to do so as long as they have assignments where i want to go. very supportive and friendly, a wonderful group. 04/12/2007
My recruiter lied to me about several things. Once I started to work at the facility I found another traveler had not renewed their contract because of the same things. If you work with them, don't trust them.
Never contacted me once I signed the contract. Didn't provide day 1 health insurance as promised. Errors in my paycheck. Did find an assignment quickly for me and then forgot me! Can't recommend them.
Return to top of page
---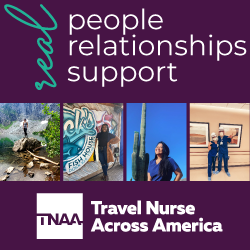 Click here for advertising info