Travel Nursing Hospital Ranking Results
Each ranking will be averaged and updated on a continual basis. The highest score for a hospital is 100.

Feel free to rank any hospital. You are not limited to the ones below.
Travel Nursing Hospital Review of: Jupiter Medical Center
Score
(all time)
Score
(within 1 year)
1. Friendliness and acceptance of travelers by staff
3.8
2. How open are they to allowing you to expand your skills while traveling?
2.2
3. Hospital Technology
2.8
4. Location (A nice area to live)
3.5
5. Cafeteria food
3.5
6. Parking
3.8
7. Physical layout of hospital effecient
3.2
8. Hospital appeal (looks)
4.5
9. Hospital orientation geared toward travelers?
2.2
10. Simplicity being initiated into the system (Do you have to do lots of unneccessary paperwork, drug testing, criminal background checks, etc. in addition to what the agency requires before you can start working?)
3
11. Reputation of the hospital
3.5
12. How nice are the doctors to staff
3.2
13. Friendliness of staffing office
2.8
14. Happy with the work scheduling procedure?
3
15. How efficient is their system so you can get your job done?
2.8
16. Adequacy of their nurse to patient ratio
2.8
17. How well staffed are they
2.8
18. How happy were you with your workload?
2.5
19. Staff morale (overall)
2.8
20. To what extent would you recommend this hospital to other travelers?
2.5
Total Score (number or rankings)
61.2(4)
(0)
I worked in the IR department(s) in the hospital. The manager of this department was atrocious. She had no actual knowledge of the standards of care and no one used evidence based practice in this department. The manager uses dictator methods as her leadership style. This has been the most miserable assignment that I have had in a long while. There have been employees (literally) fired for voicing concerns and causing "drama". The manager actually called one traveler "CRAZY" in front of all staff, patients and visitors in the department and fired her then began discussing it with the charge nurse in open. There are 3 different charting systems. I cannot stress enough for ALL travelers to STAY AWAY!!! 06/29/2019
Housing was approximately 10 mile(s) from the hospital. The name of the housing complex was West Jupiter Rv Resort. Housing was located in city of Jupiter, Fl. On a scale from 1 to 5, I would rate it a 1. I stayed in a campground.
I worked in the OR department(s) in the hospital. This department expects you to come to work and keep your mouth shut. Surgeon's comfort level, travelers usually were only allowed to participate in certain services when incision was being closed. If you are in FL during "season" housing rates can be expensive. 04/16/2018
Housing was approximately 25 mile(s) from the hospital. The name of the housing complex was Woodspring Suites. Housing was located in city of Lake Worth. On a scale from 1 to 5, I would rate it a 3. This particular facility is very limited to providing linen. don't know if they have problems with stealing. Heard thru the grapevine, police respond almost nightly for drug overdoses. They do have nightly security.
I worked in the ICU department(s) in the hospital. Manager Doreen extremely helpful. Director Karin very accessible and nice. ICU facilities are in need of updating with very small rooms and old monitoring equipment. The rest of the hospital looks newly renovated, gleaming. The food is out of this world for hospital food! I ate lunch every day in a bamboo healing garden. There is enough staff to keep charge nurse free at all times. Sometimes we would have free charge plus a secretary. The nurses have all been there a really long time, so bringing new methods meets resistance. I noticed a sense of apathy at times too, when my patient was crumping, everyone thought patient was too far gone and didn't fight like I'm used to seeing. All and all, an excellent experience. 05/09/2016
Housing was approximately 5 mile(s) from the hospital. The name of the housing complex was A friend's house. Housing was located in city of Jupiter. On a scale from 1 to 5, I would rate it a 5.
I worked in the telemetry department(s) in the hospital. THE BAD: Traveler orientation is WAY too short! Day 1 you shadow 4 hours on unit followed by 4 hours of "Speedy Gonzalez" training on McKesson EMR, which is archaic and clunky to use for charting (what takes 1 click to do in EPIC takes 5 in McKesson). Day 2 is one full precepted shift then you are on your own on Day 3. Typical Floridian unsafe nurse/patient ratios, 6:1 on tele units max and 7:1 on med-surg units, sometimes 8:1 if there is understaffing. Getting more than one admission assigned to you in one shift is NOT uncommon! Physicians are rude and elitist, treating nurses as their handmaids and not as their colleagues. MD orders are still handwritten in charts, everyone has chicken scratch for penmanship. No tube system, so overnights you have to schlep to the lab or pharmacy by foot. The 4th floor is particularly pathetic by withholding SBAR assignments until after change of shift huddle is over, so if you like to look up your patients before report, you are SOL there. THE GOOD: Nurses for the most part are friendly and welcoming and open to help when needed. Travelers will not feel like they are treated separately from staff. CNAs are actually phenomenal and do an awesome job. RECOMMEND TO TRAVELERS? Not really a good fit if you are more comfortable in larger hospitals. 02/26/2016
Housing was approximately 15 mile(s) from the hospital. The name of the housing complex was none, rented through Airbnb. Housing was located in city of West Palm Beach. On a scale from 1 to 5, I would rate it a 5. Rented a room with private bath in a townhouse, it was really what I needed to relax when not working.
Return to top of page
---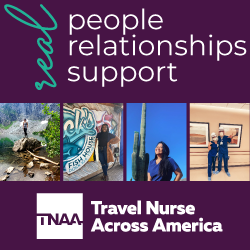 Click here for advertising info