Travel Nursing Hospital Ranking Results
Each ranking will be averaged and updated on a continual basis. The highest score for a hospital is 100.

Feel free to rank any hospital. You are not limited to the ones below.
Travel Nursing Hospital Review of: Canyon Vista Medical Center
Score
(all time)
Score
(within 1 year)
1. Friendliness and acceptance of travelers by staff
3
2. How open are they to allowing you to expand your skills while traveling?
2
3. Hospital Technology
2
4. Location (A nice area to live)
4
5. Cafeteria food
2.3
6. Parking
4.7
7. Physical layout of hospital effecient
3.7
8. Hospital appeal (looks)
5
9. Hospital orientation geared toward travelers?
2.7
10. Simplicity being initiated into the system (Do you have to do lots of unneccessary paperwork, drug testing, criminal background checks, etc. in addition to what the agency requires before you can start working?)
4.3
11. Reputation of the hospital
2
12. How nice are the doctors to staff
5
13. Friendliness of staffing office
3.3
14. Happy with the work scheduling procedure?
2.3
15. How efficient is their system so you can get your job done?
2
16. Adequacy of their nurse to patient ratio
3.3
17. How well staffed are they
3.3
18. How happy were you with your workload?
3.7
19. Staff morale (overall)
2
20. To what extent would you recommend this hospital to other travelers?
2.3
Total Score (number or rankings)
62.9(3)
(0)
I worked in the Emergency Department department(s) in the hospital. I worked in the ED for 13 weeks and I wanted to extend but they had filled their open jobs. I worked 3pm-3am and the day shift was friendly, never had any issues, but the night shift was the best. Staff was over all very friendly. They only have one doctor on at night and the ER is too busy for one provider. However, they do not believe in letting patients sit in the waiting room so the "fast track" area quickly became filled with patients and they would sometimes have 2-3 nurses with an LPN running fast track. That is the biggest complaint. Lots of sick patients as its a border town. Overall the management was easy to get a long with. The only two negatives I have is the ER manager was TERRIBLE with signing time sheets and I would often get back paid for my "on-call" pay. Also, the schedule would often come out 2-3 days before it started. 12/10/2018
Housing was approximately 3 mile(s) from the hospital. The name of the housing complex was Sierra Antigua. Housing was located in city of Sierra Vista. On a scale from 1 to 5, I would rate it a 5. Housing was great, never had any issues, everything was included in my rent and I got my whole deposit back. (Apartments never do this).
I worked in the acute care department(s) in the hospital. Admin does not appear to care about staff or patient outcomes. Pharmacy staff needs to be fired. Brand new hospital used to put a shine on old problems (not working).New manager trying to make it better but administration is not helping. Behind the times on safety, Joint Commission compliance education. NO TEAMWORK AT ALL!! 08/06/2015
The name of the housing complex was N/A. Housing was located in city of Sierra Vista. On a scale from 1 to 5, I would rate it a 3. Multiple housing options available, good rates.
I worked in the PCU department(s) in the hospital. This hospital used to be called Sierra Vista. They were helped by a company in Tennessee to expand. Their staff is not friendly to Travelers, you will get no support, you will work every weekend, Manager makes excuses that she has meetings when you try to sort things out, they do not give you access to all the necessities you need to work, their schedule runs from Monday through Sunday, so you will be docked pay, they cancel you frequently, Physicians are still writing on paper, do not go by protocol, and their Residents are not the brightest in the bunch. 07/11/2015
Housing was approximately 5 mile(s) from the hospital. The name of the housing complex was Port Royale. Housing was located in city of Sierra Vista. On a scale from 1 to 5, I would rate it a 5. Very clean, quiet, Manager is great, when something breaks they come right away to fix it, and washer and dryer in the apartment. That was the only good thing about this assignment.
Return to top of page
---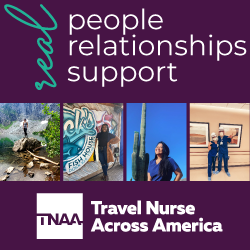 Click here for advertising info