Travel Nursing Agency Ranking Results
Each ranking is averaged and updated on a continual basis. The highest score for an agency is 100.

Go back to travel nursing agency rankings.

Click here to view a list of over 300 agencies and their contact information.

Travel Nursing Company Review of: TRS Healthcare

Score
(all time)
Score
(within 1 year)
1. Knowledgeable
4.3
2. Friendly
4.6
3. Efficient
4.3
4. Honest
4.4
5. Pay rate
4.1
6. Paycheck accuracy
4.4
7. Housing
4
8. Benefits
4
9. Supportive
4.4
10. Assignment selection available
4.1
11. Individualized
4.4
12. Insurance plan
3.8
13. Reliable
4.4
14. Accessible
4.4
15. Reputable
4.4
16. Accommodating
4.4
17. Professional
4.5
18. Paycheck arrival time
4.6
19. Chances you will recommend this agency
4.5
20. Chances you will work with them again
4.5
Total Score (number or rankings)
86.5(210)
(0)
TRS has been my company for most of my assignments. Jan is awesome recruiter who I can trust and I can count on her. She makes me laugh and I can mot say enough Jan. I also love this company because everyone is nice,supportive. 02/06/2020
Honesty and Integrity. Even if I fail at these things, I try hard to put one foot in front of the other and keep going. This company embodies these principles. Not only that, I could not have made it as long as I did in my first contract without my recruiter Michael. This man obviously cares about his nurses and is just a good man in general. The company itself is FOR the nurse. From the bottom up to the top down. From Amy the Credentialing specialist to Kathie in housing, just AMAZING. Caring and absolutely thorough. Just could not ask for better people. But again, if you need a champ in your corner, I can not stress enough to call and talk to Michael! 12/11/2019
GREAT STAFFING COMPANY! Make you feel like part of a family! 12/06/2019
This agency is great to work with. they let you know weekly income up front and give a detailed breakdown. I have been told multiple times to use more than one company but I have yet to find one comparable. TRS is the most friendly and accommodating agency out there. 05/23/2019
Overall couldn't be happier.They are a great company and everyone is so nice.My recruiter Jan has done so much for me and is a wonderful recruiter and truly nice person. I wish insurance didn't cost so much. 09/18/2018
This company takes switching agencies personally & was very rude when I switched to an agency that paid me $7/hr more. They actually threatened to sue me. Recruiter, Robin was very lazy & did nothing when I told her my assignment was unsafe. I had worked for them 2 years with no previous complaints.Basically had to find my assignments myself. Sat back & made $$ off me for nearly 3 years with little to no effort on her part, then treated me very poorly at the end. 07/22/2018
I went with TRS almost 3 years ago and have had a very good experience. My recruiter Jan is by far the best I have worked with in the 7 years I have been a traveler. I could tell you why but talk to her once and you'll see. The peopke that work there seem to like their jobs. I don't look around much anymore. 03/24/2018
When I first decided to travel, I applied to several different agencies. My recruiter with TRS worked the hardest, found my first assignment, and has continued to be my biggest advocate to this day. Not only has my recruiter been amazing, but all of the departments, from HR to payroll, have been professional, helpful, and courteous. I have since picked up a second assignment through TRS, and I highly recommend them. 10/11/2017
TRS is an awesome company to work for. I always feel important and listened too. Anita Johnson my recruiter is very knowledgeable and never too busy for me. She knows my wants in contracts. She lends an ear anytime I need won. I would rate TRS on a scale of 1-10 a 10. Thank you for allowing me to be a great part of this company. I've never been disappointed since coming to work for TRS. 10/04/2017
TRS is an awesome company to work for, I always feel that I am important and listened too. Anita Johnson is my recruiter is extremely knowledgeable and know me and what I am looking for in contracts. I've never been denied an ear when one was needed. Rating TRS on a scale of 1-10 I would give them a 10. Thank you for including me in your amazing company. 10/04/2017
Highly recommend TRS and recruiter, Karen Couture. 10/03/2017
TRS is an amazing company to work for, when they say your a nurse not a number, they really mean it. 09/29/2017
Virginia my recruiter has been very professional and helpful from the very beginning. We have been working together for 2 years. Insurance deductable is high, but the upside is the weekly premiums are affordable. I would recommend TRS to other nurses that I work with while I travel. 09/28/2017
This Nursing agency is excellent in regards to pay out. I have been very satisfied when I've compared them verses several others. 09/27/2017
This is a terrific agency. One of the highest paying agencies I've worked for, however there insurance is only so-so. 09/27/2017
TRS is the only company I've traveled with these past 8 years. 30+ contracts and I've always been more than pleased with them. I truly can't imagine using another company to travel with. 09/27/2017
My recruiter, Anita, is one of the hardest working recruiters I've known. She's always available. When an issue arises, she jumps right on it and tackles it untilthe issue is resolved. Anita always fights for the highest pay rate and manages to beat out other recruiters on pay rates. My pay is always accurate and on time. I'm finishing my 4th assignment with TRS and looking forward to many more. Their credentialing and housing departments are on the ball and nothing "slips by". I highly recommend Anita Johnson and the TRS team! 09/27/2017
The new insurance, although not expensive weekly, has a $5000 individual/$10000 family deductible with coverage starting after the 1st full month of employment. So that being said, if I started to work on Jan 5 my coverage wouldn't start until March 1. My paycheck has always been spot on. I don't always get timely responses to questions in fact I hardly ever get timely responses to questions. Very short time from when needs are to actual contract start dates. There doesn't seem to be a lot of follow up with recruiter during a contract for renewal possibilities. Mostly done with the employee (nurse) and the facility where the nurse is working. Overall, the company is ok, but not what it used to be. 09/02/2017
I am very impressed with this company. I have worked with two other agencies but hands down use TRS whenever i can. I have a recruiter Jan Steele. She is the most professional and knowledgeable recruiter out there. She was a nurse and gets travelers. She isn't a BS type of person and talks straight even if it isn't what i want to hear. This is the happiest I have been and i recommend this company with no reservations. Now "dad gum it" get me to Hawaii Jan. 07/15/2017
My recruiter seemed to work for me when I first started, but when it came to extending my contract I gave vacation dates, which my recruiter imputed wrong and when I said that they were wrong I was told, "ok per the Marketer since the conformation has been sent you will have to work it out with the manager or scheduler I am sorry they wont allow us to change it." I was then told if I got approval from my manager they would then put the dates in my contract. 04/05/2017
Anita is an amazing recruiter, always available and responsive, works hard to get the contract you want, honest and a great person! 03/25/2017
My recruiter was very nice but did not disclose certain things to me. It was suggested they were putting me in housing on my travels to my assignment but it was only a "housing loan". I knew nothing about it until I saw it deducted from my check. I was never paid any mileage & only $5 for orientation. The pay was good & always on time. Insurance was OK but not great. Also the company I was contracted to told us they didn't need agency nurses anymore &today is your last day. No notice and no compensation for a canceled contract. 01/28/2017
So far this company has been fantastic. My contact Sebrina Masterson is hands down the best! 01/06/2017
The Right Solutions has been great to work for as any other employer I have had. My recruiter has been so helpful and knows what she is doing. It has been a great experience. 01/05/2017
I really appreciate and enjoy my working relationship with my recruiter. Housing has not been as efficient as I had hoped but the help and response of everyone is fantastic. I really feel they are terrific. 01/04/2017
I love working with TRS! Their agents are so helpful, supportive, and kind! They contacted me right away, did not waste any time getting all my credentials together and finding out exactly what I wanted for work. They kept in contact fantastically and were amazing answering questions by text, phone, or email!! They found the perfect assignment for my first travel job, exactly in the vicinity I liked, and they were very helpful getting me all the information i needed and letting me know what to expect. I would recommend TRS to every nurse!!! They did their utmost to accommodate everything I needed and made sure I was safe in all my travels. 01/03/2017
I worked with Sebrina Masterson and she was great. She worked hard to find me the right assignment and was always available for questions. Sebrina is professional and caring. I would recommend her to any of my friends that might be interested in travel nursing. 01/03/2017
Everyone at TRS has been very wonderful. Professional and supportive. I highly recommend this company to my nurse friends. 01/02/2017
My recruiter is Sebrina Masterson and you couldn't meet a nicer person. She's supportive, attentive, and works hard for me. 01/02/2017
I have a FANTASTIC recruiter! I have found TRS supportive,available,helpful and reliable. There has never been an issue with pay. My recruiter frequently checks in on me and housing has been very helpful. 01/01/2017
Sabrina my recruiter has been most excellent she helps keep me on track and helps me to achieve my goals. The rest of the team makes sure all of my things are done as well because so much goes into traveling. 12/31/2016
My time with TRS has been great. Any problem that I had was promptly addressed. I was confidently in good hands. 12/30/2016
Sebrina Masterson works hard for her nurses. I am pleased as a travel nurse. 12/30/2016
Sabrina is really helpful, caring and does her best to make sure that I have been taken care of in my assignment. Thank you 12/30/2016
My re recruiter.is.excellent! Very.im in tuned toy needs. 12/30/2016
I was with a different travel agency that I was very unhappy with. TRS is by far the right solution for me. 12/30/2016
I have worked 2 assignments now and am pleased with my recruiter Jan. Pay is accurate & jobs are available where I need to be for now. I recommend to anyone that is looking 12/30/2016
This Agency has a very hard time paying employees on time. Every other week there was an excuse why I hadn't received my paycheck. The process paychecks so late that there is always problems. One Friday nobody got paid. When you call they get frustrated. I wouldn't recommend this agency. 12/29/2016
Contracted ended by facility. Nurse was cleared of wrong doing. Nurse was not paid. Was assured by 3 employees would be paid with no penalty's. Company now refuses to answer calls. 12/27/2016
I have worked for The Right Solutions since 2005. They are a great company to work for! I've had 2 amazing recruiters throughout the last 11 years and I love them both! Virginia and Shaunna are awesome to work with. They actually care about you and work very hard to make sure you're taken care of. I had a negative situation with a hospital when I had a death in my family. TRS stood behind me the whole way and was very compassionate to me and my family when the hospital refused to be. I've worked for a few other companies here and there but I've always returned to TRS. 12/13/2016
Use another company! They do bad business 11/17/2016
I started out with this company feeling great. Next place was ok, not great but probably my fault for choosing . Next place, fantastic assignment with less pay than every single traveler there. Mind you, 75% were traveling nurses, some were baby nurses, some on the first contract. I put my foot down and couldn't get an offer or an interview the next time. I did feel like a number, my recruiter had no real knowledge of the actual breakdown of numbers. I felt like they did not care if I worked at all. I personally don't work away from home for the fun of it, it's the money. Plain and simple, I got screwed. 11/03/2016
I am sad this company has turned into a for profit run by son in laws no longer a nurse company. They don't care about the nurses, their loyalty or their feelings. You ARE a number here!! After years searching for a new company. Sad sad sad 10/19/2016
I cannot even imagine working for another company. Seriously. I can't imagine a place being nicer and easier to work with than everyone at TRS. They are the best, I just love Jan Steele my recruiter. You feel as though everyone here cares that you have a good experience. 07/25/2016
TRS was the first company I traveled with in 2006. Although I have went with other companies a couple of times I have never found any better than TRS. Regina has been my recruiter from the start and she has always been behind me. Pay has fallen some in the last 10 years but that appears to be a system wide problem that needs to be addressed by all travel companies. They have been very flexible to my housing needs and recently started finding positions for both my wife and I, since we do not work in the same specialty that can be hard to accomplish, but they work hard on it. I have and will continue to recommend The Right Solutions to anyone. 07/16/2016
I am a new traveler but I have enjoyed my assignment. My recruiter, Regina, made it really easy and I have had no trouble contacting her. Once when I posted feeling kinda homesick, she called just to check on me. That really exceeded my expectations of a company. I feel cared about by my recruiter and you should too. 06/27/2016
TRS is a honest company and was there for me when they didn't have to be. Jan is truly awesome and tuned in to nurses. I like that you can call them anytime. 06/09/2016
TRS is a honest company and was there for me when they didn't have to be. Jan is truly awesome and tuned in to nurses. I like that you can call them anytime. 06/09/2016
This company did not pay all the hours I worked, nor differentials till I seeked legal advice and my recruiter was not knowledgeable about my contract nor readily available and sadly caught her in lies the Director compensated for, versus assisting her in growing as a human being, be forewarned: the integrity is completey lost at this agency. 02/15/2016
You want a company that watches out for you. Sometimes the little things become the big things! TRS has always listened to what I say and have followed through on making my assignments better for me! 01/08/2016
Jan.TRS.The best.!#¥*BOOM#%!** 12/22/2015
The Right Solutions is the best company to work for, they are always there for you. Anita Johnson is also the best recruiter a nurse could have. Thanks TRS and Anita for making me apart of your family. 12/20/2015
The Right Solutions is the best company a person could work for, they are always there for you! Anita Johnson is also the most amazing recruiter that any nurse could ask for!! Thanks TRS and Anita for making me a part of your family!! 12/20/2015
I love my recruiter, Virginia. She has always been very supportive. I recently had the pleasure of meeting her in person at the main office, and everyone I met was friendly. 12/14/2015
The Right Solutions is a great agency to affiliate with. This organization is nurse owned, nurse led, and nurse operated. The recruiters have actually worked as staff nurses and understand the day to day challenges that nurses face. The benefits are outstanding, and the gained support system is phenomenal. I am very fond of this organization and cannot wait to see what is yet to come. If you're looking for a travel agency, take a chance on The Right Solutions. You won't be disappointed! 12/14/2015
They have treated me great!!! 12/11/2015
This is the first travel agency that I have been with. I have heard horror stories from coworkers about other companies, and I feel very fortunate to have signed on with The Right Solutions!! My recruiter Cassie Riddick is very helpful, and I am very lucky to have her with me throughout my travel experience!! 12/10/2015
Very pleased with this Agency 12/10/2015
Great experience for my first time traveling! So glad I am going forward in my career! 12/10/2015
I have been with TRS for six months and it has been a great experience. My recruiter Anita keeps it honest with me and is available whenever I have an issue. I will recommend this agency to anyone. They care about their nurses. 12/10/2015
First travel company I've worked with. Couple of hiccups in the beginning, but things were great after getting ironed out. Credentials and housing dept are awesome. Paycheck is always right and on time. Recruiter has went to bat for me a couple different times. Would recommend to other travelers. 12/10/2015
Shaunna N is awesome. Thank you for all you do!eAzilaband 12/10/2015
Robin is great and takes care of the nurses. 12/10/2015
I love working for The Right Solutions. Everyone is so friendly and bends over backwards to assist in any way. I strongly recommend them to any traveler. 12/09/2015
I enjoy the field and would recommend traveling to all nurses. 12/09/2015
My recruiter is great and very friendly. I can reach her almost anytime I need to during business hours and she texts sometime to check in on me. The only issues I have so far is that they don't fully reimburse for certifications and I can't get a clear definition of what "guaranteed hours" means, so I've had some discrepancies on a few checks. 12/08/2015
Virginia Johnson is awesome recruiter. She goes above and beyond for her nurses. 12/08/2015
Just started traveling! T.R.S. has been wonderful....little hiccups here and there but nothing major. 12/06/2015
Love this company! My recruiter works hard for me. Checks with me often and returns calls quickly. I have referred several nurses to this company. They also provide generous bonuses! 12/06/2015
The Right Solution was my first travel agency experience and they made it an enjoyable one. If I choose to pursue travel nursing again, they will definitely be the agency I seek out. Awesome friendly staff and response times to questions asked. My recruiter Regina, always checked on me to make sure I was alright and to see if I had any needs. What a great experience I had! 12/06/2015
A very good agency that is very supportive.Jan has been the most experienced and most trustworthy recruiter and worked ER. I don't plan on leaving. 12/05/2015
Would recommend 12/04/2015
I love working with TRS. I have recommended several of my friends to them. 12/04/2015
Wonderful agency to work with over the last year. They have competitive pay rates for the area and are ready and willing to help with whatever our needs are before and during our assignment. Virginia, my recruiter, is exceptional. She has made herself readily available from the very beginning and met all our needs. Gets us the answers we need in an efficient time and always connects us with the right people. Its been nothing short of a positive experience for us. 12/03/2015
Have been traveling with The Right Solutions off and on for 5 years.....Have had no problems with them and enjoy being a part of their team ... 12/03/2015
na 12/03/2015
I have been with TRS since I started traveling a little over a year ago. TRS gave me a chance even though I had been barely licensed for 1 year. So far I haven't had any troubles with them getting answers, support or paid. Regina is my second recruiter, Karissa was my first. The first moved on to a different job, but informed me so I was in the know when I received a call from Regina. When I call I give my name, not a number. I have recommended them to other RN's and will continue to do so. 12/03/2015
They are the best Co out there they understand because it's ran by nurses 12/03/2015
Great to work for! 12/02/2015
It's been good so far lashona burton is awesome 12/02/2015
My recruiter MAKES this company for me. Frank is the absolute best and I am so grateful to be working with him. He makes me feel like I am a priority to him and he always takes time to talk, explain or work out any problems. Some people in the housing department seem a little flaky sometimes, or maybe just don't take the time to communicate. Aside from that department, everyone else I've worked with there has been helpful and competent. 12/02/2015
The Right solutions is a really awesome company, I just can't think of switching companies, they are really great! 12/02/2015
They have gone beyond what they had to. When I'll and could not work, they paid my insurance for me. When needed flight home when family issues, they bought the ticket. They have done many other things for me. They know my name when i call. 12/02/2015
We I go in to an assignment I don't want to be thought of as a an agency nurse but as staff giving the same care as their permanent staff I want my addition to be valid and valued .using my experience to elevate the care of the patients. The Right Solutions help me to accomplish this goal. 12/02/2015
have worked for 12 yrs as a travel nurse and have found that finding the right match can be difficult. I believe that I have been able to find a long term relationship with this team. Have been very helpful and understanding as the process moves forward. 12/02/2015
H 12/02/2015
I'm new to this but so far, so good 12/02/2015
I started with Karissa but she made a move within the company (yay Karissa!) then was teamed with Regina. She has been great also. Not only would I recommend TRS, I HAVE recommended them. We travel in a 5th wheel now, but we didn't the first 2 assignments. Kathy made sure I was satisfied with my housing. I am starting my 5th assignment with them. Not bad for only being a nurse for 2 1/2 years!! 11/11/2015
My first agency but i am so happy that i will not try any more. I am staying. My recruiter is the best 09/11/2015
Good company. I'm a Jan fan. and Kathy in housing. And payroll talks to you directly. Fill out your timesheet right or they will call you 08/10/2015
This company is only interested in the hospitals side of things. As a single nurse, you mean nothing to them. (name removed by admin) is the worst person and will lie to you straight over the phone. She starts out friendly then turns nasty. Believe me YOU are just another nurse at this place. Do NOT take an assignment with them because if anything goes wrong, they do NOT have your back!!! 08/06/2015
Great people. Karissa has been very helpful during assignments. 04/30/2015
Wonderful agency and friendly people. Very helpful during assignments. 04/30/2015
They are extremely nice, the recruiters and if you can't reach your recruiters there are always other people that can help you and get you the right information. It is owned by nurses and I really like the way the company is set up, they really know what you need. And they are really great if you need advances on paychecks, and actually I got in a bind and they really helped me out. They bend over backwards, and I really feel like they really value their workers and like their slogan says I do not feel just like a number. They have a lot of different departments, like housing department, they have credentialing, I think there is a license department if you need a license by endorsement. Anyway, not sure if other companies do this but it is really nice, you don't feel like you are all on your own, you can always call and get someone to help you. 04/20/2015
Jan Steele has taken good care of me. She is a seasoned pro, has literally walked "in our shoes" which is HUGE: she gets it and gets us. 02/27/2015
Great people! I love working with TRS! 12/31/2014
Excellent company to work for! 12/18/2014
I tried to travel for two years but I did something stupid when I was young and agencies said that was why I wasn't getting an assignment. Jan called me and listened to my story and told me I wasn't traveling because of that and that it was the way I saw myself. She had me do over my skills lists together with her and told me not to bring it up in hospital interviews unless I was asked about it. She said do you realize what a great nurse you are? Look at what you have done. When we were done I knew I was going to get travel and now I am. 12/13/2014
I have always been pleased with the care and dedication of my recruiter. She is the absolute best (Virginia Johnson) 12/11/2014
Been with TRS for several years. Will continue to travel with them. Been with the same recruiter. It is important to me to have a recruiter I like, trust. 12/11/2014
Enjoying working with this company, great assignments in my area. 12/10/2014
TRS is the best Travelel company I have worked for. They looked out for me in the winter time and roads were closed and could not get home. They got me a hotel room for the night till roads were open. They are like family and help you even when you had a bad day. They keeped me and my husband on assignments all the time. We never whent without working. They also have insitive program that is great!!! I love this company!! 12/10/2014
Jan Steele really put me at ease on my first assignment & I look forward to many more. She answered all my questions & is always a phone call away. I met Diana Wright the owner & could not have felt more welcome. What a breath of fresh air from the chronically understaffed job that I left. 12/09/2014
no comments2123 12/09/2014
I have been with The Right Solutions for almost 14 years and they Have always been there for me. Even when I had car trouble, help was a phone call away. I will certainly do more contracts with them! 12/09/2014
Virginia is the best Recruiter. Always trying her hardest to get the assignment and specs the way you want. Once on assignment she stays in contact and goes above and beyond when a problems arise. Will stay with this company for that alone. 12/09/2014
A company where you are more than just a nurse, you are a person! Are there for their employee from day 1, are in constant touch to make sure your needs are met. Competitive pay package and benefits. Would def. recommend this company. I have an excellent recruiter and team of supporters. Thanks so much for all the support and comfort that has been provided 12/04/2014
Always know who i am when i call...always take care of me or any issue. Always listen to my requests. They try to please me and make me feel important. 11/21/2014
TRS truly mean You're a nurse NOT a number! I started traveling with them and have no want to look at another company. I'm always able to get in touch with my recruiter or anyone else in the office within minutes. Diana (The owner) gives us her personal cell phone if we ever feel the need to contact her. The pay is exceptional and the benefits available are remarkable for a "travel agency". I'm never in question of where I'll be going next, Robin is on it 6 weeks before my contract is to end. I work with several different agency nurses and in comparing our companies (we all do it) TRS ALWAYS comes out ahead. I'm not just an employee, I'm part of an awesome family!!!! 11/20/2014
At any time when i might be lost around an area of construction on the highway- i know that i can call my family at TRS and they will walk through a route i can go to get to my destination. i can depend on my company TRS for any need that may arise while i am away from home on assignment. 11/19/2014
I have the best team of employees working for me and the best recruiter. 11/18/2014
my recruiter needs to be selling cars never returns calls within 24-48 hrs ??? and acts as if he has my back ??? i have traveled again for the last few years and been with 5 other co. and never never been so humilated he really is a crook and no medical industry should ever have any on there staff such as this character and will just reflect the co as a whole 11/13/2014
I have traveled for TRs for 4 years in OKLA. and I know a bunch of travelers that do to. It is the best travel agency out there and Jan Steele is the best recruiter. When you go there you meet the staff and I met Diana Wright who is the owner and who is fantastic. 09/06/2014
Narcotic use by travlers is not something that can be fixed by blaming anyone but yourself. If you go on assignment and are sent home by a hospital due to controlled drugs showing up in your pee then wake up cause it doesn't matter who approved it beofre. You need to get help. Point that finger at yourself and not the agency or the hospital. . This agency does stand by their nurses. They had to stand by me so I know. 09/06/2014
If you are looking for an honest, efficient, reliable, professional and reputable company then DO NOT WASTE YOUR TIME HERE! This agency is bad, very bad! I was lied to by my recruiter a few times, then a manager called and also lied, backing her, of course. She would not return my calls promptly or most times not even call me back; especially if she knew I was upset with her or the company. They sure as hell did not back me. They actually caused me problems at the facility. This company does not care or appreciate you at all! The motto "not a number but a nurse" is a bunch of crap!!! I will NEVER work for this company again!!! 08/20/2014
I recently completed an assignment with this company. Housing options were only roach motels and too high hotels. They deduct housing right out of your paycheck. The so called bonus is not a bonus, it is gas money if you choose to drive. I was told on numerous occasions that I would bring home at least 700-800 per week after taxes. Lie. I was getting 40 hours and it did not make a difference. I had to beg other nurses to let me work their days to get over 40 and I still did not get 700/wk. The recruiter was not prompt with getting back to me. Then when I did get a phone call it was never good news. If you travel with this company, stay with family or anyone. The housing will eat your check alive! My last paycheck was 0.00 due to housing and they supposedly were going to prorate my gas money and ended up giving me 150.00 then taking it out of my last paycheck. Really sucks. 08/15/2014
Do not work with recruiter Jan S. she lied to me about my up front "bonus". I passed all the tests they put me through, including a urine drug screen. The company gets me out to Texas then the hospital (Northwest Texas Health System)does not want me because I took a urine test for them that came back positive for a prescription medication. I had my pharmacy printout I was told to bring but they did not care. The Right Solutions never backed me up and my recruiter, Jan, completely ignored me after that. I incurred expenses that were not all reimbursed. The company then told me they did not want to work with me anymore!!!! I cannot in good conscience recommend this company because of Jan S and Caleb E. Save yourself a headache and lies and go with a more reputable company. These people will turn on you like a cobra. 08/03/2014
The Right Solutions motto is "not a number but a nurse", and they live up to this motto. This the first time I have been a travel nurse and they very helpful in my transition. I thank them for all their personal touches and help with understanding things. 05/10/2014
This is my sixth travel assignment but this is my last agency. I had never heard of them but these people are very good and professional. I have a recruiter who is honest and tells it exactly how it is. Jan S. talks to you about work and understands it, She was a nurse and respects nurses. I feel like this company is glad I work for them. 04/02/2014
I will continue to travel with this company. Have been with them a long (10+) time. I have the best recruiter. They have backed me when things were tough. They helped when I lost my mom. When I had medical problems in alaska, they flew my husband up. Can't say enough about them. I just wish insurance would catch up to the other fantastic parts of this company. 02/06/2014
My recruiter is Jennifer Carlton. She is an RN, and I love working with her. She understands what I'm doing day to day, and has my best interest at heart. Quick to return calls, and is available at all times if I need her. 01/23/2014
Just tell them what you want specifically and they will do their best to accomodate you if possible. 01/09/2014
Great agency to work for. Have and would recommend them to co-workers for placement. 01/07/2014
Extremely good agency. 01/02/2014
I have enjoyed working with TRS. They work very hard to find assignments that match me very well. 01/01/2014
I would recommend them to any traveler 01/01/2014
this company was amazing in helping me transition into the travel nurse life. I was afraid of being away from family with my first assignment, but my recruiter Jan Steele made sure I was secure in my setting and she has been there for me every since. The company is like having you family with you at all times they never let you feel alone and they go out of the way to make you comfortable and make sure the assignment is everything it promised to be. Great company to work for. 12/31/2013
They are always there for me! No matter what the problem. They sent me small gifts and notes for encouragement ( especially when I was grieving). I can talk to any of them and they would do everything possible to help me. 12/31/2013
Great company! Really care about their employees. 12/17/2013
I have worked for The Right Solution for five years. During that time I lost my mother and husband to death. I had never seen a company be so supportive. I left The Right Solutioh for one contract and could not wait to go back. I would recommend this company for the benefits the offer such as the Christmas Bonus and federal holiday pay. A lot of company do not have that. The pay rate is also good. They also put you in good safe housing. So, If you are looking for a travel company come on home. 12/16/2013
I feel catered to by The Right Solutions but best of all I feel safe knowing that they are always looking out for my best interest!!! 12/16/2013
Have been with this company for over 11 years now. I like that I know who I am talking to and they, most, know me. I don't have to go over what housing I want, where I want to go, or deal with a new recuriter each time. Robin Clark knows what I want and what I will take without having to go over each detail. This company has helped me out more than I care to explain. They have your back every time. 12/13/2013
I have had the wonderful opportunity to work with this great agency. It was after researching several agencies that I chose The Right Solutions, and I have not been disappointed. My recruiter is amazing, and is always available when I need her. Not only is she available, but she and the other staff at The Right Solutions invest themselves in their nurses, always going above and beyond to do anything they can to answer any questions or solve any issues. The Right Solutions is a great agency, and I would recommend this agency to anyone wishing to travel. 12/12/2013
Eager to help and always available. Regina is my recruiter and has been since day one and she is the best at what she does! 12/11/2013
Great honest supportive company to work with! 12/10/2013
This was a completely new working atmosphere for me when I started and TRS has been an exceptional company to work for. They do their best at placing you where you choose; they help you in time of need; and most importantly, they appreciate you for the work you do. If traveling is not an imposition for someone, I would recommend TRS to anyone. It's nice to know there are companies still out there who value the people who work for them. 12/09/2013
This is my first time as a travel nurse. The company motto is that you are not a number but a nurse. I have found this to be very true. They have been quite supportive of me and my situtation and have been able to make suggestions to improve my market value. My recruiter has been there for me thru the whole process. 12/06/2013
I absolutely LOVE working for TRS!! My recruiter is AWESOME, I've never been without an assignment, I've never not been able to get in touch with her and she makes me feel more like family than an employee. My pay has never been an issue, highly competitive and always on time. I would recommend TRS to every nurse that is looking for loyalty, respect and understanding from their company. After all the owner has walked in our shoes!! 12/06/2013
This company was fantastic and if it wasn't for life changes at this time, I would continue to be with them. I will go back in a heart beat if circumstances permit 12/05/2013
Easy to work with. Quick to get back with me. Accomodating to needs. Very supportive. Specify any bonus money or dates off in contract. 12/05/2013
I have been with my company for 10 years and I still have the best recruiter who takes care of my needs at all times.I wish they would get a better deal with health insurance. 12/05/2013
Worked hard at trying to get me a second assignment. 12/05/2013
I have done about 8-10 jobs over the last 10 years with this co. Heard some bad things about other agencies when working with other nurses, so never had a reason to stray. If something isn't right they fix it right away. I always recommend them to my fellow travelers. 12/04/2013
I started out on my first assignment with TRS on 09-11-01, a date which none of us will ever forget. My experience has been very positive. I have had Robin Clark as my recruiter for all of these 13 years and she has been wonderful. She always finds the perfect assignment for me and has always been there when I needed her. This company is honest, reliable and professional. It is like one big family with a lot of employees who have been there for as long or longer than I have been. In short I trust them to follow through on any problems which might arise. I have heard horror stories from other nurses, which is why I do not even listen to the other companies who call me. I feel like a member of the TRS family for good reason. If you want the best assignments from people with big hearts go to TRS 12/04/2013
I feel like they're my extended family. They know me by name and treat me as if I were part of their family. They work hard to make sure I'm happy. There's not more than any traveler could ask for than this. 12/04/2013
I always get my own housing 12/04/2013
The Right Solutions, is a Good company to work for, always there when I need them. Have made some good friends, people I know I can count on 12/04/2013
TRS says you are a nurse and not a number and I believe that. My recruiter was first someone that I really didn't know but taught me a lot and knew what I was talking about because she is a nurse. Then she was someone I trusted. Then I was in a crisis and she was there. Now she is a friend. It would take a whole lot to get me away from this company.Thank you Jan Steel and TRS. 12/01/2013
My recruiter, Sarah Charlton is the best recruiter I have ever had. I have traveled with numerous agencies and she is top of the heap. Everyone at the agency is prompt at returning calls and handling any problems I've had. I've never had issues with paycheck being correct. They go above and beyond to find me the best pay rate in the areas I want to travel to. 11/10/2013
This was my first travel assignment. My recruiter Sara Charlton was absolutely fabulous! She informed me every step of the way about what to do. She was my listening ear when the assignment was hard. She checked on me several times a week. I never felt like a number. I even received a phone call and gift from the vice president about the 2nd week of the assignment. I would definatley recommend this company! 11/05/2013
Very good company. They really do care about their nurses. Have been to the home office and you are known by name (not a number). They are a very friendly company that treats you like a person. Have worked with other company before and you get a recruiter that is only trying to meet his goals that doesn't care about you. I would recommend this company over and over. My recruiter Jan is wonderful and really tries her hardest to get you the right job. 08/21/2013
This agency really cares about their nurses. 06/27/2013
Clarify what you are really looking for and any expectations you have. They will be more able to identify the right assignment the more information they have about you. 06/27/2013
Very nice company to work for. 06/06/2013
My recruiter is Jan Steele. We've been together since 2007 and she's awesome. I don't have to inform her of where I would like to take my next assignment because she knows me and what's important to me. She's never failed to get me where I want to be. I think this company is AWESOME!!!!!1 05/07/2013
This company is the best one. My recruiter Jan is a nurse and was able to get me an job where the others didn't. They are all friendly and helpful. 05/06/2013
Be detailed what you will and will not do skills specific. When doing a phone interview with a facility, have a list of questions that are important to you. Have it stated in writing in your contract exactly what you will not do or not competent to do. Contract either a week or extended weekend in the middle of your contract to take a vacation. It will make it easier to complete those extra challenging assignments and will extinguish burnout before it gets too big to handle. Google the facility you are considering. Find out every thing possible about it so as not to be surprised after you sign the contract. If possible, find out what a ficility is providing their employees in the pay rate area, including what they pay while on call. You should never settle for less when the employee receives more. Chances are as a traveler, you'll be assigned the biggest load of the call schedule. And if after the interview you don't want to go with a facility for your own personal reasons, don't take it. Don't settle. Go for what you want. If it's not there at first, keep looking. 04/27/2013
The staff @ TRS have always treated me like family. My recruiter is in contact with me on a regular basis. I feel confident that my calls ( to any department) will be returned in a timely manner. The official e staff goes above and beyond to assist me with whatever questions or concerns I may have. 04/22/2013
I have been with the same company for 9 years. This is because of the knowledgeable recruiter. My needs are specific and my recruiter has worked very hard to be mindful of what's important to me.She is not only my recruiter, she has become a great friend. 04/19/2013
Look for completion bonuses and nurse referral bonuses. This company really tries to place you in region you prefer. They also try to meet all housing accommodation requests if available in region you will be working. They care about their nurses. 04/17/2013
One thing that I have found very satisfying from this company is if there has been any issues, they are solved very quickly, efficiently,and to mutual benefit. And I have always had great support not only from my recruiter, but with whatever department I have talked to. 04/15/2013
Wonderful people to work for always so helpful and friendly and they care about you as a person. 04/01/2013
Extremely nice feeling, knowing you are not alone out there, on assignment. I feel they are always avavailable to me, day or night! 03/31/2013
This is a great company to work for and they treated me like family. 03/31/2013
none 03/28/2013
TRS is an awesome agency! I absolutely feel like I am part of a family here! My recruiter, Angela, is wonderful! They actually have several recruiters who have been with TRS for over 10 years...that says a lot about the company right there! When you call, a "live" person answers and will transfer you right away to whoever you want to talk to. If I have to leave a voicemail my calls are always returned quickly! I started as a first time traveler and was very appprehensive, Angela and all the different departments were with me the whole time! They have even started a new program now where one of the managers calls you after your first week of the assignment just to check in and also send a gift! Their loyalty program is awesome...I am close to reaching the Emerald loyalty level...the biggest choice I am havig at this point is trying to decide if I am going to take those Emerald earings or the cash!!! I will not travel with anyone else but TRS!!!! 03/28/2013
Always there in my time of need. 03/28/2013
there is no positions availabe I feel i have to check on my own for openings with the facility 03/27/2013
I have been with TRS since 2006 and have tried a few other travel agencies during this time; however, none could measure up to TRS for taking care of their travelers. 03/27/2013
I have totally been impressed with TRS and will continue to Travel with them for years to come. The staff is prompt and very friendly and treat you as if you are a member of their family. Amazing company to work for. 03/27/2013
I have worked with the Right Solutions for the past 13 years. I first worked with them as a Supervisor on the Navajo Reservation, using their staff to fill our needs. When I decided to travel I considered how the company treated the facility and their Nurses. I appreciated how they treated both the facilities and the Nurses and decided to tracel with them and have continued to do so. I worked with Robin Clark both with filling the needs of the facility and as a Traveler. She is always available and concerned about you and your needs. 03/27/2013
I have worked with this company for the past 13 years and continue to work with them. They are always available to take phone calls and/or messages. They treat you like family. I actually worked with them as a supervisor using their staff to fill positions and liked how they took care of the facility and their staff which influenced me to travel with them when I decided to travel. The Recruiters are always available to answer your needs. 03/27/2013
Recruiters are very knowledgable and very accessable. They go the extra mile 03/27/2013
My recruiter checks in with me weekly to ensure everything is going smoothly with assignments. There is always someone available to answer questions or resolve any issues that may come up in a very timely manner. Attentive to my professional goals and travel preferences, work diligently to find me assignments that best suit them both. 03/26/2013
I have been a nurse traveler with several different companies and TRS is very downhome they treat you like part of the family. If you ever need someone to talk to and be in your corner this are the people for you. Ms. Davis is a wonderful recruiter she really looks after me. 03/21/2013
I have worked with TRS for over 5 years and have NO desire to travel with any other agency. ROBIN CLARK my recruiter is the BEST in the industry. 03/21/2013
This is absolutley the best agency. Would not and have not worked for any other group, because TRS is a family of people, not just numbers of people. 03/21/2013
The Right Solutions offered me a great first assignment and has been offering me great assignment since then. They really treat me like an individual and provide the care and support I need while on the road. My recruiter, Angela is always available when I need her even if it is just to vent about my day. This is definitely the agency to choose if you want to feel like part of a family! 02/26/2013
I have worked with this agency for 6 years. As at traveler you will run into problems regardless of the company. TRS, addressed any and all of my problems with a sense of urngency no matter how small. MY recruiter ROBIN CLARK is THE best. TRS is not only my employer but my family. 09/13/2012
my mom has worked for them for 6 years. they have helped her out with many situations with family tragady. Would reccomend them again to anyone. 07/25/2008
my wife has worked for them for 6 years. they have helped her out with many situations with family tragady. Would reccomend them again to anyone. 07/25/2008
have worked for them for 6 years and love it. have helped me out with many situations with family tragady. Would reccomend them again to anyone. 07/25/2008
Without a doubt the best company I've signed with so far. 09/19/2007
This is the only agency I have worked with. There are somethings that I don't like but wonder if other agencies will be better or worse. Remember the agency is out to make money too and are not worried about one nurse. Nurses are expendable facilities are not. 06/24/2007
I can't say enough about this company as a whole. I was having trouble getting my license for the assignment and they assigned me a specialist to assist me, and reimbursed me the cost once I was working. The money is very good and everyone is very friendly. I will work with them again! 12/20/2006
Great service, good benefits, great recruiters, The owner is a very sweet lady and it impressed me that she would take the time to talk with me personnally (this is a large agency.) I will definately travel with them again. 12/20/2006
The way they do their deals really maximized my paycheck. With the tax free money my take home was the equivalent of making around $50 per hour. Also, the housing department was great, and I love my recruiter, Jan! 12/20/2006
I just finished an assignment with TRS in CA. I have 2 years experience, I think I will take another assignment with them after january 1, so far pay and housing has been good, these are my two areas of biggest concern. I am not too concerned about benefits because my husband has insurance. 12/14/2006
This is my 1st travel contract. I researched & was recommended this agency. The owner Diana Wright has accomodated my requests and so far all has gone very well. I love the area I am in & will definitely travel with them again. 12/13/2006
I have had 2 good assignments with TRS, so far I have had no problems....I hope to go to Alaska in a couple of months....I am a Surg Tech. 12/13/2006
My second assignment with TRS, Anita has been great. I love my apartment although I wish it had a dishwasher. 11/17/2006
This is my first experience with a travel company. I have been told that I can make more money. The insurance is not the greatest. They are always there for me when I need something. (so far) 10/02/2006
Don't get stuck with this place!
If you want to get ripped-off, this is the perfect agency. Want to lose your license on an impossible assignment? Perfect agency!
This company is very bad!
Pay is low, housing is a nightmare, they don't support you at all. Do not get caught up with this agency!
This agency is the worst I have ever traveled with. You can't believe anything they tell you!
The name of this agency is actually totally opposite of what it should be. It should be called All Wrong and We Have No Solutions! Don't get scammed by them! They mis-represent the pay, and put you up in ghetto apts., then deduct the apt. costs from your check! RUN!!!!!!!!!
Have the best recruiters who get back to you in a timely manor.
Have done 6 assignments with them and have signed for a 7th. They have always stood behind me. They have helped out when had a family emergency and made it possible to take a leave of absense if needed.
Return to top of page
---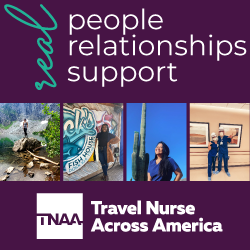 Click here for advertising info