Travel Nursing Agency Ranking Results
Each ranking is averaged and updated on a continual basis. The highest score for an agency is 100.

Go back to travel nursing agency rankings.

Click here to view a list of over 300 agencies and their contact information.

Travel Nursing Company Review of: PPR Travel Nursing

Score
(all time)
Score
(within 1 year)
1. Knowledgeable
3.7
3.4
2. Friendly
3.7
3.6
3. Efficient
3.5
3.2
4. Honest
3.7
3.4
5. Pay rate
3.5
3.2
6. Paycheck accuracy
4
3.4
7. Housing
3.8
3.2
8. Benefits
3.6
3.1
9. Supportive
3.4
3.5
10. Assignment selection available
3.4
3.4
11. Individualized
3.4
3.5
12. Insurance plan
3.5
3.1
13. Reliable
3.5
3.5
14. Accessible
3.4
3.4
15. Reputable
3.6
3.5
16. Accommodating
3.6
3.5
17. Professional
3.6
3.5
18. Paycheck arrival time
4.1
3.5
19. Chances you will recommend this agency
3.6
3.5
20. Chances you will work with them again
3.6
3.5
Total Score (number or rankings)
72.2(41)
67.9(8)
Hands down my favorite group of people to work with! My recruiter Sarah Abramson is amazing! She listens to my needs and works wonders when finding me assignments that I want (I've been pretty picky). I find pay to be comparable, if not better than other companies. I haven't had any issues that didn't immediately get taken care of. Every person I've come into contact with at this company has been so friendly and helpful. 04/28/2017
I have worked off and on with PPR but am back again because they seem to just be the best. I trust my recruiter, the pay is great, the insurance is awesome and the options are excellent!! I have my recruiters cell phone 04/19/2017
IN doing this job in this role, you hear the horror stories. I've seen plenty of travel nurses get screwed over and end up changing agencies. Not so with PPR. I will gladly stand with them and recommend them to any one considering the travel nurse lifestyle. They've never done me wrong and in fact, in a shocking twist, they listen to me. They fight for me when things aren't quite going well on assignment. I would be remiss if I did not mention that my recruiter, Stacy P, is the bees knees. She is so responsive and proactive and caring towards what is going on with me and sometimes even beyond nursing. She's amazing, plain and simple. PPR is a company I see myself staying with for the foreseeable future, no doubt. 04/06/2017
PPR is an amazing company. My recruiter is always available and stays on top of things. My wife and I travel together and she has always been able to find us great jobs at the same facility. We tell her where we want to go and she finds us great positions. My checks have always been on time and I've never had a problem getting reimbursed for certificates or licensure. PPR is amazing and I'd never travel with any other company. 04/06/2017
If you want an agency that puts nurses first, this is your agency! I've been with PPR for two years and I could not be happier. My pay is always top notch and my recruiter is always prompt with responding to me. I have yet to pick a job location that I didn't get because my recruiter is the best in the business. Take my advice and look no further! 04/05/2017
lowest pay, bad service and their employees from recruiter to CEO don't care about nurses. Recruiter Rosie is stupid! If u ever transact with this agency especially with Rosie, pls do everything via email for your proof because Rosie will lie. 04/05/2017
They will low ball you especially if you have accent. They are also nice in the beginning but not after they got your business. Hard to reach them especially if you are in the west coast bec they are all in Florida. They ignore calls if they know you need something from them. 03/03/2017
Do not sign up with this agency. I made a wrong choice. I learned I am have the lowest compensation package among all travel nurses from various agencies in the facility. 03/03/2017
Great company to work for. I had many friends go through them before I started travel nursing, and they all had nothing but great things to say! When doing research for travel nursing, no agency compared to PPR. I know they will support me and genuinely care about my best interest at heart. Kayla Canon is my recruiter and she is fantastic! I would recommend Kayla and the PPR team to anyone! 05/17/2016
I haven't been a travel nurse long (just under a year) but I've done 4 assignments with PPR. My recruiter, Stacy Pavish is amazing. I know that she will do everything in her power to get me where I want to go and give me the resources I need to get there. She is always willing and patient when it comes to finding information for me or answering questions. She is almost always available when I need her and the few times she wasn't, she responded within 12 hours. If it had been emergent, I know I have ways to get in touch with her immediately and that she would be there for me. She is an amazing asset to her agency. I firmly believe that a recruiter can make or break an agency, Stacy is one of those that helps this agency thrive! Thank you for all you do Stacy! 04/13/2016
PPR is everything I want, everything I need, and more. My recruiter (I'm going to name drop here because she totally deserves it), Kayla Canan, is both a friend and the most professional and accurate person anyone could hope to helping them through the process of travel nursing. I hear other travel nurses complain about the woes of their companies/recruiters,and I'm always at a loss because all the staff at PPR has done nothing but the best for me. Thank you PPR!!! 04/13/2016
I absolutely love my travel agency. My recruiter is great and very personable. She is helpful whenever I am needing her and gets back to me within a timely manner. I have nothing but good thing to say about the company! 04/13/2016
PPR is a wonderful company to work with and for with travel nursing! Everyone is always so friendly and easy to work with and easy to get ahold of whenever you need something! Benefits are great and pay is competitive! They work very hard to get you assignment where you will be happy And content! Thanks PPR for being an awesome company to work for and with! So happy I made the switch :) 04/13/2016
Have had nothing short of a wonderful experience with PPR. Could not speak more highly of my recruiter, Kayla Canan. I recommend her and PPR to anyone I am given the opportunity. She and the company truly go above and beyond to support their nurses! 04/13/2016
Best agency EVER! 04/13/2016
Very organized. The recruiters are very responsive to all needs. highly suggest to anyone interested in Travel Nursing!! 04/12/2016
Great recruiter, pay is on track with what most other agencies seem to offer. Never an issue with my pay. Always know what is expected of me, company has thus far met my expectations as well. 12/02/2015
Like one person said, once they find out you are leaving, it's like dr. Jekyll and mr Hyde. The recruiter blames everything on you and said you should have done this and that and they couldn't worked better worked for you. And when you ask for copies of your documentation that you sent to them, like a physical that YOU pay for, it's a no. Impossible to reach at night when you have a problem. Overall a very poor agency. Very disappointed because they were awesome when I started. Now the recruiters never contact you to see how things are going. They just send out gift cards. 08/17/2015
Once they find out you are leaving the agency, all of a sudden, the real PPR rears its ugly head. Everyone is mean. I had an issue one early morning with paperwork that didn't sent from PPR and I couldn't a hold of anyone. They are rude in their emails and are very annoying because they will send one email for the same thing like twice a day. The recruiters are hard to reach and you have to leave several messages. 08/05/2015
Impressed overall 06/08/2015
This recruiter was nice until they were rushing my background check for an asap start. I told them it would take more than a week, and because no affordable housing was available, i would have to get my RV ready, then the day before the credentialling had to be in for the hospital, no one was available to speak to me at the agency, so I called HR, and the lady there was nice, and said that the QA contact at the agency was totally inappropriate in her language. The agency cancelled the pending contract and bullied me. I was very nice to them. 05/31/2015
Worked with them several times but this last time made me decide to never do it again. Inaccurate paychecks. Unprofessional and just plain rude conduct. Takes them days to respond. Trying to shove an assignment I have no interest in down my throat. Never again. 04/08/2015
Worked with them several times but the last contract made me never want to use them again. Can't get my recruiter on the phone. Paychecks are wrong. Very unprofessional. They have really gone downhill and that's a shame because they used to be top of the line. 03/11/2015
PPR is a fantastic travel nurse company. The housing is the bomb.com which is important a priority fir me! They are small but professional and attentive to your needs! Very customer service focused! They rock ! 09/27/2014
Been with PPR 5 years, my recruiter Mandy has taken exceptional care of me. 09/05/2014
Very friendly staff. Knowledgable and always helpful. 07/09/2014
I worked with them several times over a period of 2.5 years, and another agency also. My recruiter became very upset with me because I didn't accept an assignment in a location that was unacceptable to me for a good reason and told me if I didn't take it , he wouldn't have anything else to offer me. I did come back at a later time and was ripped off big time with housing and $75/week pet fees. Then when I went with another agency for the next assignment found my travel money had been left out of my contract. Be sure you check your contract closely before you sign anything. Ask to see it before you accept the assignment! 02/19/2014
Yes another agency that doesn't support you. This time I was fired for a Facebook posting that another nurse said I said. I have no evidence of this posting. Plus I am at home why is the nurse at work when she should be taking patients? They also said I was acting wierd? Ok. I am taking them to court for the remainder of my contract. They have no contacted Unemployment for my wages because, they fired me for the wrong reason. 10/01/2013
Good Company 09/20/2013
Had a bad recruiter, had to fight for what I wanted on a contract. Their web site says one thing but does another. Pay scale and insurance on par with other companies. The housing was great but they out source that. I think the recruiter really makes or breaks an assignment and mine was not receptive at all. 03/14/2013
10/20/2007
Have worked several assinments with this company. they have taken great care of me. 11/30/2006
I like the company. I am not satisfied with my recruiter. I have had 3 recruiters in 1 year due to them leaving the company. 11/08/2006
Traveled with PPR for my first assignment. All in all it went well. My recruiter was kind-of pushy though, and unsupportive of my decision to leave PPR due to them not having assignments in the state I wanted to go to.
Housing arrangements were excellent, traveling with pets, they found a very pet friendly place. Three cals to insure that everything was going well in the first 5 days of a new assignment. Everything that they stated would be was exactly as they stated.
This company fall short in the areas of Supportiveness and efficiency. Too much paper work. I am not for sure but they do not guarantee work hours.
My recruiter was a bit ditzy but she tried to get me the best deal
if a specific radius is needed for closeness to home needs, its much harder to get an assignment and you MUST stay on top of recruiter to make sure you have an assignment BEFORE your current one is up!
Be very careful with your contracts. You have to be sure you are signing the same agreement that is being made between you and your agency and them and the hospital. Be very involved in your choices for housing and location. If you have any doubts or have a website that is not accurate...DO not MOVE IN! Your recruiter may be very nice to you but I have seen when it really comes down to it the support is NOT there. Have fun in your travels!!
Return to top of page
---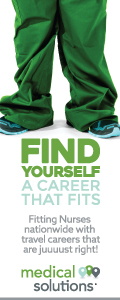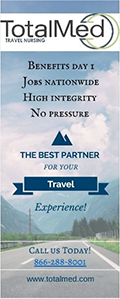 Click here for advertising info