Travel Nursing Hospital Ranking Results
Each ranking will be averaged and updated on a continual basis. The highest score for a hospital is 100.

Feel free to rank any hospital. You are not limited to the ones below.
Travel Nursing Hospital Review of: Brattleboro Memorial
Score
(all time)
Score
(within 1 year)
1. Friendliness and acceptance of travelers by staff
4.2
3.8
2. How open are they to allowing you to expand your skills while traveling?
3.2
3.0
3. Hospital Technology
2
1.2
4. Location (A nice area to live)
3.8
3.2
5. Cafeteria food
3.3
3.0
6. Parking
4
3.8
7. Physical layout of hospital effecient
3.7
3.0
8. Hospital appeal (looks)
3.5
3.0
9. Hospital orientation geared toward travelers?
3
2.0
10. Simplicity being initiated into the system (Do you have to do lots of unneccessary paperwork, drug testing, criminal background checks, etc. in addition to what the agency requires before you can start working?)
3.7
3.5
11. Reputation of the hospital
2.7
2.0
12. How nice are the doctors to staff
2.8
1.8
13. Friendliness of staffing office
3
2.0
14. Happy with the work scheduling procedure?
2.2
1.0
15. How efficient is their system so you can get your job done?
3
2.0
16. Adequacy of their nurse to patient ratio
2.8
1.8
17. How well staffed are they
2
1.2
18. How happy were you with your workload?
2.8
1.8
19. Staff morale (overall)
2.3
1.2
20. To what extent would you recommend this hospital to other travelers?
2.8
2.0
Total Score (number or rankings)
60.8(6)
46.3(4)
I worked in the PCU/SCU department(s) in the hospital. They expect travelers to be able to do everything, which includes working in PACU, doing after hour recoveries, regardless of having PACU experience or not. 07/20/2017
Housing was approximately 10 mile(s) from the hospital. The name of the housing complex was NA. Housing was located in city of Brattleboro. On a scale from 1 to 5, I would rate it a 2. Difficult to find housing in the area
I worked in the SCU/PCU department(s) in the hospital. I worked at this floor for four months, I extened a month against my better judgment. The facility recently switched over to cerner, and with that came a lot of tentions betweens staff, and a lot of drama and trauma. I worked night shift, and at night we were very short and expected to take up to 6 patients even if they were "scu" status. We had a lot of psych patients, and I mean a lot. I was punched and hit and after filling out an incident report nothing was done, just a I am sorry from HR the next day. The night shift supervisor , was awful, talked down to staff and travelers often and was caught often with her feet up on the desk on her phone while the nurses were scrambeling around to get patients admitted. There is a limited sense of team work, it is kind of an on your own experence. The manager was very arrogant, does not have the backround or education to run the floor she is relatively new from my understanding and not aware of standard procedures. Travelers beware of this unit, it use to be a good place to be but they cannot even keep core staff members at this point. Three quit while I was there. And the scariest thing about this place is that a lot of the nurses can walk away and say they have critical care experience when really they don't, and often were negligent enough to copy and paste assesments from other travelers just so they didnt have to assess their own patients. If you say anythng to the manger about unsafe practice she will give you a bad review. She will also willining take the opinion of staff over experienced travelers. I had one nurse write my name next to a patient I did not have to cover herself as charge nurse because she neglected to assign that patient a nurse eariler in the shift so she blamed the travlers for not taking the patient when we were already maxed out.. they also do recored report, yes no bedside report here. you go in the back with a tape recorder and record report and then at change of shift everyone goes and listens. dangerous, unsafe, negligent place to be. beware. 06/28/2017
Housing was approximately 15 mile(s) from the hospital. The name of the housing complex was I stayed with a nice couple in wilmington . Housing was located in city of wilmington . On a scale from 1 to 5, I would rate it a 1. nice couple in wilmington VT
I worked in the "ICU" / SCU department(s) in the hospital. Generally, You float a lot as an ICU nurse. You will be moved around the unit and be expected to take 5-6 patients at night. staffing at night is limited. Patients are generally easy to take care of in nature unless they are ICU. HCPs do not have the skill set or requirements to take care of vented patients, or critical patients. A lot of deaths occurred due to HCPs not addressing nursing concerns. Management was MIA. staff is generally good to travelers but very clicky in nature and will loudly talk about other people. would prob not come back here again. my skill set was often undermined. some staff not accepting to travelers. 05/12/2017
Housing was approximately 25 mile(s) from the hospital. The name of the housing complex was West Dover, VT. Housing was located in city of West Dover. On a scale from 1 to 5, I would rate it a 3. stayed with a really nice couple in west dover VT. nice area for those who enjoy skiing
I worked in the med-surg/pcu department(s) in the hospital. I worked here during a big transition time. The unit had just lost a lot of permanent staff. They were joining two units into one unit and doing construction. They were preparing for a new charting system. Management resigned. Morale was low BUT I was treated like a part of them team and I made great friends. The patient acuity was low but many times I worked without an aide. Patient load was 4-5 with max of 6 which happened one time. They will not max you with 6 without aid but I had 5 patients without aide several times. They do a mix of 12/8 hour shifts which ended up being very tiring for me so I probably wouldn't do it for longer than 3 months. The area is beautiful with mountain views from the patient windows. Small town vibe. 3 hours from NYC and 2 hours from Boston. Housing is hard to find as it is a small town. I was about 40 minute drive from hospital. 10/27/2016
Housing was approximately 25 mile(s) from the hospital. The name of the housing complex was vrbo rental. Housing was located in city of Dover. On a scale from 1 to 5, I would rate it a 4. Found a place on VRBO in Dover, VT fully furnished and utilites included. Was advertised for 250/night but this was ski season prices. Ended up being 900/month. Wonderful house and landlords. Would not recommend during winter as it snows a lot here.
I worked in the SCU/ICU department(s) in the hospital. This is a small community hospital with limited resources. Anyone really critical gets shipped to a higher acuity facility. They keep mostly detox, DKA, CHF, PNA... that sort of thing. Also of note, they do not have a peds unit so all peds patients are kept in the unit. But again, they don't keep really critical peds so not a huge deal unless you are adamantly opposed to peds altogether. The staff is very friendly but will certainly give travelers the heaviest load. That being said, they don't keep anything really unstable, so a heavy load there is a light load at most hospitals. Overall has been a pleasant experience. 11/05/2015
Housing was approximately 1 mile(s) from the hospital. The name of the housing complex was N/A. Housing was located in city of PROVIDED OWN. On a scale from 1 to 5, I would rate it a 5. N/A PROVIDED OWN HOUSING
I worked in SCU and I thought it was a great place to work. Nice area to live.
Return to top of page
---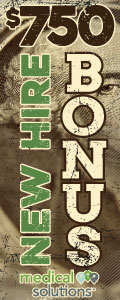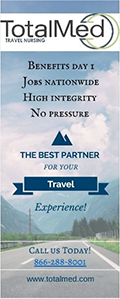 Click here for advertising info