Travel Nursing Hospital Ranking Results
Each ranking will be averaged and updated on a continual basis. The highest score for a hospital is 100.

Feel free to rank any hospital. You are not limited to the ones below.
Travel Nursing Hospital Review of: Baptist Saint Anthony
Score
(all time)
Score
(within 1 year)
1. Friendliness and acceptance of travelers by staff
4.7
4.5
2. How open are they to allowing you to expand your skills while traveling?
2.3
2.5
3. Hospital Technology
4
4.0
4. Location (A nice area to live)
3
3.0
5. Cafeteria food
4
3.5
6. Parking
4
4.0
7. Physical layout of hospital effecient
4
3.5
8. Hospital appeal (looks)
4.3
4.0
9. Hospital orientation geared toward travelers?
3.3
3.5
10. Simplicity being initiated into the system (Do you have to do lots of unneccessary paperwork, drug testing, criminal background checks, etc. in addition to what the agency requires before you can start working?)
4
3.5
11. Reputation of the hospital
4
3.5
12. How nice are the doctors to staff
3.3
2.5
13. Friendliness of staffing office
4.7
4.5
14. Happy with the work scheduling procedure?
3
2.5
15. How efficient is their system so you can get your job done?
4.3
4.0
16. Adequacy of their nurse to patient ratio
3.3
3.5
17. How well staffed are they
3
2.5
18. How happy were you with your workload?
3.7
4.0
19. Staff morale (overall)
4
4.0
20. To what extent would you recommend this hospital to other travelers?
3.7
3.0
Total Score (number or rankings)
74.6(3)
70.0(2)
I worked in the ICU department(s) in the hospital. I would be hesitant to take an assignment here simply because of the physicians. I worked nights and there is a general fear among the nurses to call the on-call physicians, and rightfully so. (Think you can handle them). Well, another traveler said that very thing. Ironically enough, the following week that nurse was literally in tears, talking to the charge nurse, about her conversation with the on-call doc. When I asked what she called about it was a genuinely good question. I believe the response she got was "just follow the F€£¥ing order. Personally, half of the times I call, I get condescending remarks. Charge nurses are literally cussed out on the phone by the docs... and unfortunately the management, based on my short time here, from I I hear from the staff nurses... the management doesn't back the nurses. It is a horrible environment which gives me concern for patient safety. I will not be coming back here, which is unfortunate because the staff, for the most part, are a pleasure to work with. 02/07/2018
Housing was approximately 3 mile(s) from the hospital. The name of the housing complex was Fort Amarillo. Housing was located in city of Amarillor. On a scale from 1 to 5, I would rate it a 5.
I worked in the ER department(s) in the hospital. The staff were amazing. They're converting to EPIC now, so the technology charting wise will be better, but I actually enjoyed the paper charting once I got the hang of it. 11/30/2017
Housing was approximately 20 mile(s) from the hospital. The name of the housing complex was AirBnB. Housing was located in city of Canyon. On a scale from 1 to 5, I would rate it a 5.
I worked in the Cardiac Medical department(s) in the hospital. Cafeteria stays open until 10:00 PM. Various cuisine stations, fresh foods. 30% discount. Soarian MAR charting is a breeze! The easiest I've used (Cerner,is a bear). Love it. Pixis med dispenser. MAC medication administration charting is easy. Tonya in nursing office is a dear. She oriented us first day, and is always available. My nurse manager on 5 (Cardiac Medical) made my schedule to my requests as closely as possible. 02/15/2016
The name of the housing complex was I used the Quality Inn right across the street.. Housing was located in city of Amarillo, TX. On a scale from 1 to 5, I would rate it a 5. Quality Inn rate per night if you pay a week at a time is $49. In Texas taxes are waived after 30 days. This is because Texas considers any motel/hotel/extended stay your "residence", after 30 contiguous days.
Return to top of page
---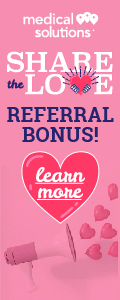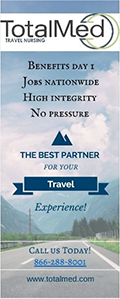 Click here for advertising info